Nov 25, 2021 7:27:34 PM
New Colored Wigs On West Kiss Hair Website
Are the women tired of the monotony of life? Want to add some color to life? Start by changing the color of the hair! But the truth is, it's easy to cause irreversible damage by constantly bleaching our hair. As a result, more and more young women are opting for colorful wigs. Here are some new colored wigs on the West Kiss Website:
1. Ombre Body Wave Lace Front Wig Human Hair Colored Wigs
In colored wigs, gold and brown are always the most popular. Because these two colors are suitable for everyone and all skin tones. And these two colors make women look more elegant and attractive. This body wave wig is a #2/30 colored wig. Color #2 is a little browner than natural black hair.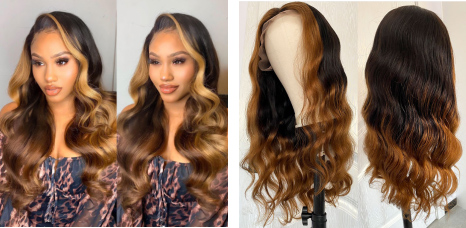 2. Highlight Bob Wig Straight Middle Part Bob With Grey Highlights
BOB wig is one of the classic pieces that never go out of style. The usual length of the Bob is between 8 and 16 inches. But eight-inch hair is very short, so it's not for everyone, and it's not popular. The 16 inches hair is already over the shoulder and is no longer short. Therefore, these two lengths do not fully capture the character and charm of Bob's hair. If the woman would like a bob wig, the best bet is 10-14 inches of hair. In addition to the classic black, West Kiss also comes out with many different colors of Bob wig. This gray highlight bob wig is one of a kind. The combination of cool gray and natural black makes the wig look very cool and very special. If the women want to be cool girls, choose this wig!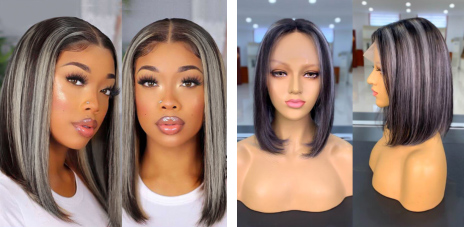 3. Black And Neon Green Wig ShortBillie Eilish Hairstyles
The top of the wig is a Neon Green color, and the rest of the hair is natural black color. This design keeps the color of the wig from being over the top but makes it stand out from the crowd. The length of the wig was designed to be between 16 and 20 inches, which was just right. It makes the women look sexy and alive. I feel this is a wig very suitable for college students!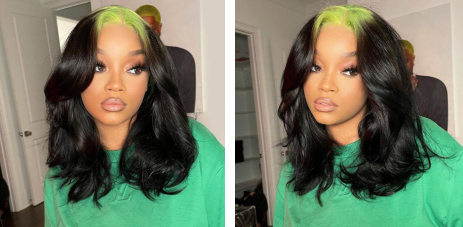 4. Body Wave Green Ombre Wigs With Highlights Human Hair
This highlight wig is very similar to the one above, both in green and black. A strand of hair at the front of the lace section was highlighted green. Hairstyles with only the front strand of hair dyed have been popular for a long time but most highlights are blonde. The body wave hair with green highlights to make the whole wig stand out. If they're a fashion-conscious person, this wig is nice. Classic black paired with a vibrant green will make look sexy and unique.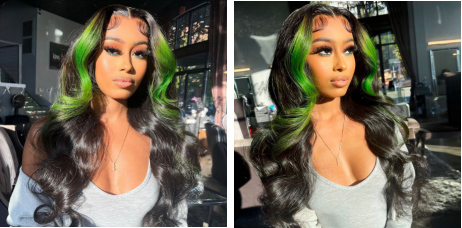 With the development of society, the demand for wigs has also increased. But people are no longer satisfied with a single solid color wig, but looking for a colorful wig that can express their personality. This has also encouraged wig companies to innovate and create new styles to better meet the needs of their customers. This required wig companies to have their factories constantly try to make new and different wigs.
West Kiss is one company that has a wig manufacturing factory. Therefore, we can meet the customization requirements of most customers. And there are many kinds of wigs on our website, such as lace closure wigs, lace frontal wigs, headband wigs, colored wigs. and so on.