Oct 6, 2021 12:36:25 AM
Lazy People Must Have This Headband Wig
Hello, beautiful ladies.
I believe that it is the nature of women to love beauty. But every day you spend a lot of time grooming. In the morning, you will get up, brush your teeth and comb your hair.
After all, your teeth aren't always on the outside for anyone to see. But your hair is always on the outside and everyone can be seen. So your hair is essential for your appearance,
If your hair has been combed, and your hair is beautifully groomed, no matter what the occasion, you will be the brightest in the crowd.
Do you want to use the shortest time to have a beautiful hairstyle?
I think the headband wig is very suitable for lazy people.
Whoever you are, office worker or student. You have a lot of this hair wig.
Let's imagine a scenario. When you are in a hectic morning, you're pressed for time, and then you have a very important event to attend. Because you get up later, your time is very little. Just in time, if you had headband wigs, it would have saved you.
What is a headband wig?
Simply put, a headband wig is a wig made of a piece of headband material on its edge, and the wig is fixed by the headband instead of glue.
Different from the lace part wig, the headband wig uses an elastic band instead of the front lace part to support the head. It is a combination of a wig and headband. The wig part is made of 100% real human hair breathable wig cap material. Of course, some are made of cheap synthetic materials, but West KIss headband wigs are made of 100% virgin human hair, no glue, no lace. Headbands of different colors give women more choices. Easy to install and easy to take off, the best choice for beginners & lazy girls. This invention of hairband wigs not only brings installation efficiency but also adds elegant elements to ordinary real hair wigs. It is best for those who want to change their hairstyle slightly without damaging their natural hair.
Headband wigs, just like other types of lace front wigs, typically come in various styles. Like straight, body waves, water waves, curly, and so on. There's always the one you like. Let's chat!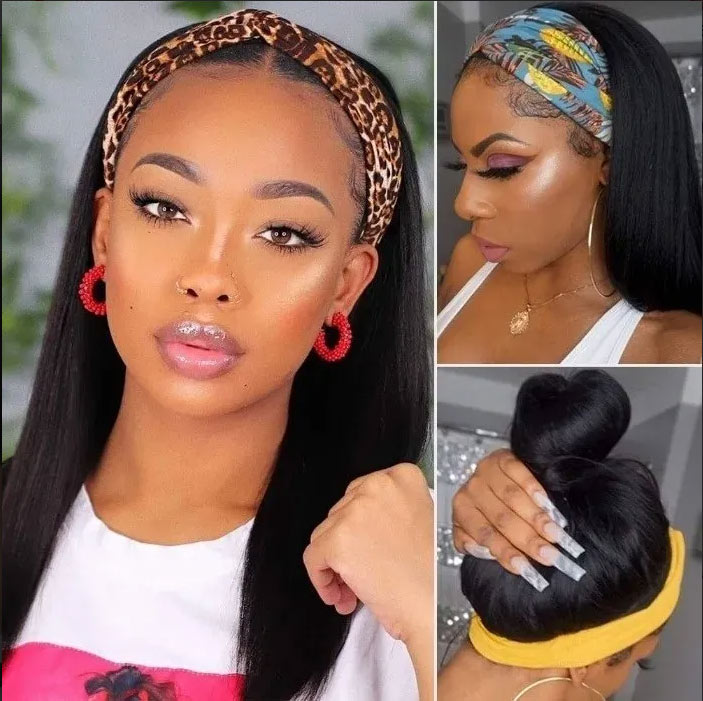 Straight hair is always the most classic and least outdated hair. Compared to other wigs, straight hair is also easier to take care of you are wearing a headband wig for the first time, a headband straight wig is a good choice.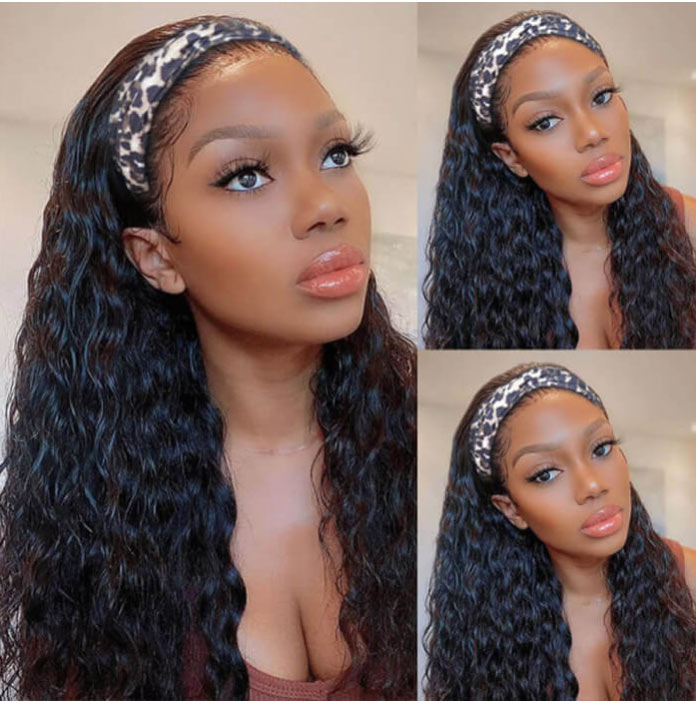 The headband wig of a water wave is not as exaggerated as other curvatures, it is very natural, and it is most suitable for daily leisurewear.
Curly wave headband wig is the best choice for black women who love beauty. Curly waves will make your wig look very thick and make you look sexy and mature.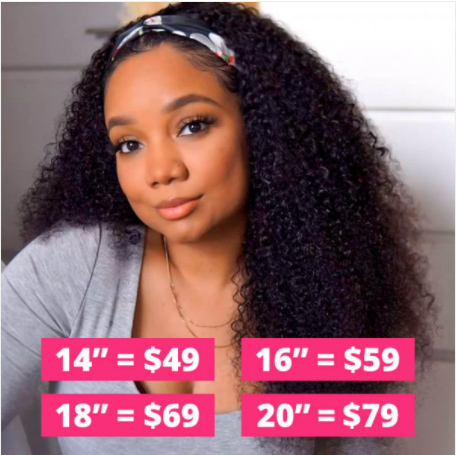 Body wave has always been most people's favorite curvature. It's between curly hair and straight hair, and it looks natural and beautiful when paired with a headband. If you really can't decide which wig you like, a headband body wave wig is the best choice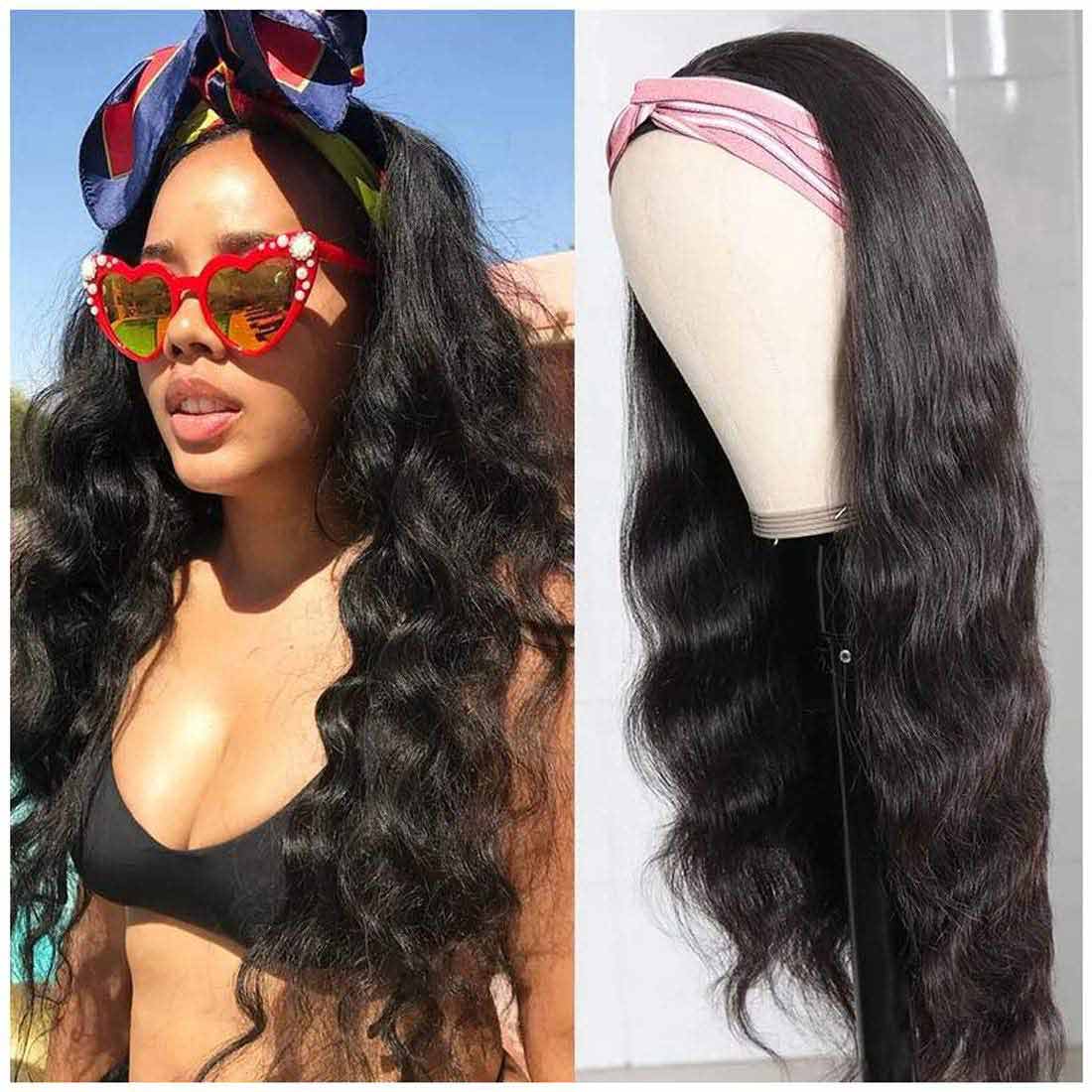 The highlight wig is the latest fashion hair color. If you want to catch up with this wave of trends and suffer from too complicated lace part wig installation, a headband highlight wig will be your best choice. It can save you a lot of unnecessary trouble while catching up with the trend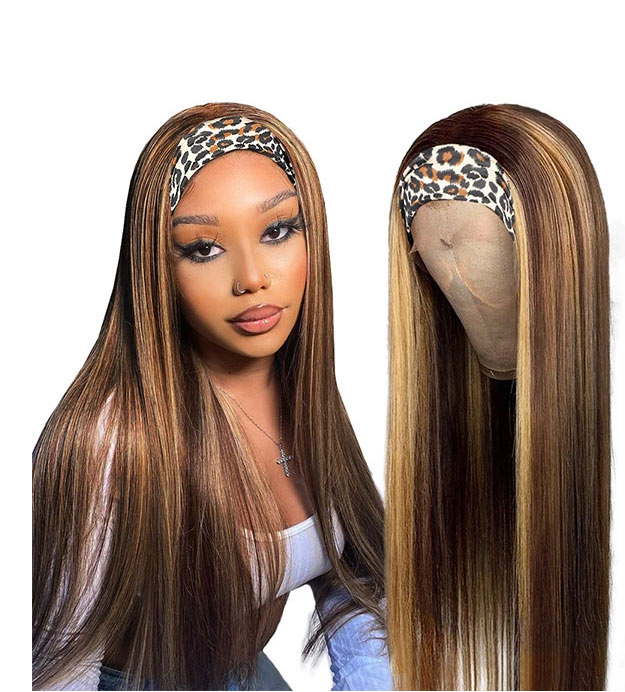 Benefits of headband wigs
It's easy to install and easy to take off. You can use less than 3 minutes to install it. It's very convenient. It's very cheap and very suitable for beginner hair makers.
The headband wigs will cover your own hair. The headband wigs will protect your hair from the outside world. Let your own hair not be damaged by others.
The headband wigs have high breathability. You don't have to worry about wearing a wig on a hot summer day.
How to choose suitable headband wigs by yourselves
Firstly, determine the right size of a wig. It's essential that you choose the right size. If you choose the wrong size, the wig does not fit your head, and the overall appearance is not good. Our website default is medium. The medium cap size fits most customers. But there are important ones. If you worry about it, it can't fit you. You can measure your head circumference and front to nap and ear to ear over top. Then please send your size to us.
We will check if our factory can customize it for you.
Secondly, choose the best style that suits your face shape.
Your head size is fixed, but you can choose the texture to flatter your face. The face shape includes a circle, oval, heart, square, rectangle, etc. Most people don't know their face shape, so choosing the style is not suitable. Once you know your face shape, you will choose a suitable wig. This wig will narrow your disadvantages, amplify your beauty.
Choose your wig
Now you know how to choose a wig. And another problem is coming, where the wig is the best. Of course, it's our west kiss.
Our hair is 100% human hair, it does not mix synthetic hair and animal hair. It can curl and straighten easily.
There is an anniversary activity on our West Kiss website now.
HD WIGS EXTRA 8% OFF CODE: HDWIG
ALL WIGS EXTRA 6% OFF CODE: WKWIG
Welcome to the place order from our website.