Sep 23, 2021 6:00:00 AM
How To Use Closure And Bundles To Make a Wig?
Lace wigs are very popular on the market, and many people will buy a lace wig directly, but I think some of you may be bored with a lace wig and want to sew a wig by yourself. Why sew hair? With the correct installation method, sewing can be more versatile than lace wigs, and the hair bundles and closures are much cheaper than lace wigs. Therefore, this is also an option for people who are on a tight budget but want a new hairstyle.
What should we prepare?
We need to prepare some items before sewing.
You need to have 3 hair bundles and closure or 4 bundles with closure. One plastic mannequin head, some pearl-headed pins, one adjustable strap, and a wig cap, a headband, a wig stand, a comb, and some hair-care products.
1: Fix the plastic mannequin head of the wig on the table, put the hair cap on the mannequin head, pay attention to distinguish the front and back;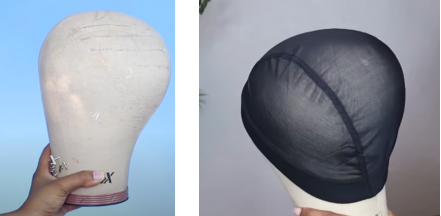 2: Measure the hair bundle before sewing the hair cap to see how many guide rails are needed. If you only need one, don't cut it to avoid hair loss.
3: Firstly, you need to fix the hair closure on the front of the hair cap with a pearl pin, then tighten the lace and sew it along the edge with a needle to ensure firmness.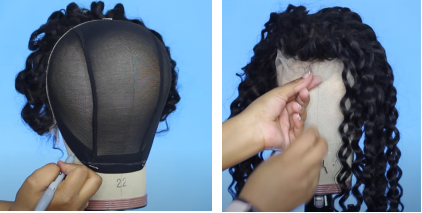 4: Take out the prepared bundles, follow your first track, start sewing from one edge of the lace seal to the wig cap, along the bottom edge of the cap (where your nape is located). After sewing all tracks to the lace seal, sew the last track to the lace seal. Secure and cut off the excess track with knots.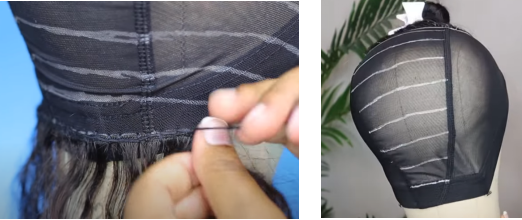 5: Straighten the hair and pluck the hair on the front to make it natural.
6: After sewing, remove the wig from the head of the model, and cut off the excess wig cap exposed under the lace. You can also cut off the extra lace. Be careful not to cut too close to your hair, otherwise, you may damage the entire headgear.
7: Turn the wig over and sew a comb on each side of the head, preferably one at the back, so that it can help you keep your hair. At this point, your wig is ready. It is best to use some moist hair care products on the wig.
Where to buy hair bundles and closure?
Before sewing wigs, we need to buy high-quality hair bundleswithclosure to ensure that the wigs are beautiful and natural. There are 2 types of wigs on the market, real human hair, and synthetic hair. Real human hair is of better quality, durability, and better use effect. You can buy all kinds of hair in the West kiss hair store. This website provides 100% real human hair.