May 6, 2021 11:06:00 AM
HOW TO TAKE PART IN WEST KISS HAIR BRAND AMBASSADORS PROGRAM
Several years ago, brand ambassadors were a novel idea. But recently, more and more hair companies are increasingly using some fashion lovers to be brand ambassadors to spread their hair products. Despite the convenience and ubiquitous presence of online shopping, a brand ambassador is still valuable in the sales and branding process.
1.GET TO KNOW WEST ;KISS HAIR
West Kiss Hair is looking for people to be our brand ambassadors now. Have you ever heard of this hair brand - West Kiss Hair? Next, I will take the general introduction of our hair brand to give you a basic understanding of West Kiss Hair.
1.1 100% Human Hair Without Any Chemical Process
As a human hair company, We make sure all our hair products are made of the best raw material. Including 100% human hair and high-quality Swiss lace. We always insist on serving customers with a wider hair product range, like lace wigs, regular hair wigs, hair bundles, etc. There are also many different choices of hairstyles: body wave hair, straight hair, curly hair, water wave hair, deep wave hair, etc. All these beautiful curls are processed by high-temperature steam, without any chemical process.
1.2 The Most Professional Manufacturing Process
West Kiss Hair has our own hair factory that has got well over a decade of experience in hair production. We always control the quality of each hair product and put consumers' profit in the first place.
1.3 World Wide Fast Shipping
We have partnerships with some international express companies. Including USPS/FEDEX/DHL/TNT. Regular hair products normally only need to take 24 hours of order processing time except weekends and holidays. And we offer free fast worldwide shipping to most countries. US warehouse offers 1-2 working day expedite shipping for some orders.
1.4 Customer Service (Wholesale/Dropshipping Service)
Our company deals both in wholesale and retail and also offers drop shipping service to satisfy the needs of consumers. The more you buy, the lower the purchase price.
About the dropshipping service. All the labels can be customized. If you have special needs or any design ideas about the label and packaging, please tell us. For more details about the charge standard and discount rates, please contact us. These labels and packaging usually need about one week to process, and then we will keep them in our warehouse, will attach them for your every order.
1.5 Social Media - Share Your Beauty With Us
This is what we are going to talk about today, please kindly read on.
2. WEST KISS HAIR SOCIAL MEDIA PLATFORM
Below are the five main social media platforms we are running now.
2.1 INSTAGRAM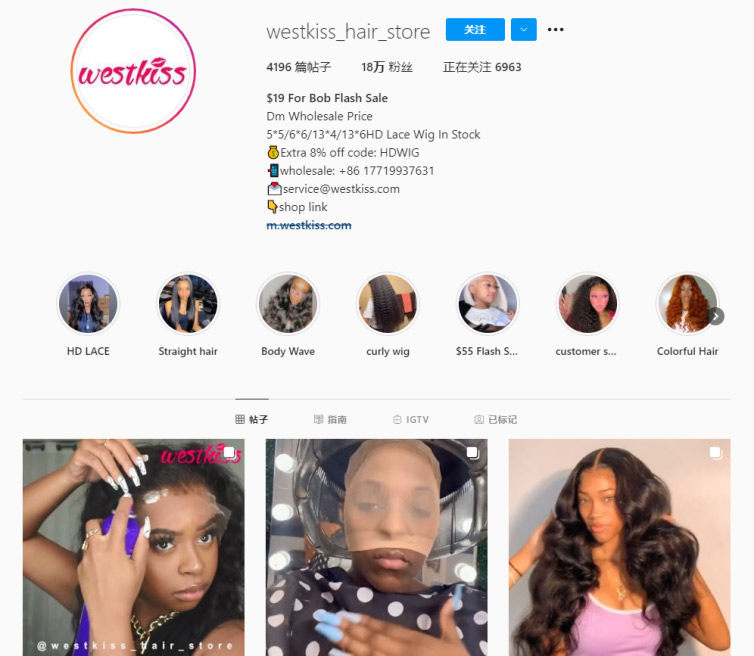 2.2 YOUTUBE

2.3 FACEBOOK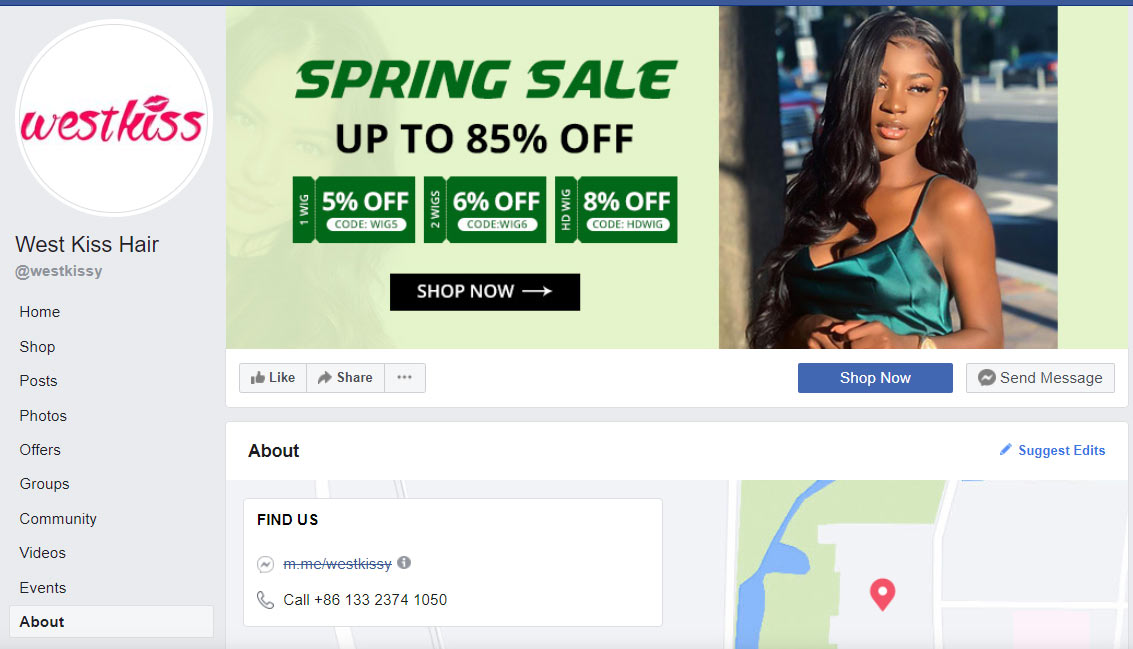 2.4 TWITTER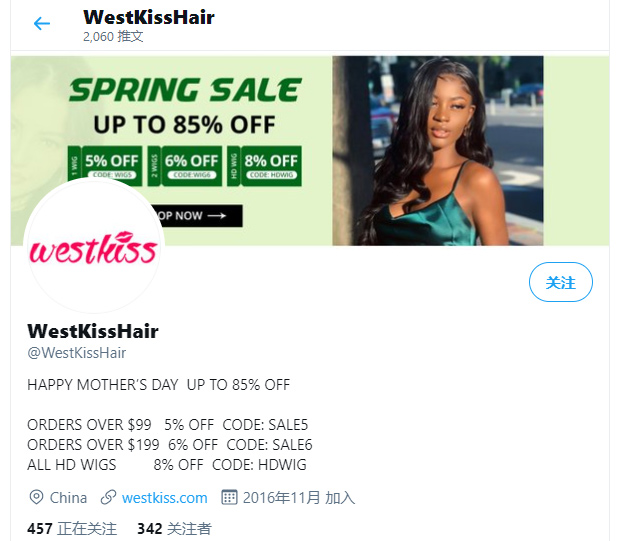 2.5 PINTEREST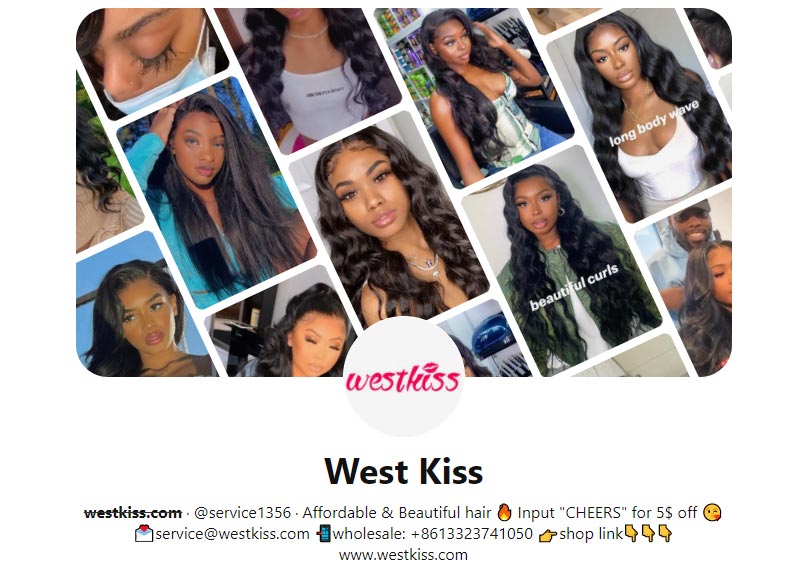 3. JOIN WEST KISS HAIR BRAND AMBASSADORS PROGRAM
Despite the convenience and ubiquitous presence of online shopping, a brand ambassador is still valuable in the sales and branding process. Good brand ambassadors can attract attention, stimulate consumers' interest, create a desire for our hair product, and motivate people to take action to buy the wigs.
Now West Kiss Hair invites our beautiful fans to share their beauty and earn commissions. Contacting us now, earning commissions is much easier.
3.1 How To Become West Kiss Brand Ambassadors?
1) Leave your information to us, we will send you the exclusive promotion link.
2) Share the exclusive link to your social media.
3) You will get a 5% commission once referrals are ordered through your link.
3.2 How To Get Cash Back Or Free Hair?
1) Make & publish a video or post about West Kiss Hair. Added www.westkiss.com.
2) Leave your information and the post link for us to confirm.
3) You will get rewarded once we confirmed. (Coupons/Rewarded Points/Cash Back/Free Hair)