May 5, 2021 11:02:24 PM
Curly Human Hair Wig vs Straight Human Hair Wig
Demands for virgin human hair wig is getting higher and higher in the wig market, especially for some special hairstyles, curly weave human wig is one kind of this. With the tendency of hairstyles growing fast, women choose various wigs frequently. Some of them like curly wave wigs, the others like a straight wig. In this blog, the definition and feature of these two items will be stated, hope you will have a complete understanding of them.
Summary of this article
1. What is Curly Human Hair Wig?
2. Key Features of Curly Human Hair Wig
3. Top-recommended Curly Human Hair Wig Product
4. What is Straight Human Hair Wig?
5. Key Features of Straight Human Hair Wig
6. Top-recommended Straight Human Hair Wig Product
What is Curly Human Hair Wig
The entire hair body of curly wave wig twisted to small and dense curls, and this curl is full from top to bottom, with a natural luster. The curls of the hair are smaller than natural wave and deep wave, but bigger than kinky curly human hair. Curly hair wig has great elasticity, looks very tidy and fashion and gives women a more natural and unrestrained feature.
Key Features of Curly Human Hair Wig
1. Versatility: One of the merits of having a curly wave wig is that it is so versatile. You can wear the wig in many different styles, and it looks so cute with a braid, or in a top knot. The hair can be also straightened, crimped, permed, and dyed well because it was made of real human virgin hair.
2. Charming & Attractive: Having curly hair means that you will stand out and slay like a celebrity. Wearing a head of bouncy little curls guarantees that you will be heeded no matter where you are. You could be the center of attention with the fantastic hair.
3. Tangle Free: 100% virgin human hair ensures that the wig hair has the same direction cuticle. That means the hair won't be tangle easily while washing or wearing. As long as you apply some special essential oil on the wig, it will leave your hair tangle-free and bouncy all day long.
Top-recommended Curly Human Hair Wig Product
Curly lace frontal wig is the best-selling product at West Kiss Hair store, it's desirable to possess one. You can choose the medium brown lace or HD lace for your need, of course, the HD lace suits all complexion no matter how it's light or dark. The density can ranged from 150% to 250% fulfilling the demand for thinness or thickness. Choosing the right cap size in small, medium, and large to match your head measurement and the right hair length in 12-30 inches to fit your figure. Enjoy the splendid look from the West Kiss Hair.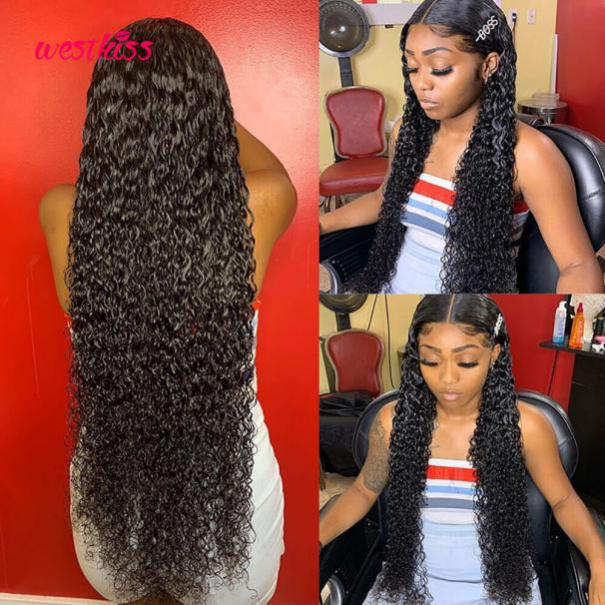 What is Straight Human Hair Wig
The straight hair wig is familiar to you probably, it is the most common wig. As the name depicted, this kind of hair is straight from the root to the end without any curls. It will be a better option for those women who are a fan of a beautiful sleek look. You can easily slay the style with a natural sheen and superb amount body sourced from 100% human virgin hair.
Key Features of Straight Human Hair Wig
1. Easy to maintain: The straight hair would be the one that maintains the most easily. Unlike other wavy hair wigs, the curls should be cared to hold for day long. Using some mousse or conditioner will keep the hair soft and lustrous for the daily wig routine.
2. Natural look: With the pre-plucked hairline and subtle baby hairs, the straight hair wig can effectively cover the forehead, and it seems to grow hair from the hair. That's quite natural and true.
Top-recommended Straight Human Hair Wig Product
Straight lace frontal wig might be the ideal one for beginners to slay and gain an authentic appearance, less effort, more effect. The large lace size from the temple to the temple makes sure that you can part the hair at will. There are short, medium, and long lengths for option, the short straight bob wig will be welcome during sultry weather in summer. You can opt for the hair length according to individual needs. If you wanna know more wig hair information, feel free to browse the West Kiss Hair website and give the premium quality human virgin hair wig a try!