Apr 29, 2021 10:13:00 AM
WEST KISS BODY WAVE HD LACE WIGS
Look at the top results: you will find that body wave HD lace wigs are popular in recent days. We wrote this article at once to introduce this latest hot hair product. To help our new and old customers to deepen their understandings of body wave HD lace wigs. So just start reading.
1. WHAT ARE BODY WAVE HD LACE WIGS?
We will split body wave HD lace wigs into two parts to introduce: body wave hair texture and HD lace. Body wave hair texture is a kind of wavy hairstyle. HD lace is an upgraded lace type of regular Swiss lace.
2. WHY YOU NEED TO TRY WEST KISS BODY WAVE HD LACE WIGS?
We have talked about what are body wave HD lace wigs. So why people need to try these kinds of lace wigs. Much of this is because of body wave hair texture and HD lace type. These two main selling points attract most people to buy.
2.1 BODY WAVE HAIR TEXTURE
What makes body wave hair texture different from other wavy hairstyles is that the curls of body wave hair are bigger and looser than other hair textures. Body wave hair will create an entirely different feeling. It can help girls to become very feminine women, look more mature and attractive. Comparing straight hair, body wave hair has a very different feel. Straight hair is classic but has almost no movement. Body wave wigs are always hot-selling.

2.2 HD LACE
HD means "high definition". HD is a new kind of lace that is different from regular Swiss lace. It is ultra-thin, ultra-soft, undetectable, more breathable. Although Swiss lace is also a high-quality lace type. It still needs to be matched with different skin colors. Like medium brown lace is suitable for dark-skinned people, transparent lace is suitable for light-skinned people. HD lace is different. It is an undetectable invisible skin melt lace with seamless blending capabilities that can match all skin colors perfectly.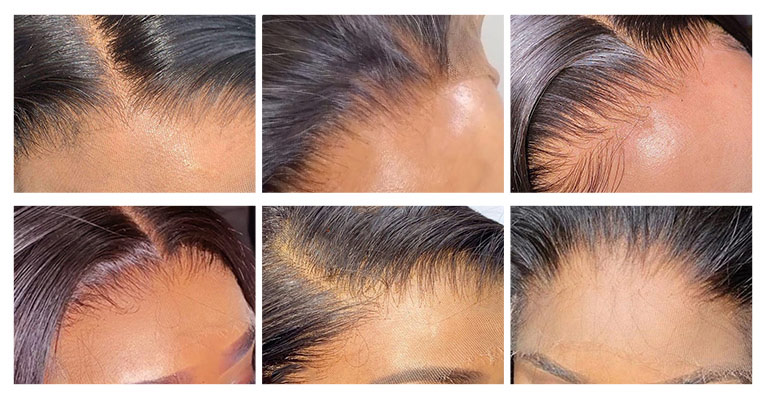 3. TYPICAL BODY WAVE HD LACE WIGS RECOMMENDATIONS
Lace wigs mainly can be divided into two different types: cheap lace front wigs and lace closure wigs.
3.1 BODY WAVE HD 13x6 LACE FRONTAL WIGS
3.2 BODY WAVE HD 13x4 LACE FRONTAL WIGS
Lace front wigs have two different types: 13x4 lace front wigs and 13x6 lace front wigs. As you can tell from the names. The main difference between these two lace front wigs is the depth of lace. One is 4 inches in depth, and the other is 6 inches in depth. They have the same 13 inches wide width that can cover a human's forehead and offer a complete hairline. After completing a whole installation, people can get a perfect and real wig look. Sometimes lace front wigs even can make people appear uncannily lifelike. Other people can not recognize that you are wearing a hair wig, they will think that is your real natural hair.
3.3 BODY WAVE HD 5x5 LACE CLOSURE WIGS
3.4 BODY WAVE HD 6x6 LACE CLOSURE WIGS
Lace front wigs are finished. Next, we will talk about the other different type of lace wigs: lace closure wigs. Compared to lace front wigs, the shapes of lace closures are normally squares that are of the same width and depth. Like today's two lace closure wigs: 5x5 lace closure wigs and 6x6 lace closure wigs. The finite width of a lace closure makes it only can be set in the middle of a human head. The installation of lace closure wigs has become easier and more convenient, also. Even a beginner does not take that much longer. No need to use glue, just use some clips and an adjustable strap that can secure a lace closure wig. So it is named a beginner's friendly wig. The smaller lace area than lace front wigs also helps lace closure wigs have a price advantage. The prices of them are more competitive and affordable. High cost-effective hair wigs always can attract more people.