Sep 14, 2020 7:25:00 PM
What is the difference between a frontal wig and full lace wig?
The lace front wig and full lace wig are both made by swiss lace and 100% human hair bundles. All hairs are hand-tied on the lace by workers to avoid shedding and tangle problems. Lace wigs normally are lighter and more breathable than other full machine-made wigs. That's why it is always one of the most popular products in the hair wigs market.
1. The difference between a frontal wig and a full lace wig?
1) The area of the lace part
According to the below comparison photo, you can see the difference between the area of the lace part. A full lace wig is made by full lace, its area of lace part is more than lace frontal wig. Human lace front wig only has a 13x4 lace frontal part in the front of the scalp.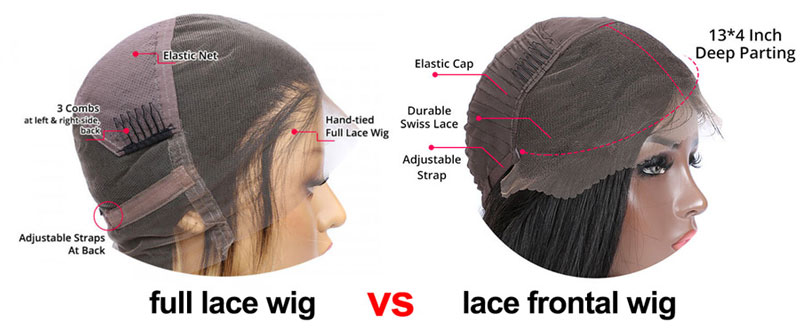 2) Hairstyles
The lace front wig is a half machine-made and half hand-made lace wig. The lace frontal covers 13 inches across your forehead which gives you a 13-inch parting space. You can do parting more freely. (three part, middle part, and free part)
The full lace wig is more versatile, as the lace is full around the scalp. You can go ponytails and up-dos which lace frontal wig is hard to do.
3) Price
Of course, different lace part cost different usage of swiss lace. The price of a lace front wig is more affordable and competitive than a full lace wig.
3) Breathability and weight
The more area of lace part, the lighter weight of the lace wig. The full lace wig has more lace than the lace front wig, so it will be lighter and more breathable.
2. How to shop a frontal wig on West Kiss Hair?
1) Entering our mobile homepage directly: https://m.westkiss.com. (PC side please kindly visit: https://www.westkiss.com) You can see there is a button in the top left corner of the Web page, click it and will appear a left sidebar, then you can keep clicking "lace wigs" and "lace front human hair wigs". It will lead to a new page of lace frontal wigs.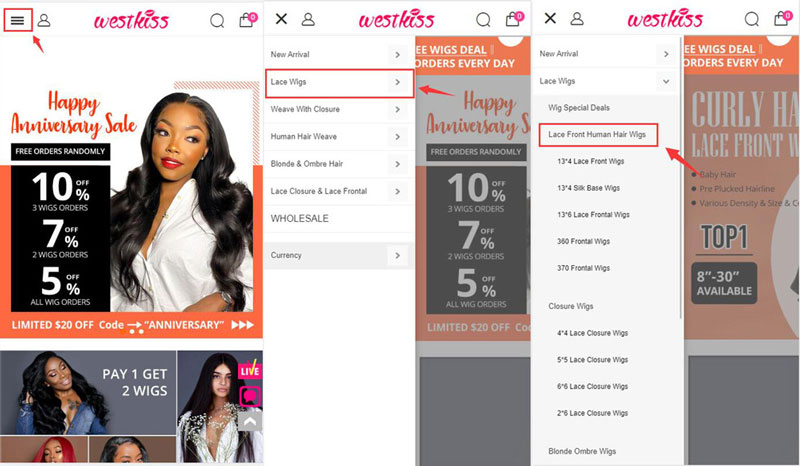 2) There are many lace front human hair wigs on this page, you can get more options by clicking the button "filter", then start to choose relevant attributes you like. We will choose a product like the below picture to show you how to place an order on West Kiss Hair Store. We choose "Deep Wave Human Hair 180% Density Lace Front Wig For Black Women", after entering the product page, you can see some information of promotion code under the topic. Please kindly check and pick up one which is suitable for your order.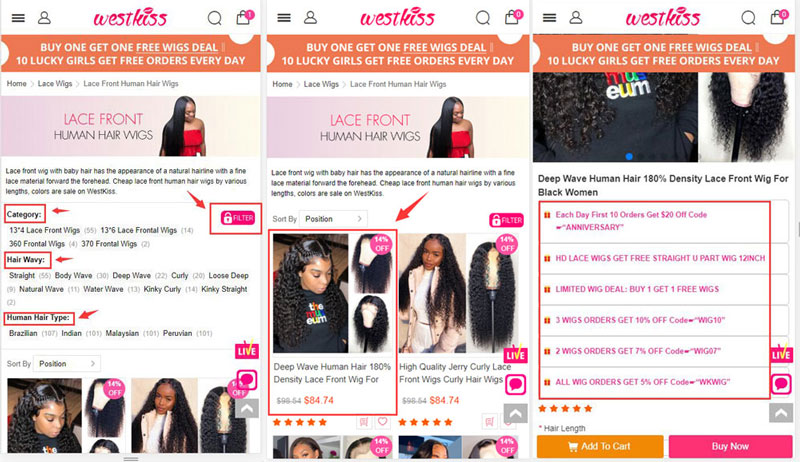 3) Scrolling down the page, you will see some options you need to select, including the hair length, hair density, capsize, lace size, construction, and quantity. After you make your selections, it's time to check out, please click "Buy Now" to enter a new page, you need to fill in all the blanks of receiving address. The final step is entering the payment page and complete the payment. We will arrange shipment as soon as possible once we get your order.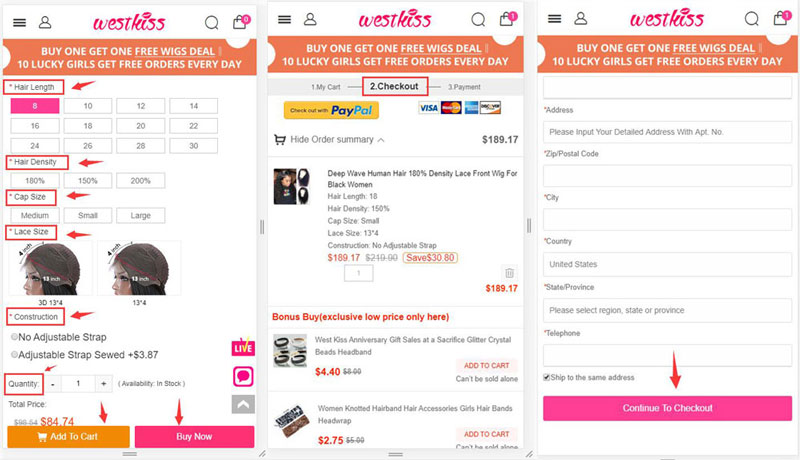 4) Besides, there are three sections in every product page, "Product Details, Reviews, Recommend". Getting more information about the product you want to buy.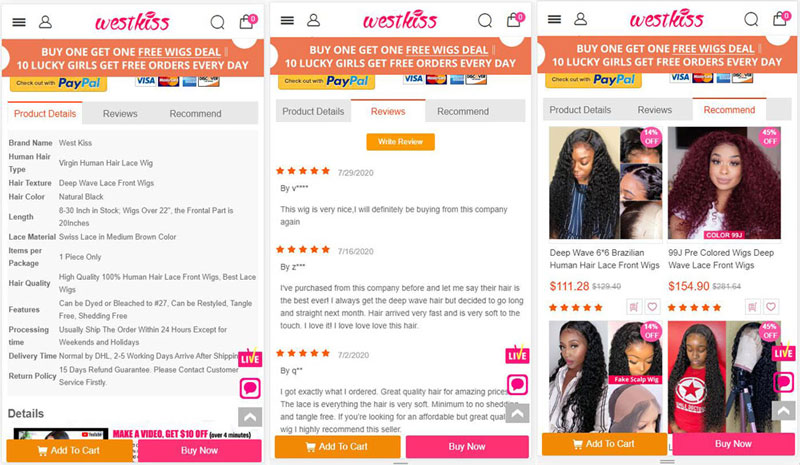 5) How to choose a suitable capsize?
Some beginners don't know how to choose a correct capsize, please measure your head by following the steps in the below picture, choose the suitable cap size for you.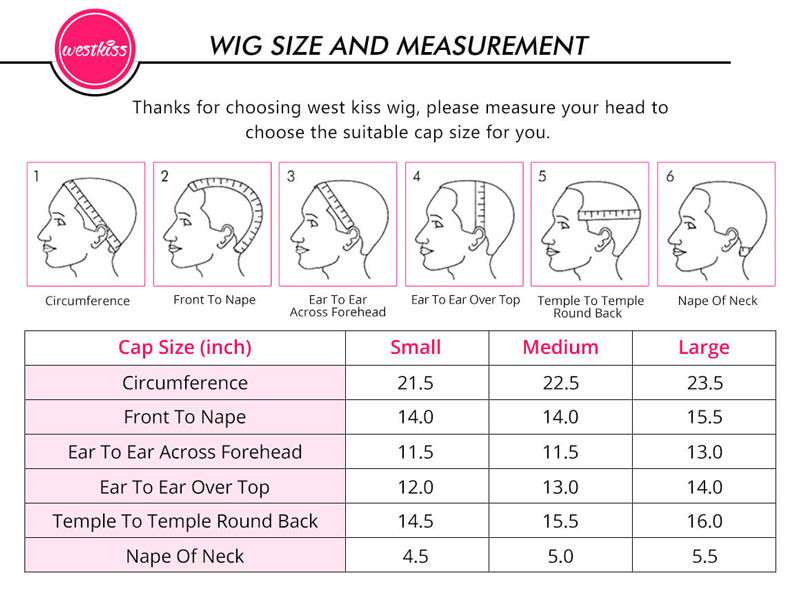 Recently we welcomed a store celebration, launched some below special discounts for each of you.
Time Duration: 9.3–9.25, come and join us!
Each Day First 10 Orders Get $20 Off Code ☛"ANNIVERSARY"
LIMITED WIG DEAL: BUY 1, GET 1 FREE WIGS
3 WIGS ORDERS GET 10% OFF Code☛"WIG10"
2 WIGS ORDERS GET 7% OFF Code☛"WIG07"
ALL WIG ORDERS GET 5% OFF Code☛"WKWIG".