Sep 11, 2020 7:05:30 PM
The Full Information For Bob Wigs On West Kiss Hair
Bob wig is a multivariant style, after a hundred years of evolution, from the length and thickness of hair, etc., have undergone a series of self-evolution. Every little change brings a new feeling.
The most amazing thing about the bob wig is that it has a way to fit whatever face shape it is. Whether it is a classical style bob wig or a modern style bob wig, there are always ways to meet the personalized needs of different people. So I will introduce all the bob wigs on our online store - West Kiss Hair in this article, please take some minutes to read it.
1. Different Curvatures
For different human hair bob lace wig curvatures, the thickness will vary.
1) Straight Hair Bob Wigs
Straight hair has always given people a clean image of the girl next door, and some small women feel. And it's very convenient to care for straight hair. The straight hair bob lace wig with bangs is very young, and the deep parting bob lace wig is mature and confident. You can choose straight hair in different styles and lengths that suit your temperament according to your needs in our online store - West Kiss Hair.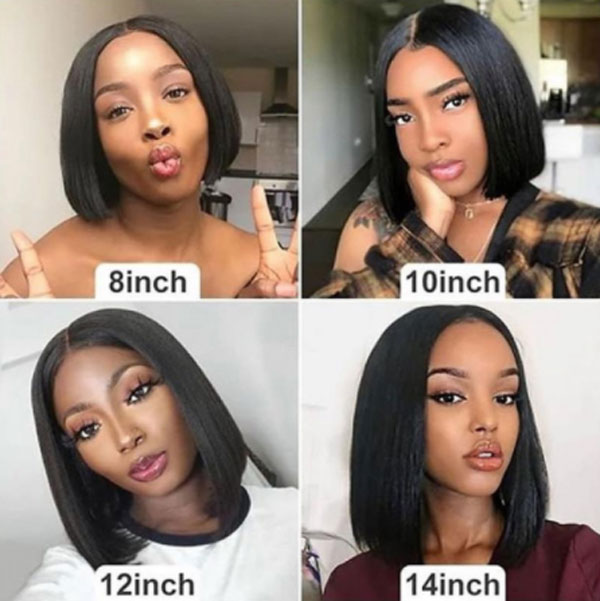 2) Deep Wave Bob Wigs
Deep wave hair has a smooth curl, it looks very luxurious and can improve your hair look. The deep wave curl pattern is close to Jerry's curl pattern. Deep wave hair has a tighter curl than body wave, loose wave and natural wave hair, but they have the same texture with high quality. Deep wave hair texture flows have one direction smooth waves and it looks really luxurious and boosts your hair density. Enjoy the deep wave bob wigs to get dense hair.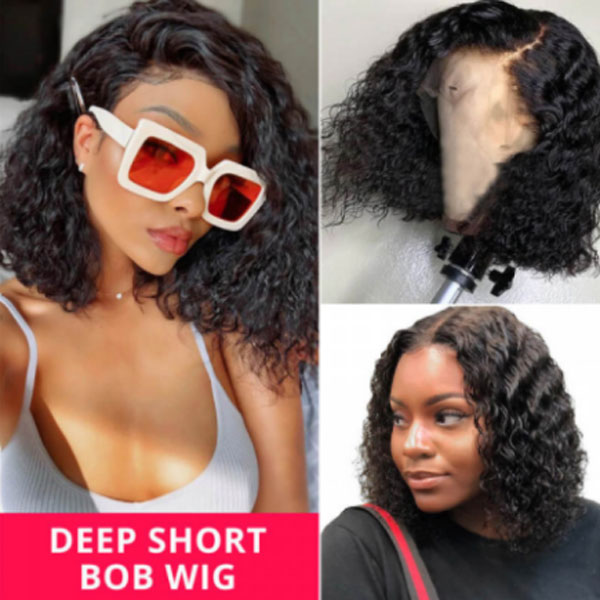 3) Curly Hair Bob Wigs
Curly hair bob wigs look fuller than straight hair bob wig. It's really soft and elastic and has a very natural looking. Curly hair has tighter curls than deep wave hair, and the curls are little tiny and irregular which are not like regular weave. Curly hair bob wigs will blend into any facial shape and skin tone. The most important is that this curly hair is really easy to manage and requires less maintenance than other real hair wigs.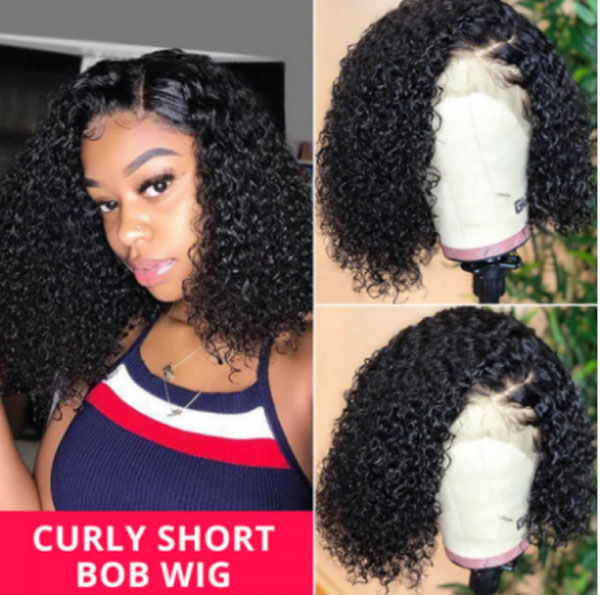 4) Body Wave Bob Wigs
Body wave is a mass popular hairstyle with its shape and the polytrope. The shape of body wave hair is like a big and relaxed "S" style. The whole body wave bob wig is like a big "S" spin around itself. And the curls are the biggest than any other hairstyles. You can rework this hair to any color and any hairstyles, and it can still keep the pattern well. Choose your body wave bob lace wigs with our high-quality service from today.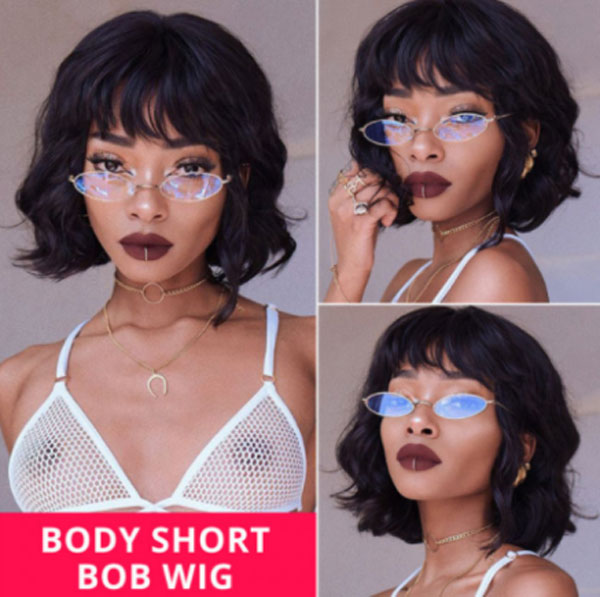 2. Different Lace Sizes
For different styles, you can choose different lace sizes in our store.
1) 4×4 Bob Lace Closure Wigs
A 4×4 lace closure wig means the lace on the wig is 4 inches across and 4 inches up and down. The first number represents across(left to right) while the second number represents from the forehead and back. The 4×4 bob lace closure wigs allow you to part 4 inches across and 4 inches back and forth. If you like to take your hair wig, this 4×4 bob lace closure wig is very suitable for you.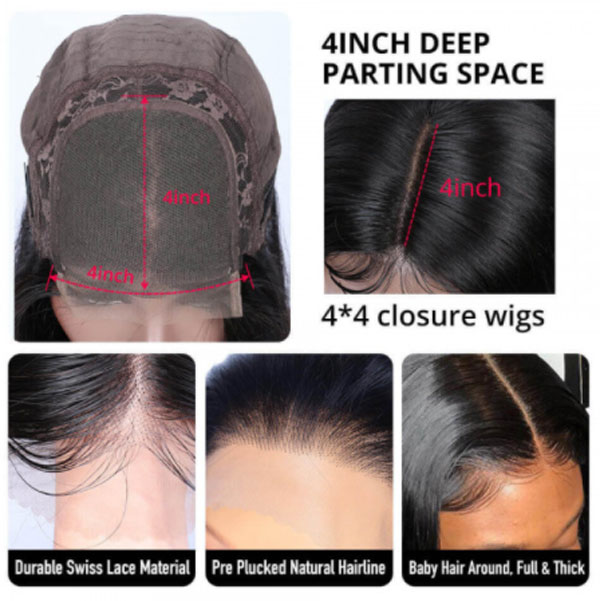 2) 13×4 Bob Lace Front Wigs
So the same, the first number means that the lace is 13 inches long from left to right(ear to ear) and is 4 inches long from your forehead back. A lace front wig is a wig where the lace is in front. So you can part anywhere within those 13 inches across and 4 inches back. If you want to wear the 13×4 bob lace front wig, it's required to use an adhesive (glue or any adhesive to hold it down your skin) and give you a flawless natural look.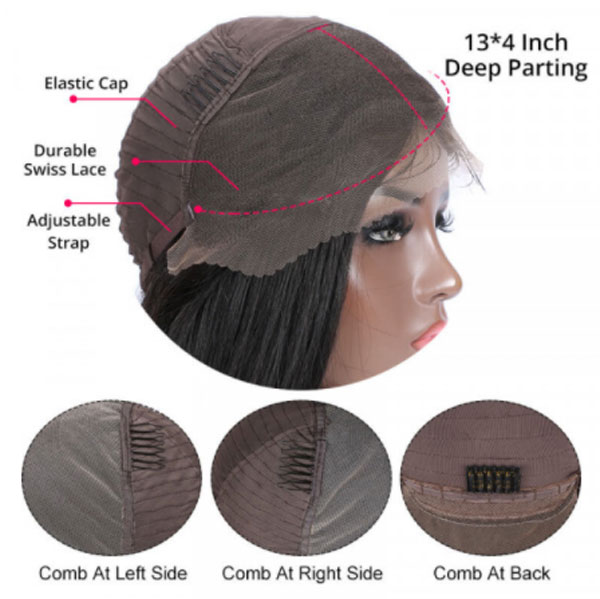 3. Different Colors
In order to meet the customers' requirements for different colors, our online store also has 613 blonde color, 99j color, highlight hair and other ombre colors.
1) 613 Blonde Bob Wigs
613 blonde hair is found everywhere in fairy tales, including long-haired princesses, pygmy monsters, Cinderella. In fairy tales, 613 blonde hair often symbolizes strength, beauty, indestructibility, youth and high value. In reality, blonde hair makes the skin looks more glossy and you will look better. What's more, this color will never out of fashion. Come to wear your 613 blonde bob wig with our real human hair products.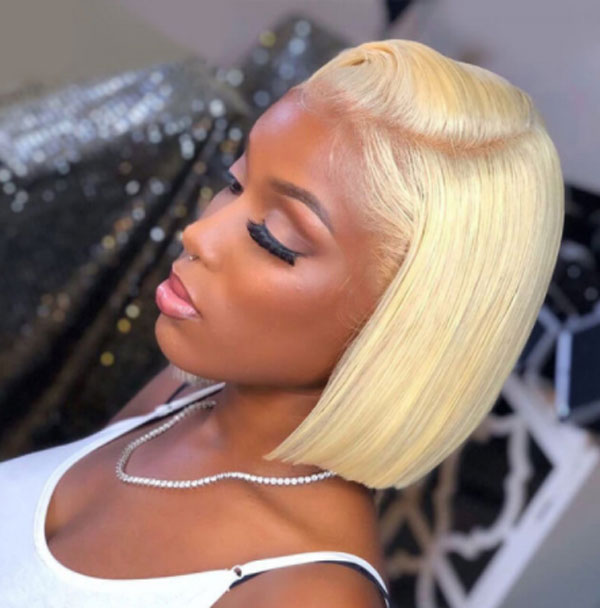 2) 99j Bob Wigs
99j is the color that is friendly to all skin tones. So you can choose this color no matter what skin tone you are and don't worry to be embarrassed. And that 99j color makes the people who are wearing it is full of energy, can make a deep impression on the people you meet for the first time. And for your friends, it's going to be a whole new experience with this color bob wig.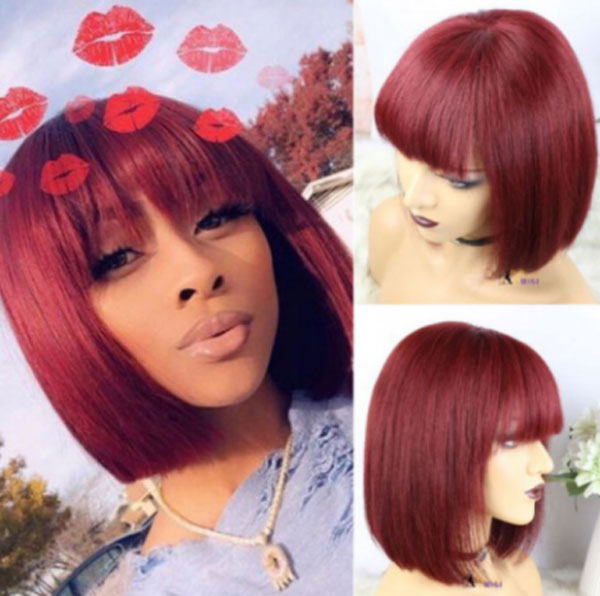 3) Ombre Colored Bob Wigs
Ombre hair looks fashionable without the high maintenance. With this color bob wigs can make your hair look more dimensional and luxuriant. It also makes you look younger and fresher. We online store - WestKiss provides ombre blonde wig, 1B/99J, 1B/27, 1B/Blue, 1B/Red ombre color. You can also contact our service center to put forward the color you want, we will try our best to satisfy you.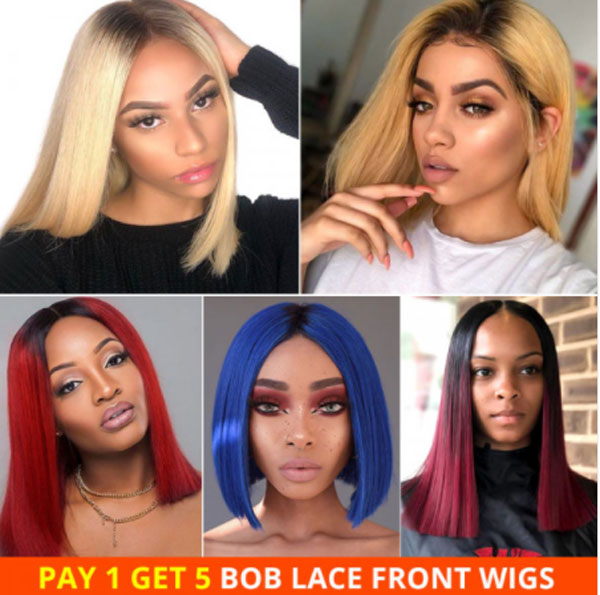 4) Highlight Bob Wigs
Hair dyeing has always been a popular focus in the hairdressing industry in recent years. However, in the past two seasons, the focus of hair dyeing has been replaced by partial dyeing. A clean hairstyle is combined with fashionable color highlights to make hair more shiny and hierarchical. Choose the highlight bob wigs to give yourself a chance to try fashion at West Kiss.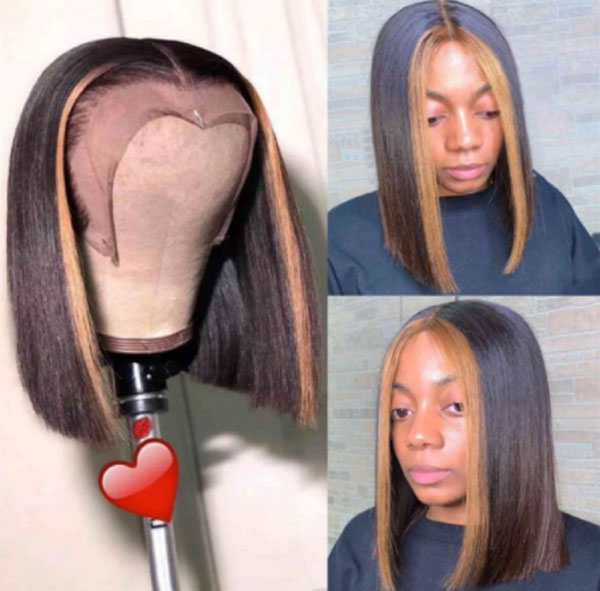 4. Other Kinds Of Bob Wigs
We also have u part bob wigs and machine made bob wigs prepared for your choice.
1) U Part Bob Wigs
A U-part bob wig is a wig sewn on u part cap with clips and adjustable straps on the back. You can blend your own real hair through a specific u-shaped opening at the top of the wig. Through this u part area, you can blend your own part and expose your scalp for a natural looking hairline. With this human hair bob wig you can skip tight braids and stress on your edges.
.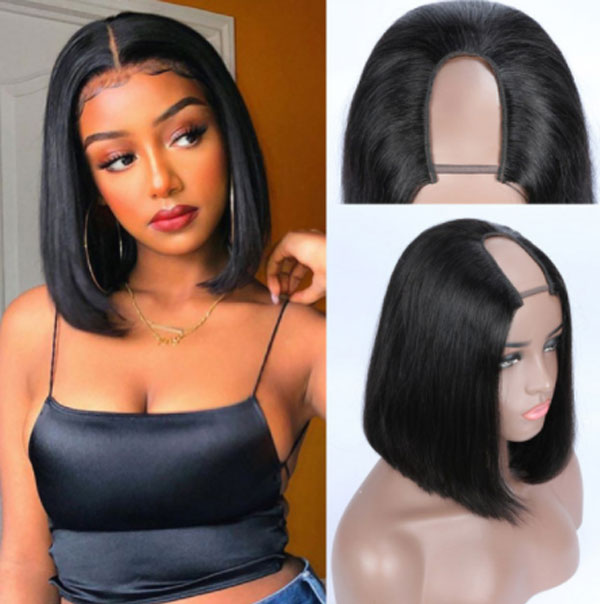 2) Machine Made Bob Wigs
Machine made bob wig is similar to the lace front wig with fixed parting. It is usually cheaper than hand-made pieces. This kind of bob wigs is the least expensive and most widely available. It can look extremely realistic as long as they are not parted, pulled back or otherwise altered.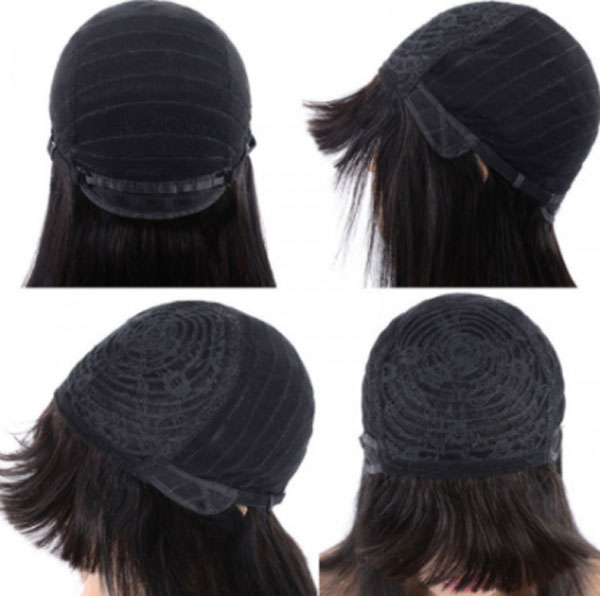 For other specific information, you can enter our official online store - West Kiss Hair to check.