Sep 4, 2020 12:16:02 AM
West Kiss Hair Website Anniversary Sale
West kiss has always been committed to selling high-quality real human hair. And we get a lot of customers support and praise. Whether you're looking for a wig, hair bundle, lace closure or lace frontal, west kiss is where you can find whatever you want.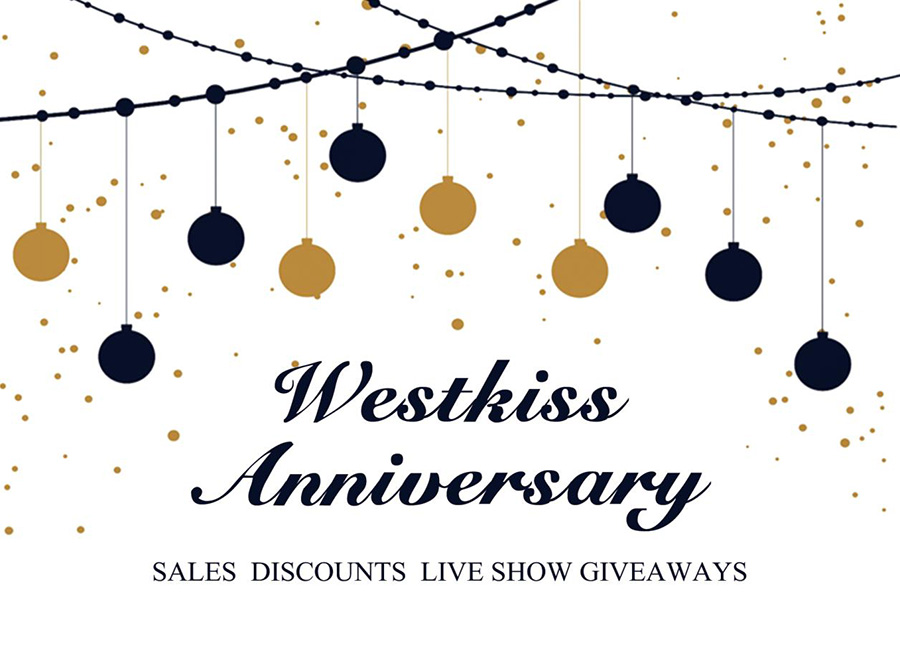 To celebrate the launch of the West Kiss website fourth anniversary, and to give back to the customers who have been supporting West Kiss all along. Our website launched an unprecedented large-scale promotion! Not only can you get a discount, but you can even get free wigs!
Let's start with the discounts:
Time Duration: 9.3–9.25
Extra Coupons Check Our Website Live 8.30-12.00AM GMT+8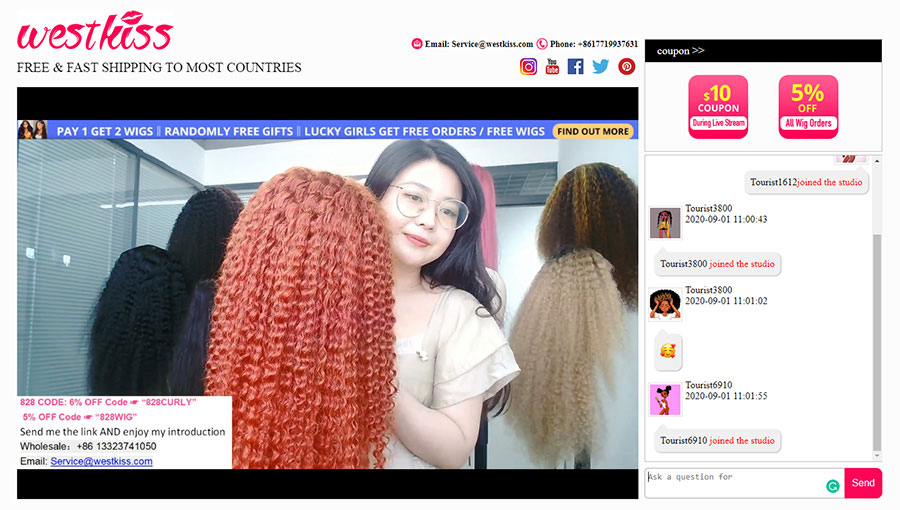 During the event, West Kiss will have a live show from 8:30 to 12:00 every day. You can see more clearly the true state of the wig. Our colleague will randomly present large coupons to customer in the live show. Everyone has a chance to get the coupon, the odds of winning are very big!
Limited Wig Deal: Buy 1 Get 1 Free Wigs

I believe that most people would like to try different styles of wigs. But a good wig doesn't come cheap. Taking into account the different needs of clients for wigs, we launched combination deals. You can get two, three, or even five high-quality wigs in the same length but the different texture or color for the price of one.
All Wig Orders Get 5% Off Code ☛ "WKWIG"
No matter the length, color or density of the wig, you can enjoy a 5% discount on the purchase of one wig! If you like wigs, don't miss it!
2 Wigs Orders Get 7% Off Code ☛ "WIG07"
If one wig isn't enough for you, buy two at a time during the event! Buy two wigs at a time and you can get a 7% discount! You can combine the two wigs any way you like.
3 Wigs Orders Get 10% Off Code ☛ "WIG10"
I highly recommend that everyone buy three wigs at a time! Because then you'll get the maximum 10% discount! Especially for those who like to buy lace wigs, this is a huge discount! If you don't think you need as many wigs as you do, I suggest you can buy them with your family or friends so you can get quality hair at the lowest possible price!

First 10 Orders Get $20 Off Code ☛ "ANNIVERSARY"
This is excellent news! We will release 10 $20 no-threshold coupons per day on the West Kiss site. You can use the coupon to buy wig, bundle, closure or frontal. There are only 10 coupons every day, which means that only 10 people can grab them and use them! First come, first served! Don't miss out, because chances are you're the one getting the coupon!
A Gift For Each Order
The development of West Kiss is so good, which is inseparable from the support of every customer. Every order you place is your support and trust to us. Now there are hundreds of orders every day. There are not only retail customers, but also a lot of wholesale customers order from our website. West Kiss Hair Company have worked with customers from different countries, and we have worked with some customers for over 5 years. Thanks for your support to west kiss hair company all the time! We aim to have a long-term cooperation with every customer.

To thank each customer, you will receive an anniversary greeting card from our company as long as you place an order during the event. In addition, each order can get a beautiful hair band at a very low price.
Free Order For You
Here comes the biggest deal!
Every day we will draw ten customers' orders, and these ten customers will get hair free of charge! We will randomly draw ten orders from the system! No matter the amount, as long as your order is picked, we will give you a full refund! How do you know if your order has been selected? Please do not worry. We will email you once we picked your order, so remember to leave your correct email address.

West Kiss Hair Company adhering to quality first, customers first for the purpose of trying to do the best for the customer! You can trust our quality.
So please don't miss our anniversary big sale!