Sep 1, 2020 2:09:52 AM
Buy 613 blonde lace wigs Tutorial on West Kiss Store
There are many hair colors in the hair wigs market, but the light color is always more attractive than the dark. 613 blonde is one of the most popular colors in light color.
613 blonde lace wigs in West Kiss are all made by 100% virgin human hair, and all the laces we use on the human lace wigs are swiss lace, each hair is hand-tied on lace by workers to avoiding shedding and tangling problems. Using laces also can make the lace wigs lighter than other wigs and look like more real and natural after wearing it. That is why 613 blonde lace wigs become the star product in West Kiss.
If you are interested in it, but don't know how to find and buy it on our website, this article is especially work for you.
1. Where to find 613 blonde lace wigs?
This is our official store West Kiss Hair, so how to find 613 blonde lace wigs on it? Firstly, you can please find "lace wigs" on the navigation bar, and then click "blonde ombre wigs" like the following picture. Finally, you will get into a page where are some 613 blonde lace wigs and start to select.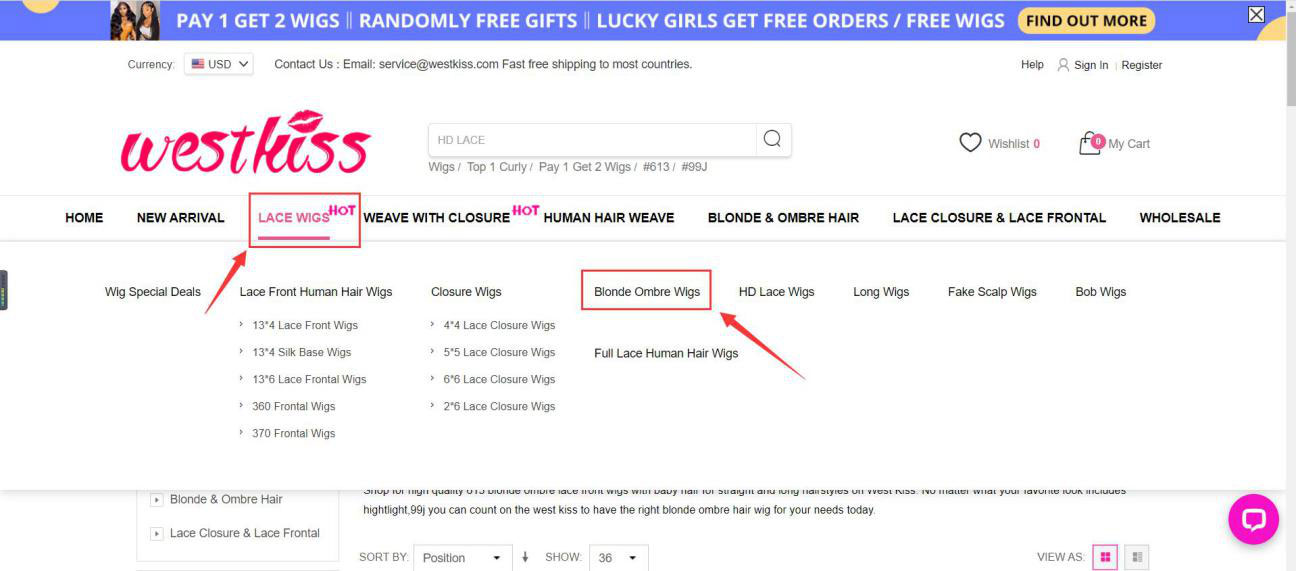 2. How to choose a preferred texture?
After having a fantastic hair color, then you can start to choose a preferred hair texture.
Now we provide below four textures of 613 blonde lace wigs in our store, (body wave, straight wave, and short bob wigs) if you like them, you can please place order on the web directly.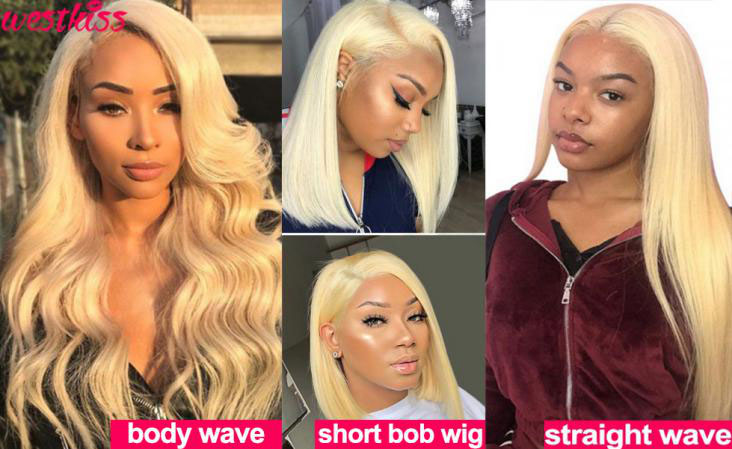 And we also can do customize, if you want any other hair styles, like curly, deep wave, loose deep wave, water wave. Welcome to contact or leave a message to us, we will reply as soon as possible. 613 blonde lace hair wigs are suitable for every hairstyle, you will look amazing no matter what texture you choose.
3. How many Types do 613 lace wigs have?
613 lace wigs normally can be roughly divided into four types as the below insert picture. (lace front wigs, lace closure wigs, short bob wigs, and pure&ombre lace wigs)
Different types have their own different advantages.
1) About the area of lace, 613 lace closure wigs are less than others. So it will have a more affordable and competitive price. On the other hand, the lace part of 613 blonde lace front wigs is wider than others, it is from ear to ear which can help you do hair parting more freely.
2) About the hair length, 613 blonde bob human hair wigs are shorter than others, if your budget is limited, you can please try it.
3) About the hair color, if you are tired of pure color, 613 blonde ombre wigs will be a great choice. Having a new color to change a new mood.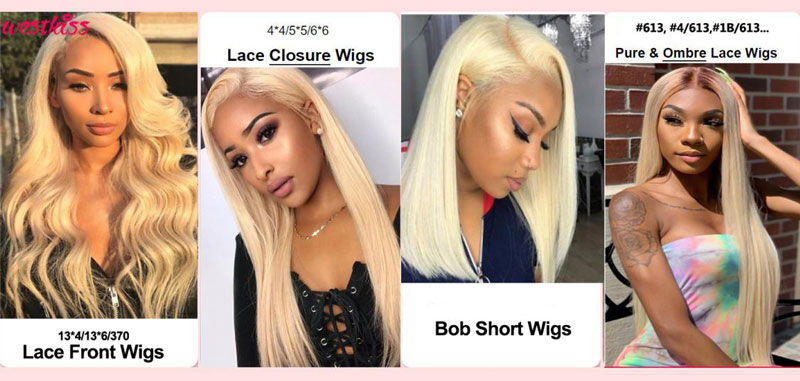 4. How to choose a proper capsize to fit your scalp perfect?
Finding a suitable capsize for yourself also is an important part during your shopping search. As everyone has different size of head, most 613 lace wigs in West Kiss have three options of capsize for choosing. (small, medium, and large) Please kindly following detailed steps in below picture to get a suitable capsize.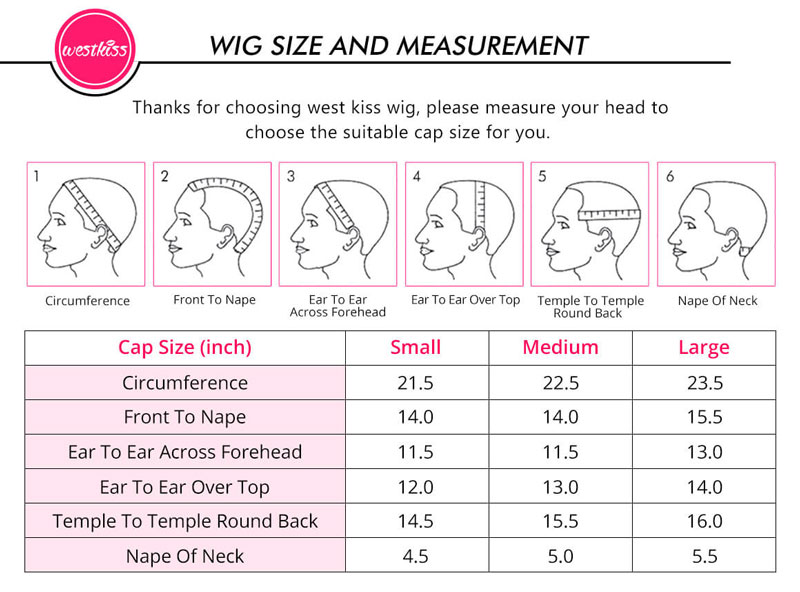 5. 613 lace hair wigs in combo wigs sale now
Recently we have launched a new form of sales promotion, pay one can get two wigs, some items even pay one can get five wigs. Hope this combo wigs sale can help you enjoy the happiness of shopping. Believe after reading all above information, you have already got the key to buy 613 lace wigs on West Kiss. It's time for shopping now!