Mar 21, 2022 1:30:00 AM
Things You Need To Know About 613 Blonde Hair
Aside from natural black human hair, the best-selling hair must be 613 blonde hair. Because the 613 blonde hair is suitable for women of all skin tones, it can fully show feminine charm. Blonde hair is easier to dye into different colors than regular black hair. As a result, many hairstylists buy 613 hair to dye them into unique colors. Today, this article will give you a detailed introduction to 613 Blonde hair.

1. Color
#613 hair color is light blond. So it means that the hair has been bleached already. It is porous which means any pigment can be easily applied and will stick to the hair because the cuticle has been altered. Therefore, women who like to dye hair will buy 613 blonde hair directly.
2. Price
The 613 blonde hair is bleached from natural black hair, it will cost more than natural black hair. Typically, a 613 blonde hair bundle costs $10-20 more than a natural black hair bundle. Lace wigs cost more.
3. Hair texture
The two most common hair textures on the market are Body wave hair and straight hair. Some professional wig vendors also offer 613 blonde deep wave hair.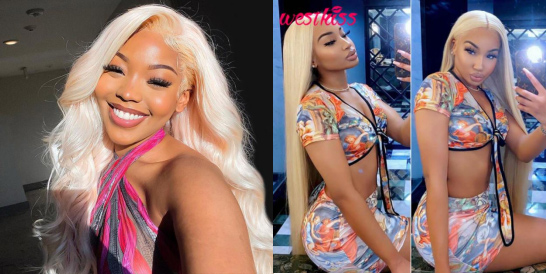 4. Lace size
There are different lace sizes for women to choose from.
613 blonde hair lace closure wigs include three different lace sizes: 4x4 lace closure wig, 5x5 lace closure wig, and 6x6 lace closure wig. A lace closure wig is easier to install and remove than a lace front wig. You do not need glue to hold the wig in place. And the price of a lace closure wig is lower because the lace size is smaller. However, lace size is small also means that there is not enough parting space to part the hair.
There are three blonde lace front wigs: 13x4 lace front wig, 13x6 lace front wig, and 360 lace front wig. 13x4 and 13x6 mean the ear-to-ear length is 13 inches, the middle part depth is 4 inches or 6 inches. 360 lace front wig means the wig is covered with lace all the way around, with only the top part of the wig having an elastic net. Lace frontal wig is more expensive than lace closure wigs because it has large parting space so that you can part your hair the way you like. And human hair lace front wigs are more natural and breathable because of the large lace size. However, compared to lace closure wigs, lace front wigs are more difficult to install and remove and are best secured with glue.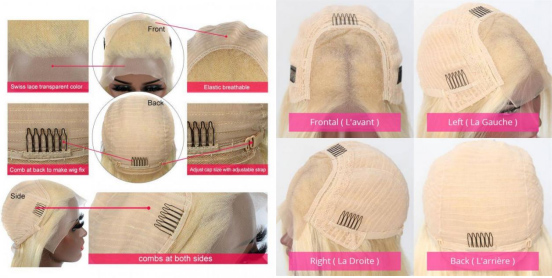 5. Lace color
Normally, all the 613 blonde wigs are transparent lace because the hair color is light.
6. Where to buy?
West Kiss Hair has been selling quality 613 blonde human hair for over 14 years. There are different lace wigs, hair bundles, lace closures, and lace frontal on their website. And there are often promotions on the website, so everyone can buy high-quality products at a good price.