Mar 9, 2022 4:46:03 PM
How To Wear a Headband Wig?
Do you know how to wear a headband wig? Do you know how to install it and how to make it look natural? This time we have collected some methods and suggestions to tell you how to easily install and care for headband wigs to make them fit comfortably.
At present, wigs are very popular with women. Whether in daily life or in the workplace, people have more demand for wigs, because wigs make you look more perfect and make you feel better. In particular, the curly headband composed of 100% natural human hair is very popular.
How to wear wigs correctly?
First of all, we need to take a ruler to measure our head circumference, so that we can choose the right wig.
The second step is to prepare a model head and put on the Brazilian hair wigs. If there is no model head, you can put it directly on your own head.
If it is worn on the model's head, please fix the wig on the model's head with a pin, and then cut off the excess hair according to the measured head circumference.
Next, take out tweezers and start plucking hair. We need to pull out some hair here at the hairline. Remember that it must look thinner to make it natural. This step may be time-consuming. Be patient.
Pluck more hair now. But this time, remove some hair from the thinner part than the other parts. It will have a gradient effect on the hairline. The front of the wig now looks more natural.
Once the hairline is completed here, the effect will be very obvious.
The last step, of course, is to put on the wig and see if the one you just trimmed is suitable. Of course, you can also put it on the manikin first. If there is anything inappropriate, continue to pull around the wig until you are satisfied with the result, but don't pull too much.

How to care for a headband wig?
1. Gently comb. Headband wigs should be combed before use. When you put on your wig, you can comb it a little. Generally speaking, it is best to use a wide-tooth comb to comb the wig. When combing the wig, don't comb it straight down. You should use the oblique comb method with light action.
2. Don't frequently use curling sticks to heat hair. Frequent use of these will make our wigs dry, knot, and eventually lead to hair loss.
3. Do not use hairpins. In order to prevent the wind from blowing away the wig, some people will use hairpins to hold the wig, don't hold the wig too tight. Otherwise, it is easy to hook the cap of the wig. Therefore, it's best not to use hairpins. You can use decorative hairbands on the wig to fix the hair;
4. It is normal to have a small amount of hair loss in the process of finishing and wearing
5. When combing a long wig, divide it into several sections and comb it from bottom to top. It must be light and patient;
6. If the wig has been used for a long time and it is difficult to tie the knot, do not pull it hard when combing it. You should spray the special non-oily maintenance fluid for the wig, and then open it slowly and carefully
How to clean the headband wig correctly?
1. Comb the wig with a special wig comb (anti-static).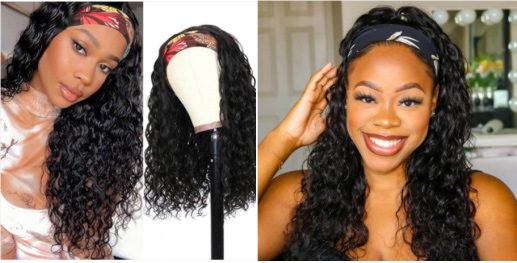 2. Wash the cheap lace wigs with warm or cold water. Add shampoo to the cold water until it bubbles. Using regular shampoo and conditioner can keep your hair shiny and silky.
3. Then soak the hair in the water for 2-3 minutes to avoid soaking in the water for a long time and using hot water for cleaning. Pay special attention to the cleaning method. When washing the wig, don't rub it hard. You should press it gently to clean the wig.
4. Don't blow the wig with a hairdryer. We suggest using a dry towel to gently press the wig dry and absorb the water, which will dry faster.
Our services
The demand of consumers is more and more diversified, and WestKiss is also developing new products to ensure the quality of hair at the same time Among them, the buy one get one free wigs are very popular. It has favorable prices and various styles and colors and is deeply loved by most consumers.
Westkiss pays attention to both quality and service. There will be irregular preferential activities, discounts, and second kill activities every month. You can pay more attention to our website information, which will bring you different gains.