Nov 2, 2020 11:10:26 PM
The Knowledge Of Headband Wigs
In the fast-food economy era, time is more precious. Whether you are studying, working, or taking care of the family, women need more time. Because women are willing to stay beautiful even they are busy. Wigs are an important factor of beauty. Traditional wigs are quite a task to manage and use. How to save time in wearing wigs?
If you are looking for a time-saving and ever-stylish look without a mess then new headband wigs are just for you.

These wigs are used to cover the head either partially or fully and provide extensions and volumes to thinned hair. The head band wig can give a wearer an elegant look in just a few minutes without any efforts. Also, headband wigs could provide more styles to meet different demands of people. You can find various types of headband wigs human hair on the west kiss hair website.
The headband wigs are made from real human hair, ice silk headband (with elastic strap inside).
You can choose various hair bands, different hair colors, and textures to suit clothes, makeup even your mood.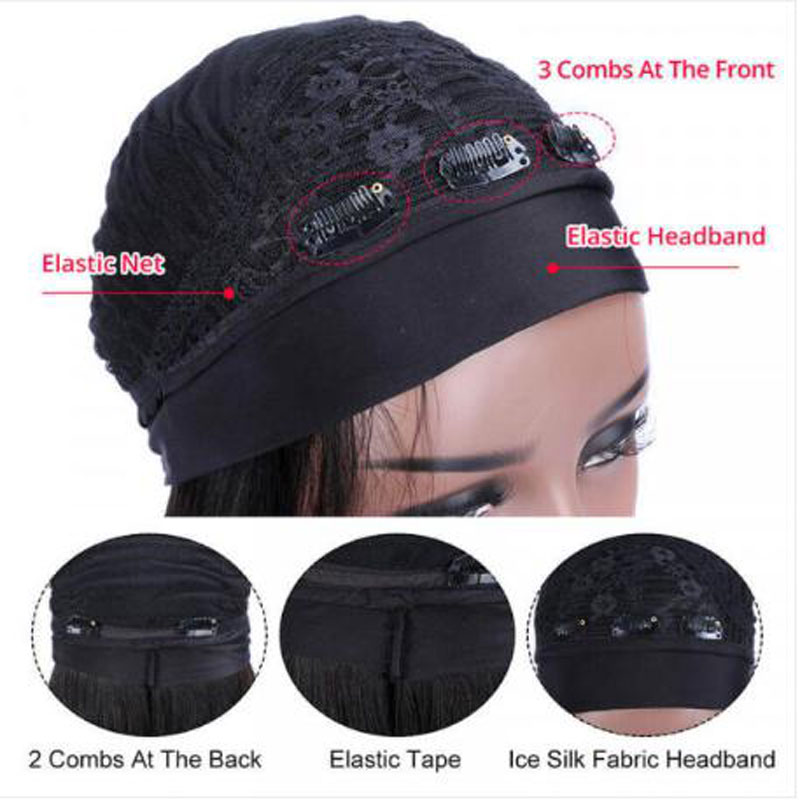 How to wear a head band wig?
You only need four steps to wear a headband wig. Just like the picture shows:
The new headband wigs are very easy to wear. The user has just need to slide the headband wig on the head then here they go. There is no need to stick or adjust the wig by using pins or tapes. One need not use bobby pins also. These customer-friendly headband wigs are much popular among users.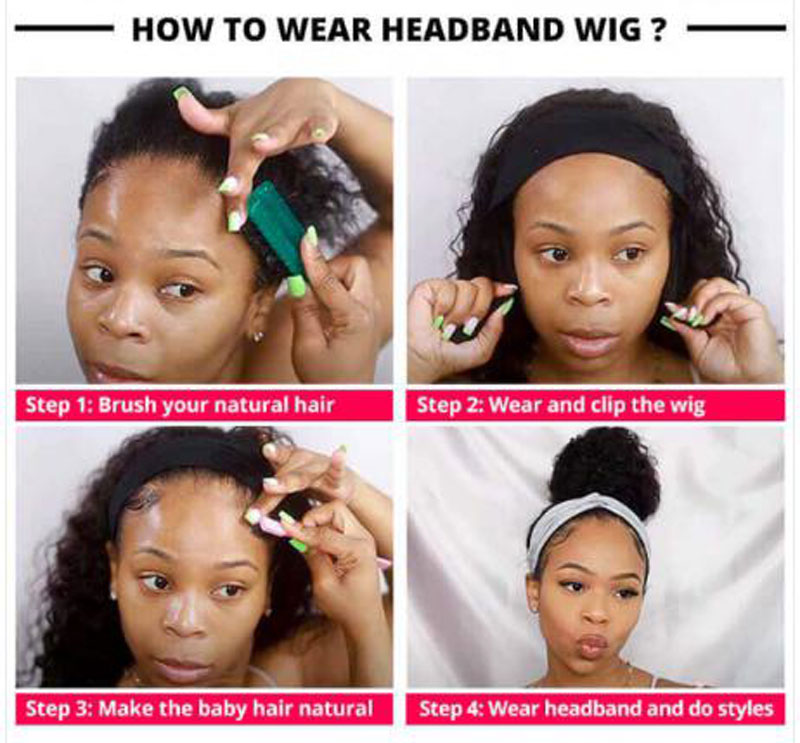 A very soft and comfortable feeling can be experienced by the user thanks to the special elastic of the headband. This elastic band provides a firm grip and good attachment to the head and prevents unnecessary touching to the wig. Also, they are devoid of pins glues therefore no itchy feeling to the scalp, and are best suited for new users.
Different from the traditional other wigs, these headband wigs are very easy to apply. You no more need to indulge in arrangements of clips, gums, and bobby pins with headband wigs. Only a band needs to be adjusted according to the hairline. The one-step procedure involves adjusting velcro or pullover ready to fit the band to match the size of the head. Just pull the headband to cover the hairline. These also don't interfere with the natural hairline and efficiently cover bald areas of the head. A simple pull is sufficient to match the hairline using a wig brush. Partial head wigs, half head wigs, or three quarters headband wigs are also available. One of the advantages of wearing a headband wig is that it can be used at special events as well as day to day life.
Taking Care Of Your Headband Wigs:
A simple periodical washing with mild shampoo or wig shampoo is very sufficient. Still, if you want, here are a few steps you can follow:
1. At first regular combing of headband wig with a hairbrush; metal wig brush preferably.
2. Regular washing with mild wig shampoo.
3. Pat drying of wig hair with a towel or cloth to avoid settling of moisture.
4. After complete drying, brush again.
5. Keep wig hanged in wig stand when they are not in use.
Now you must know these headband wigs better. They are easing to choose from, stylish, and durable. So, get up and go for your headband wig.
Where To Buy Human Hair Headband Wigs?
You can get your headband wig just here:
West kiss hair launched promotions for virgin human hair headband wigs: Pay 1 Get 3, Buy 1 Get 1 Free Wigs, Head Band Wigs 2 For 1 (In the Same Length But Different Textures). If you never tried it before, go and get it. Affordable and cost-effective, you will be surprised!