Oct 29, 2020 11:00:48 PM
How To Secure Your Lace Wig?
After buying a hair wig, how to install and secure it quickly and conveniently is important. Today's article is about how to secure your lace wig, details please kindly read on.
1. What are Lace Wigs?
Lace wigs normally are made of several 100% virgin hair bundles with lace closure or lace frontal. There are three combs at both sides of the lace wigs and back, you can use these combs to secure the position of the wigs on your scalp. And all lace wigs have an adjustable strap to adjust capsize. If the width of the lace is wide from ear to ear, you may need to use glue to secure it to make the hairline more real.

2. What are Glueless Wigs?
Glueless Wigs are just like the name, no need to use glue while installing. Sometimes, people may concern about whether using glue to secure the hair wigs will hurt your skin. People also will feel tired after gluing the lace wigs, as it needs to cost some time. So the glueless wigs came out, in order to provide people with convenience.
Then I will introduce three typical glueless wigs in West Kiss to you today, please kindly read the below information for references.
1) U part wigs
The human U part wig doesn't have lace. It only has a U-shape open at the middle top of the wig. Your own hair is exposed from the U-part open and then blend with the wig hair. Mixing the exposed hair and wig hair can make the hairline look more natural and real. The U part wigs are easier to wear and also can increase hair volume. The U part is only 2x4, it is a small part, you can use combs on both sides and at the back with an adjustable strap to secure the U part wig, no need to use glue.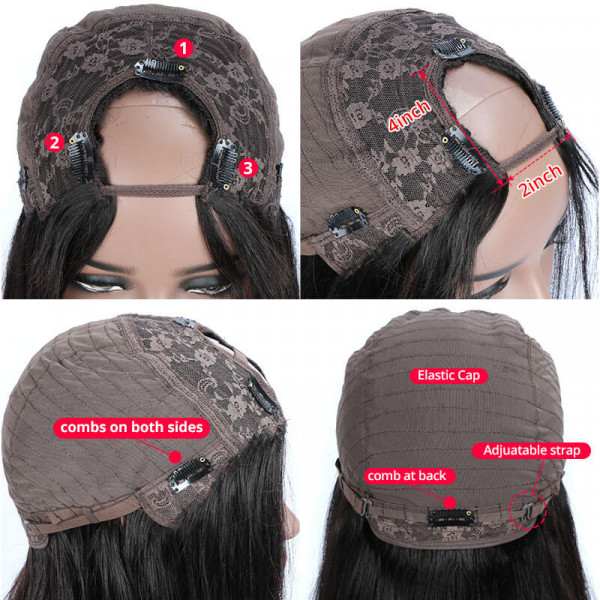 The headband wig is also named as a human hair half wig, it also doesn't have lace on, only has a breathable elastic net cap covers 3/4 of your head, and the rest part is covered by the silk headband. A headband wig has clips at the front and back with an adjustable Velcro headband, it can fit your head well without glue. Now buy one headband wig in West Kiss Hair Store, you can get two pieces headband randomly.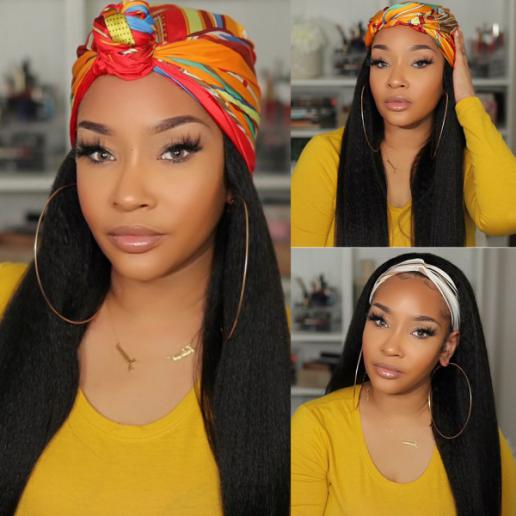 Lace closure wigs are made by lace closures which are not as wide as lace frontals from ear to ear. So sometimes installing a lace closure wig doesn't need to use glue.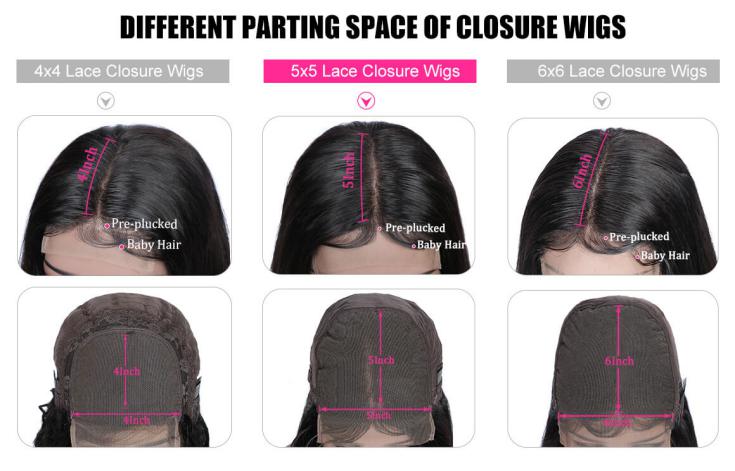 3. 4 Methods To Secure Your Wig
How to secure your wig? There are four methods to secure your wig below:
3.1 Use The Combs And Adjustable Straps
Most human hair wigs have combs and adjustable straps on, so if you want to secure your hair wig, firstly you will use combs and adjustable straps. It is a simple and effective method for everyone.
3.2 Glue Your Wig
Everybody knows that using glue to secure your wig is a traditional and common
way. Most people will choose to use it, as it is work and can secure the hair wigs on your head well. On the other hand, like we said above, some new wigs like U part wigs, lace part wigs and headband wigs, etc. As they don't have lace or only have small lace part on the wig, no need to use glue to secure, can make the installation more convenient and simple.
3.3 Sew Extra Elastic Band
There is another way that can secure your wig is to sew an extra elastic band on your wig. It is also a good way can keep a hair wig on your scalp well.
4. Where To Buy Quality Wigs?
We highly recommend you can consider our store - West Kiss Hair. We have joined the wigs market for several years and always insist on offering high-quality hair products at a reasonable price. We are under the Halloween festival now, you can enjoy the below sale promotions:
MAY'S LIVE GIVE AWAY TIME: 8.30-12.00AM GMT+8
HEADBAND WIGS GET $12 OFF with Code "HBWIG"
LIMITED WIG DEAL: BUY 1 GET 1 FREE WIGS
Each Day First 5 Orders Get $15 Off with Code "HW15"
Save $26 OVER $399 with Code "HW26"
Save $16 OVER $269 with Code "HW16"
Save $9 OVER $159 with Code "HW09"