Jan 27, 2021 9:28:00 AM
Only $59 - Straight Bob Wig Flash Sale
Only $59 can get a straight bob wig? Yes, that's right! Come to West Kiss Hair and get it!
1. Why Bob Wig Is So Popular?
A short bob wig is a perfect choice for women who are interested in a short, clean hairstyle. A bob wig is very convenient and the price is even lower than a long hair lace front wig. It is the reason for the bob wig's popularity.
West Kiss has various different styles of bob wigs. Four different hairstyles: straight, body wave, curly, deep wave. Eight different hair colors: natural black, #99J, #1B/99J, #27, #613, #4/613, #Rose Pink. In West Kiss Hair Store, paragraph style hair products, believe there is always a right for everyone!
2. The Top 3 Popular Bob Wigs
1) #1B Lace Front Bob Short Wigs
Look at the picture, this short bob wig style does like the hairstyle of Natalie Portman in the movie Leon. It looks chic and cute. That's why many girls began to get a bob wig. All the trendy girls don't miss this treasure.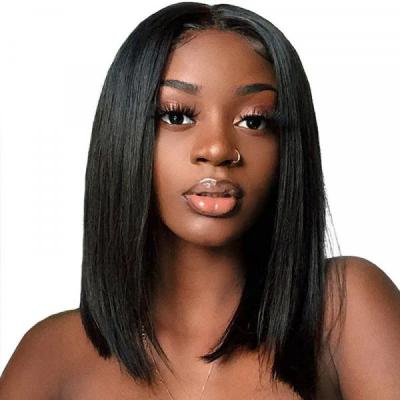 Instead of straight hair, bob wigs work well with wavy or crimped hair. And this curly bob wig is a great choice. The layers and shagginess of this curly Bob wig give volume and movement to the hair which can make people look better after wearing it. And the curly hair texture also is close to natural human hair, so many African American women like it.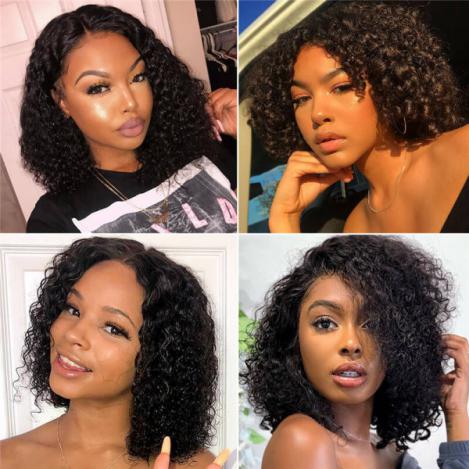 There are many hair colors of bob wigs, and 613 blonde must be one of the most eye-catching colors for any occasion. This 613 blonde bob wig can always let people become the focus in the crowd and have some beautiful fashionable moments.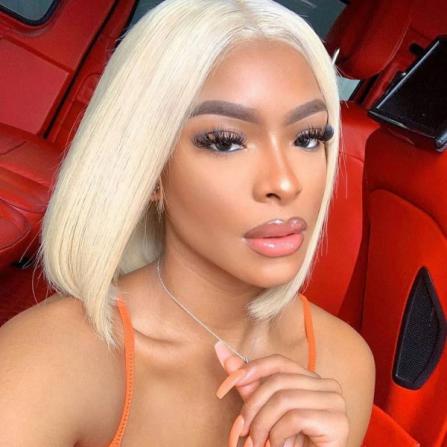 3. How To Choose The Right Bob Wig?
Normally people select hair wigs by three aspects: hair length, hair color, capsize.
1) Capsize
Most bob wigs normally only have one medium capsize. But some bob wigs will have three options to choose from: small, medium, large. People should select proper capsize according to the head circumference. And every bob wig has an adjustable strap that can let people adjust the wig to fit the head.
2) Hair Color
West Kiss Hair has many hair colors for all customers: natural black, #99J, #1B/99J, #27, #613, #4/613, #Rose Pink, etc. Everyone can pick up their preferred colors.
3) Hair Length
The length of the bob wigs influences the amount of its versatility. Different hair lengths can reflect different feelings to people. We have four different hair length of this short bob wig: 8 inches, 10 inches, 12 inches, 14 inches.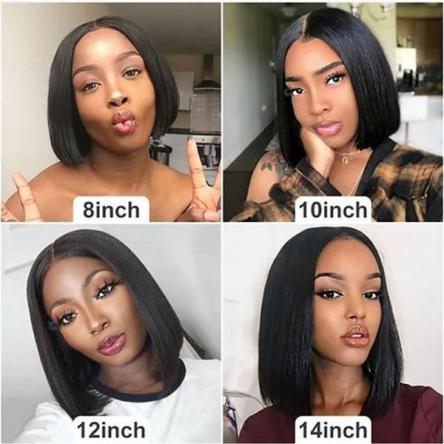 4. How Can I Get a $59 OR $79 Bob Wig Flash Sale?
Come to the West Kiss Hair official website and enter the bob wigs product page. Details please check the below screenshot, you can find this product:
Valentines Gift Flash Sale - Straight 5x5/6x6 Bob Wig. Flash Sale Starts On 29th Jan.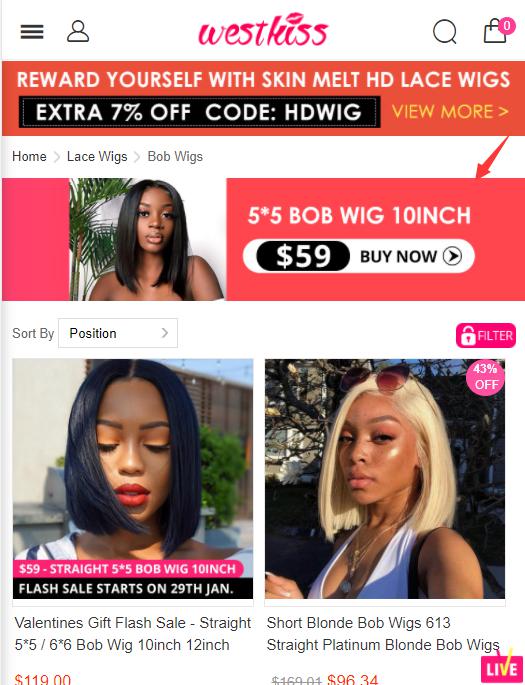 Only pay $59 can get a straight 5x5 bob wig in 10 inches, pay $79 can get a straight 6x6 bob wig in 12 inches. What a great deal! Everybody! Don't miss this chance!