Aug 24, 2020 11:44:39 PM
Lace Part Wigs vs Lace Front Wigs
1. What Is Lace Part Wig?
Lace part wigs are made by hand-tied lace part and several hair bundles. You can check below detail picture, the lace part of the lace part wig is just like a seam, and its depth is 4 inches. It is our most recently developed product which is under "PAY 1 GET 2" promotion now. Come to check and don't miss it.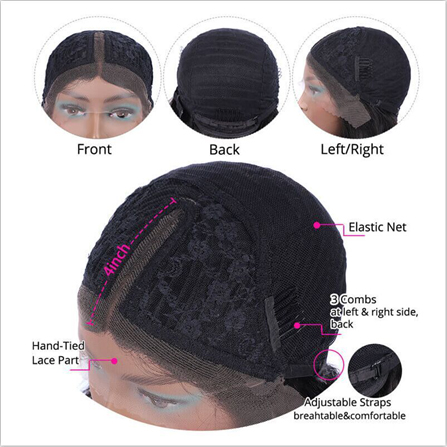 Lace front wigs are also made by lace front and several hair bundles. The area of lace is from ear to ear which can make your hairline look more natural. The wide lace also offers enough space to help customers parting the lace more freely, they can do multiple hairstyles on it.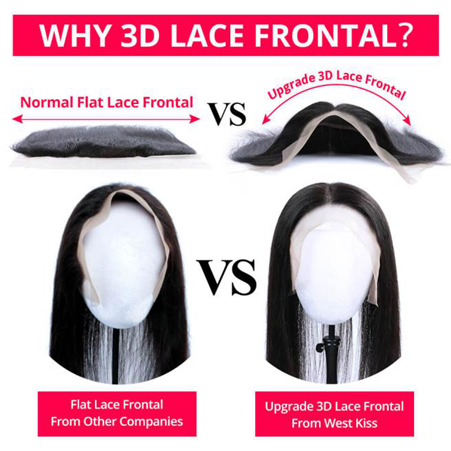 As our company consistently keeps improving product quality and is committed to providing customers with high-quality products and services. Recently West Kiss Hair has launched an updated version of the lace front, we named it 3D lace frontal wig. It would be more suitable for your head, totally designed for the human scalp. The lace front has been upgraded, but the price of 3D lace front wig is still as same as the normal lace front wig. So what are you waiting for? Just come and get it!
3. Lace Part Wigs Vs Lace Front Wig
Although these two are lace wigs, they both have advantages and disadvantages. So how to make a decision between these two lace wigs? In the following comparison, we will compare their similarities and differences to help you get detailed information about them.
Similarities:
1) All the lace wigs in our store are made by 100% human hair, and all the lace we used are swiss lace. We always use high-quality raw material and keep upgrading technology to offer our customers to have a good shopping experience in our store. The recognition from our customers has always been our philosophy and the driving force behind our ongoing quest for perfection.
2) West Kiss Hair also provides customized service. Lace part wigs and lace front wigs both could be customized. If you want to get other colors or texture, you could please kindly contact us. And if you decide to do this hairstyle changing magical by yourself, it is also a great idea to get the original one and restyle it.
3) These two lace wigs have the same internal structure, and both use the elastic net which is breathable and comfortable. There are three combs at both side of the wigs and back, these combs can help you to ensure the position of the wigs on your scalp. Every lace wigs all have an adjustable strap to help adjust cap size conveniently.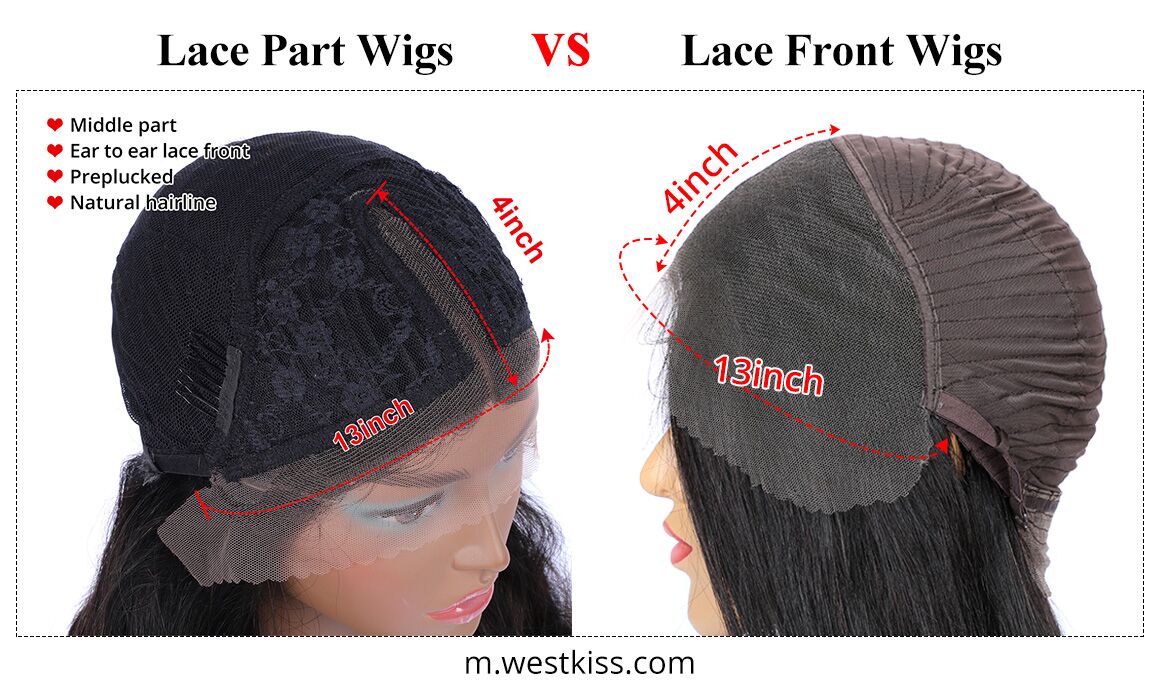 Differences:
1) About the installation, as the lace part wigs only have a little lace in the middle, it is easy to wear. You just need to put it on your head, use adjustable straps to set the position and secure it with combs. The final step is to cut the extra lace, no need to bleach, and no need for glue.
About the lace front wig, the area of lace from some lace front wigs are wide from ear to ear. Sometime you may need to do bleach before wearing it. And as the lace front part is wide, normally need to use glue to help the lace wigs look flatter on your scalp. If you are a wig beginner of installing hair wigs, we suggest you could choose lace part wigs.
2) The lace part of lace part wigs is in the middle, so it only could do the middle part. But lace front wigs can provide you more choices, as the area of lace are wider then lace part wigs, you can do free part, three part, and middle part. (if you want us to part hairs for you, you can please leave a message when place order to tell us your preference)
3) For lace front wigs, West Kiss Hair offers three choices of capsizing. (small, middle, large) Lace part wigs only have one middle size.
4) The price of these two lace wigs is also different. The area of lace from lace part wigs are less than lace front wigs. So the price of it will be more competitive. If you budget is limited and want to have a cheap and affordable lace wig, you please can try the lace part wigs.
Believe all the above information introduce you to an understanding of lace part wigs and lace front wigs. Then we can begin to shop in West Kiss Hair!
All wigs orders now have a big promotion in West Kiss Hair to celebrate the "828 festival".
Especially lace part wigs are under the "BUY 1, GET 2" promotion, don't be hesitated and join us.
The available time is from 14TH. AUG to 2ND. SEPT.