May 9, 2021 9:03:20 PM
How Long Does West Kiss Hair Take To Deliver
West Kiss Hair is a wig shop with more than ten years of experience. There is a professional wig production team and a stable and fast delivery process to ensure that it reaches customers in various countries as soon as possible.
Next, I will give you a detailed introduction to the West Kiss Hair mall delivery items and how to place an order in the West Kiss Hair.
Content:
ØIntroduction Of West Kiss Hair
ØHow Long Does West Kiss Hair Take To Deliver?
ØHow To Place An Order In West Kiss Hair?
Introduction Of West Kiss Hair
West Kiss Hair is a wig shop with more than 10 years of experience. It is committed to providing every woman with high-quality and low-cost wig products. It is the service tenet of West Kiss Hair to make customers happy and satisfied with wig products.
West Kiss Hair uses 100% virgin human hair to make wig products without any chemical process or synthetic fillers. It takes every step of the wig production process seriously and provides customers with high-quality wig products.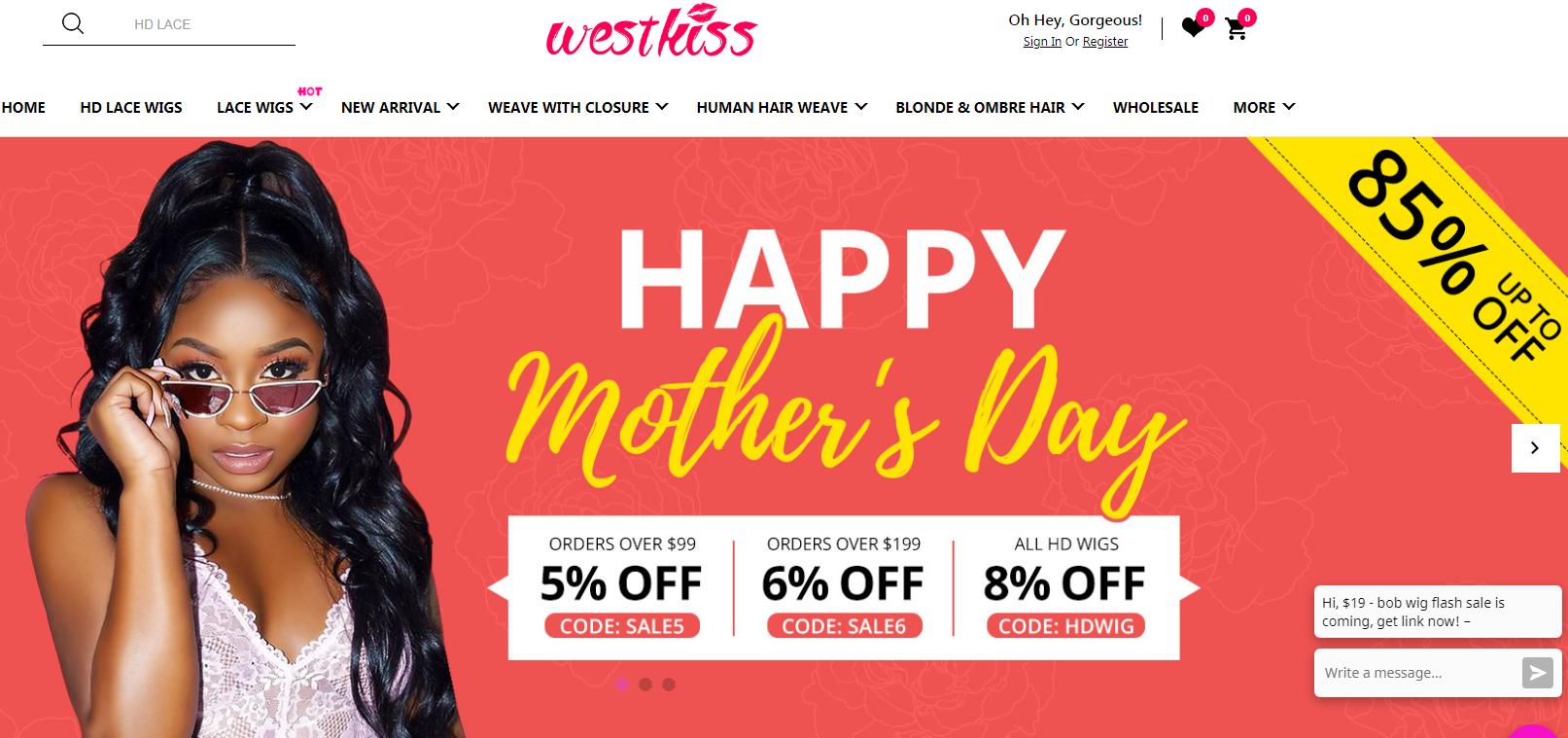 How Long Does West Kiss Hair Take To Deliver?
Except for weekends and holidays, West Kiss Hair takes 0.5-2 business days to process orders (if your order needs to be customized, it might take a longer time to process), regardless of the shipping method selected at checkout.
We ship from Monday to Saturday. Please wait up to 2 business days to process the order (for example, if you place an order on Monday, your order should be shipped on Monday or Tuesday).
After the order is shipped, you will receive a confirmation email with a tracking link once your order shipped out, which you can use to track your order. Express shipping options and any other third-party fees are non-refundable.
If you don't know what the tracking number is, or have trouble tracking the package, please feel free to contact our customer service for help.
Normally, we send out your order out by DHL. If you want other shipping methods, please tell us before placing your order.
The length of time you receive the package depends on many factors, such as the method of transportation, the distance to the destination, etc.
Under normal circumstances, most orders will be received within 3-5 business days afte delivery, such as the United States, Europe, Canada, and Australia. For some countries with slower shipping speeds;(such as Africa, Brazil, Mexico), it may take 5 to 10 days or even longer for customers to receive the package.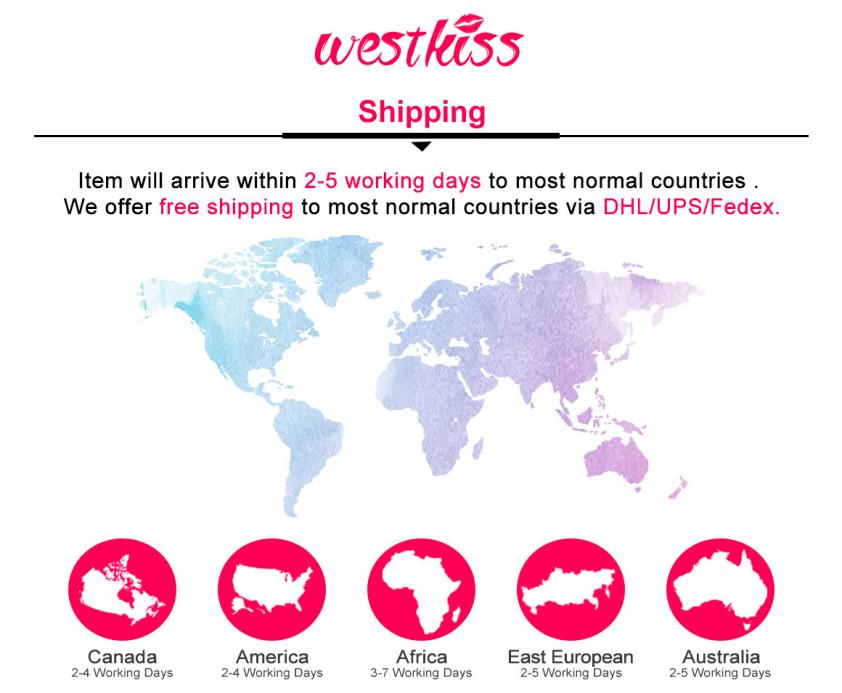 What you need to pay attention to is:
We are not responsible for any delays caused by the destination country's customs clearance processes.
Territories of the United States: For those who reside in a territory of the United States that we ship to, please allow anywhere between 3-5 business days for your order to reach the destination.
How To Place An Order In West Kiss Hair?
Next, I will give you an example of how to buy lace wigs in West Kiss Hair Mall?
First of all, you need to open the link to the Mobile site: https://m.westkiss.com/ (the PC site is: https://www.westkiss.com/).
Then you will see the wig product page of West Kiss Hair Mall, which displays discounted wig products, hot-selling wig products, etc., and at the bottom of the page, there is a display of wig products with different curvatures.
Click the general category option in the upper left corner, you will see the lace wigs that have been selling hot, click "
lace wigs
", you will see more different types of lace wig products, as shown in the figure below.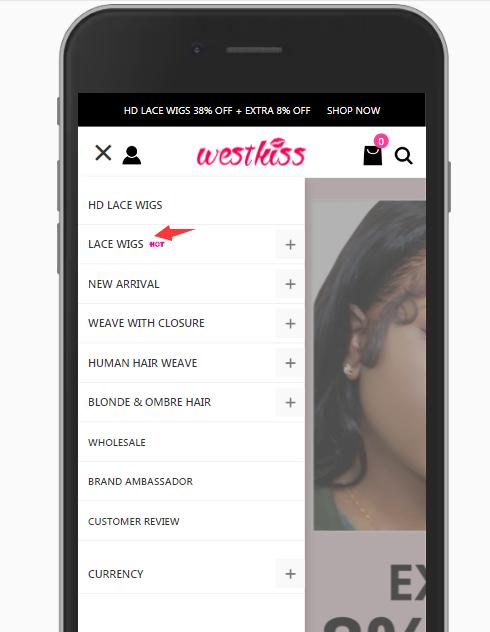 Find the wig product you want, select the wig length, density, and other options you like, and then click "Buy Now" to complete the order operation.
Before you complete the order, here are two things you need to know in advance:
Shipment Address Reminder:
1. Express doesn't accept any address with P.O.Box.
2. Please ensure your address is correct. Changing address after parcel left factory will cause extra fee.
Customs Tax:
1. It is decided by the different countries' policies and should be paid by the buyer.
2. You could leave us a message about the value you want us to write when placing the order.
3. Usually we write the hair as a hair sample and lower the value just to help you avoid the customs tax as possible as we can. You will get the original hair as your order shows.
In addition to lace wigs, West Kiss Hair also provides you with colored human hair wigs, U Part wig, Headband wig, Bob wig, etc. If you have the color you want, we can also customize it for you.
Don't hesitate anymore, hurry up and buy affordable lace wigs for yourself at West Kiss Hair Mall before summer comes!