Jan 17, 2021 7:34:44 PM
Headband Wigs Advantages And Disadvantages
In recent years, retro styles have come back into fashion. Sometimes what is out of fashion can come back into fashion, fashion is always like that. Teenagers are very fashion conscious, especially girls. Everyone doesn't want to miss this trendy item.
1. What is a headband wig
The headband wig is like its name. It is made by some hair wefts sewed into a silk headband. Every headband wig has no lace on, only a breathable elastic net cap covers 3/4 of the head, and an ice silk headband covers the rest part.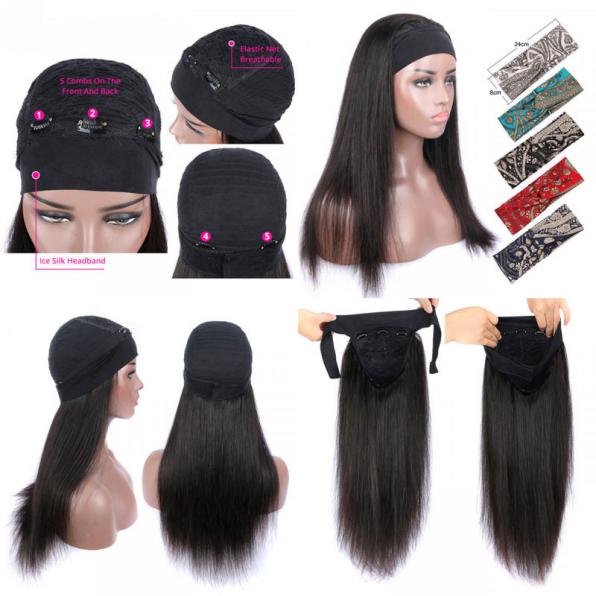 2. Advantages of the headband wigs
Of course, as an available new kind of hair wigs, headband wigs both have advantages and disadvantages. I think below information on headband wigs you need to be aware of before buying one.
1) Varied Hairstyles
A headband wig can be styled to various different hairstyles with hair accessories or deft hands. Bumping up some accessories, like hairbands, headbands, ribbons, and scarves, etc. Rich-looking extras can make even the simplest hair wig look polished. Ordering a headband wig in our store, we will offer two cute headbands as a free gift to help our customers to complete their wig looks. On the other hand, you also can style it without any accessories, only with your deft hands. For example, you can do some simple daily hairstyles like making the hair down to your shoulders, or trying to tie it up into a bun or ponytail.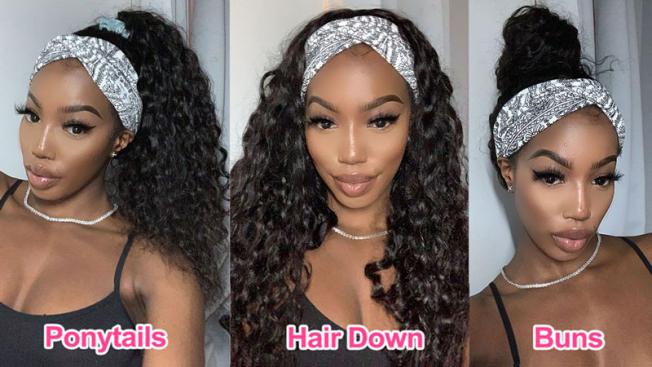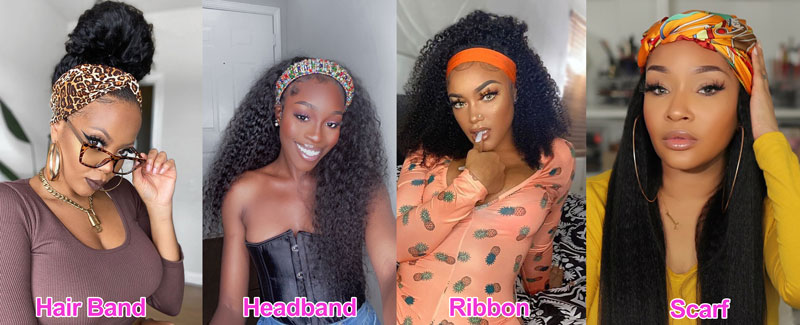 One headband wig can be styled to various hairstyles and bring you to any different occasion.
2) Have Competitive Prices Than Other Hair Lace Wigs
As we said before, headband wigs have no lace, the prices will be more competitive and affordable than other lace wigs. Some people may need time to mull over before shopping, compare hair products and prices, and decide which they should buy.
3) Easy To Wear And Take Off
Normally installing a headband wig only need to take 2 minutes, no need to use glue. Clips at front and back with an adjustable Velcro headband can help you adjust the headband wig to fit your head well. It is simple enough for all beginners.
3. Disadvantages of the headband wigs
1) Prices Are More Expensive Than Synthetic Hair Wigs
Although the prices of headband wigs are cheaper than lace wigs. Compared with synthetic hair wigs, headband wigs have no price advantage. I always recommend this kind of human virgin hair, it gives more possibilities than synthetic hair if you want to style it or use it for more time.
2) Need To Pay More Attention To Maintain
Every headband wig in our store is 100% virgin human hair, so you need to treat it like your own human hair. Normally a headband wig can last for one year if under good maintenance. You need to pay more attention to maintain for longer use.
3) Not As Breathable As Lace Wigs
There is no lace on a headband wig, so it is not as breathable and light as a lace wig.
4. Where to buy headband wigs
I highly recommend you to visit our official store - West Kiss Hair. We will meet all the requirements on your wigs and also offer surprising coupon codes for you.
All wigs can get an extra 5% off with code "WIG05".
Don't wait, come and shop in West Kiss Hair.