Mar 24, 2021 9:01:00 AM
EVERYTHING ABOUT BOB WIGS
A short bob wig is a perfect choice for women who are interested in cute, clean-cut hairstyles with different colors. For many customers, they would like to choose some classic and regular hairstyles, as long straight hair wigs. Because classic never goes wrong. But people nowadays like to run after individuality and difference exceedingly. Finding a modern and chic short bob wig can satisfy their needs. That is also the reason why bob wigs have become hot-selling hair products recently. Today I will introduce everything about bob wigs in four aspects: hairstyles, hair colors, hair lengths, wig types. People can learn more about bob wigs by reading this article.
1. EVERYTHING ABOUT SHORT BOB WIGS
1.1 THE STYLES OF BOB WIGS
There are five different hairstyles in West Kiss Hair now: deep wave hair, straight hair, curly hair, body wave hair, water wave hair. Different hairstyles can reflect different feelings. Like straight hair is classic, body wave hair is graceful, water wave hair is active, etc. People can choose their preferred hairstyles of bob wigs in our store. Besides, West Kiss Hair also offers customized services. If you want other hairstyles, you can please kindly contact us. We will reply once we get the messages.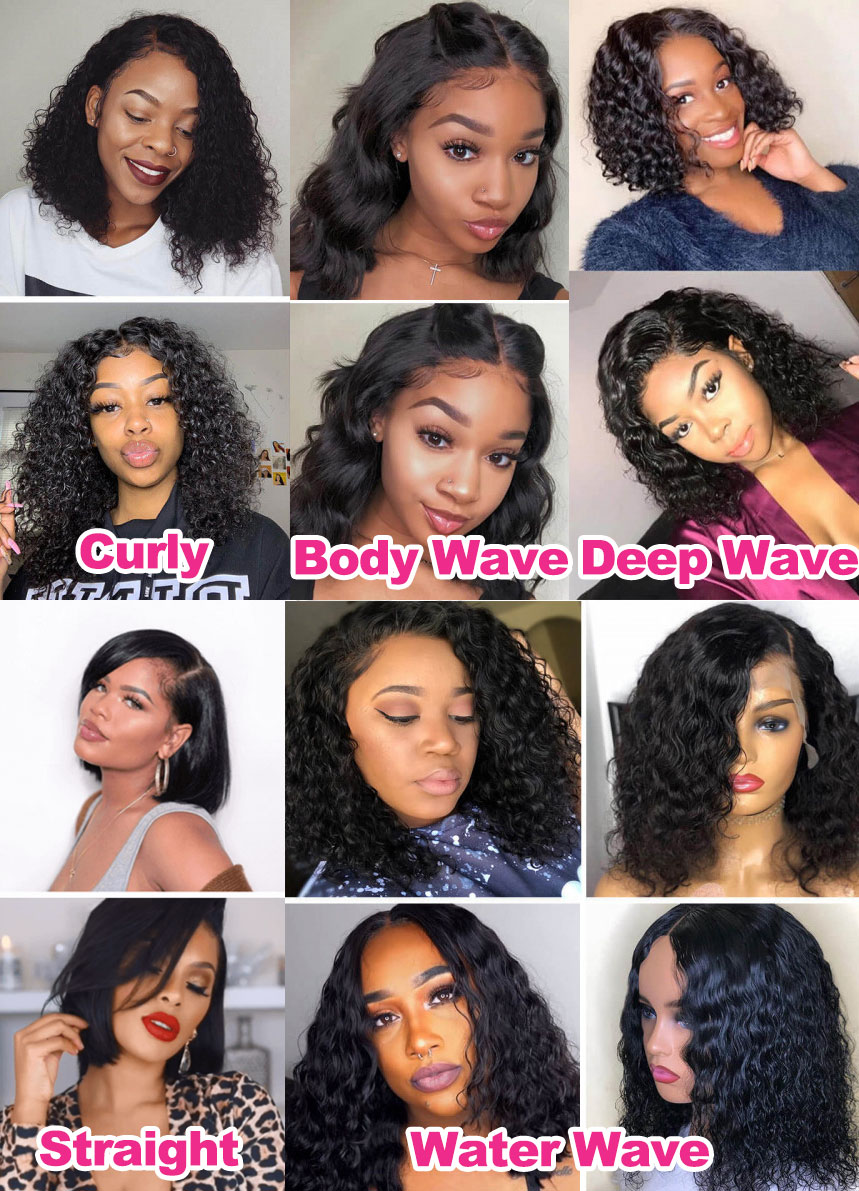 1.2 THE COLORS OF BOB WIGS
Hair colors also is an essential part that people will care about. Colored bob wigs sometimes can change the mood. We have two main hair colors: natural black hair color and 613 blonde hair color. These two hair colors are totally different. Natural black is elegant and sedate, 613 blonde is shining and bright. No matter what hair colors you choose, both of them can be a perfect look on you. For more hair colors include: #4/613, #Rose Pink, 99J, 1B/99J, #27, etc.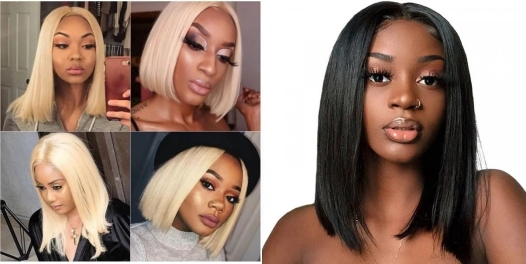 1.3 THE LENGTHS OF BOB WIGS
Normally a bob wig has four different hair lengths: 8 inches, 10 inches, 12 inches, 14 inches. Different people have different needs for hair lengths. You can choose the most suitable one for yourself.
1.4 THE TYPES BOB WIGS
There are four main different wig types of bob wigs: bob lace closure wigs, bob lace frontal wigs, bob U Part wigs, bob headband wigs.
1) BOB LACE CLOSURE WIGS
Lace closure wigs are common lace wigs. Every lace closure wig has a lace closure with the same length and same width. Every lace closure is set in the middle of the wig. Lace front wigs are easy to install than lace frontal wigs. And because the areas of lace closures are also smaller than lace frontals, the prices of lace closures also will be more affordable and more competitive.
2) BOB AFFORDABLE LACE FRONTAL WIGS
Compared to the above lace closure wigs, lace front wigs have wide lace frontals that can cover people's foreheads from ear to ear. So lace frontal wigs can offer more real and more natural hairlines.
3) BOB U PART WIGS
U Part wigs are different from the above two kinds of lace wigs, U Part wigs don't have lace. Every U Part wig only has a U-shape open at the middle top of the wig. U Part wigs are very easy to install without glue and you also can remove them at any time you want.
4) BOB HEADBAND WIGS
Headband wigs also have no lace on, only breathable elastic net caps cover 3/4 of the head, and ice silk headbands cover the rest part. You only need to cost 2 minutes to complete an installation of headband wigs. So headband wigs are also named beginner-friendly wigs.
2. WHY TO CHOICE BOB WIGS?
2.1 EASY TO MAINTAIN
Compared to long hair wigs, short bob wigs will be easier to maintain. Because the hair lengths of bob wigs are shorter than long hair wigs. Bob wigs are not easy to get tangled and knotted. It is also can be more convenient when you are washing your hair wigs.
2.2 AFFORDABLE PRICE
Hair length is an important factor that can affect the price of a hair wig. The longer hair lengths of hair wigs, the more expensive prices. Short bob wigs have more affordable prices than other long hair wigs.