Feb 11, 2022 5:27:32 PM
5 Wig Choices For Valentine's Day
February 14th is Valentine's Day that many people look forward to, and this day will witness countless sweet loves. In the introduction, do you know the origin of Valentine's Day?
Legend has it that Saint Valentine was persecuted as a Christian, and before his execution, he performed a miracle to heal Julia, the blind daughter of jailer Asterius.
The night before St. Valentine's execution, he wrote the first "Valentine's Day" card to the daughter of his jailer Asterius, who was no longer blind, signed "From Your Lover". This signed expression was later adopted by modern love letters.
Today's Valentine's Day has developed into a day when lovers send flowers, candy, greeting cards, etc. to each other to express their love.
Before the date of Valentine's Day, I think all girls will want to look good and beautiful, especially the very important makeup and hair. A great hairstyle will bring out your best look and make your partner feel different and fresh.
Next, we recommend 5 very high-quality and beautiful virgin human hair wigs for you to make your Valentine's Day romantic and beautiful.
1. Body Wave HD Lace Wigs

Link: https://www.westkiss.com/skin-melt-hd-lace-wigs-body-wave-transparent-wigs-real-hair-lace-front-wigs.html
HD skin melt lace is currently the best quality lace product, this lace is ultra-thin, ultra-soft, and ultra-breathable, giving you the most authentic and natural look.
The body wave style is well-loved, and it can give you a full, plumped, and healthy look. No matter what your face shape is, a body wave wig will perfectly complement your face shape.
What's more, the "S" wavy wig makes women look sexy and slightly wild, especially when worn naturally, perfect for Valentine's Day date.
2. Curly Hair HD Lace Wigs

Link: https://www.westkiss.com/human-hair-curly-lace-front-wigs-quality-lace-wigs-remy-glueless-kinky-curly-lace-frontal-wigs.html
Curly hair HD lace wigs have been West Kiss Hair's best-selling wigs, and many customers love this hairstyle, especially African American women.
Curly lace front wigs have tighter and more irregular curls than body wave wigs. Curly lace wigs always look fluffy and soft and look great in a high ponytail or loose. Just apply a few drops of Argan oil to keep your hair knot-free and bouncy all day long. For an all-day elegant look on Valentine's Day, Curly hair HD lace wigs are not to be missed.
3. Blonde Lace Front Wigs

Link: https://www.westkiss.com/613-blonde-wig-lace-front-human-hair-wigs-long-blonde-wig-best-lace-front-wigs.html
If you want to buy a classic color lace wig that can't go wrong, it must be 613 blonde lace front wigs. 613 hair color does not pick skin tone, it can perfectly match girls of any skin tone, and it looks exquisite and fashionable. Put on a pair of good-looking sunglasses, and with a good-looking outfit, you are the most attractive lady on the street.
4. Body Wave Highlight Wigs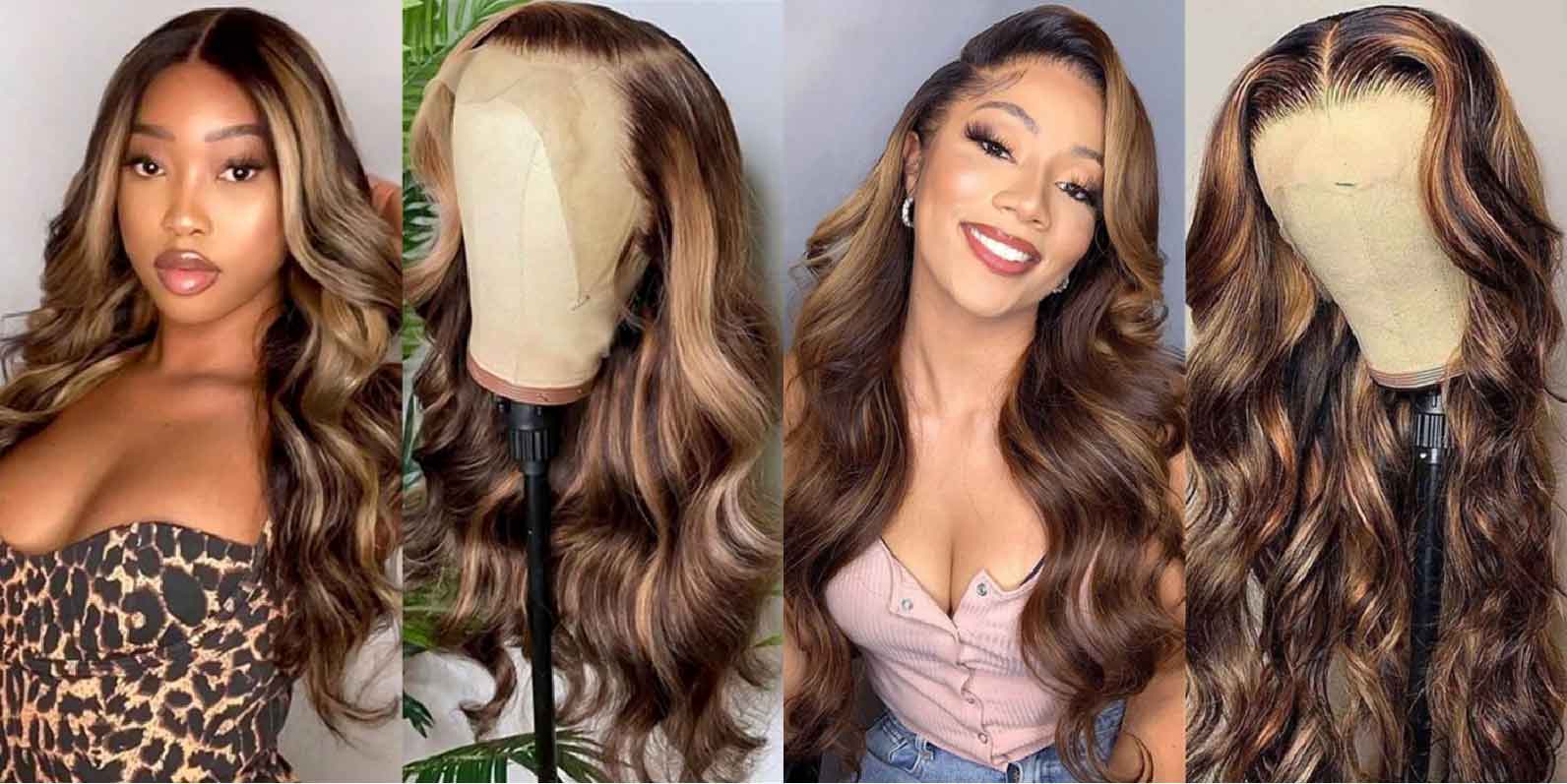 Link: https://www.westkiss.com/brown-and-honey-blonde-highlights-wig-ombre-human-hair-body-wave-wigs.html
All the girls who follow fashion trends must have noticed, recently all kinds of mixed color highlights wigs have become popular, such as body wave brown and honey blonde highlights.
Mixing of two different colors, different color grades can be seen. Compared to single hair color, body wave brown and honey blonde highlights reflect good layering and bring visual impact.
5. Brown Lace Front Wigs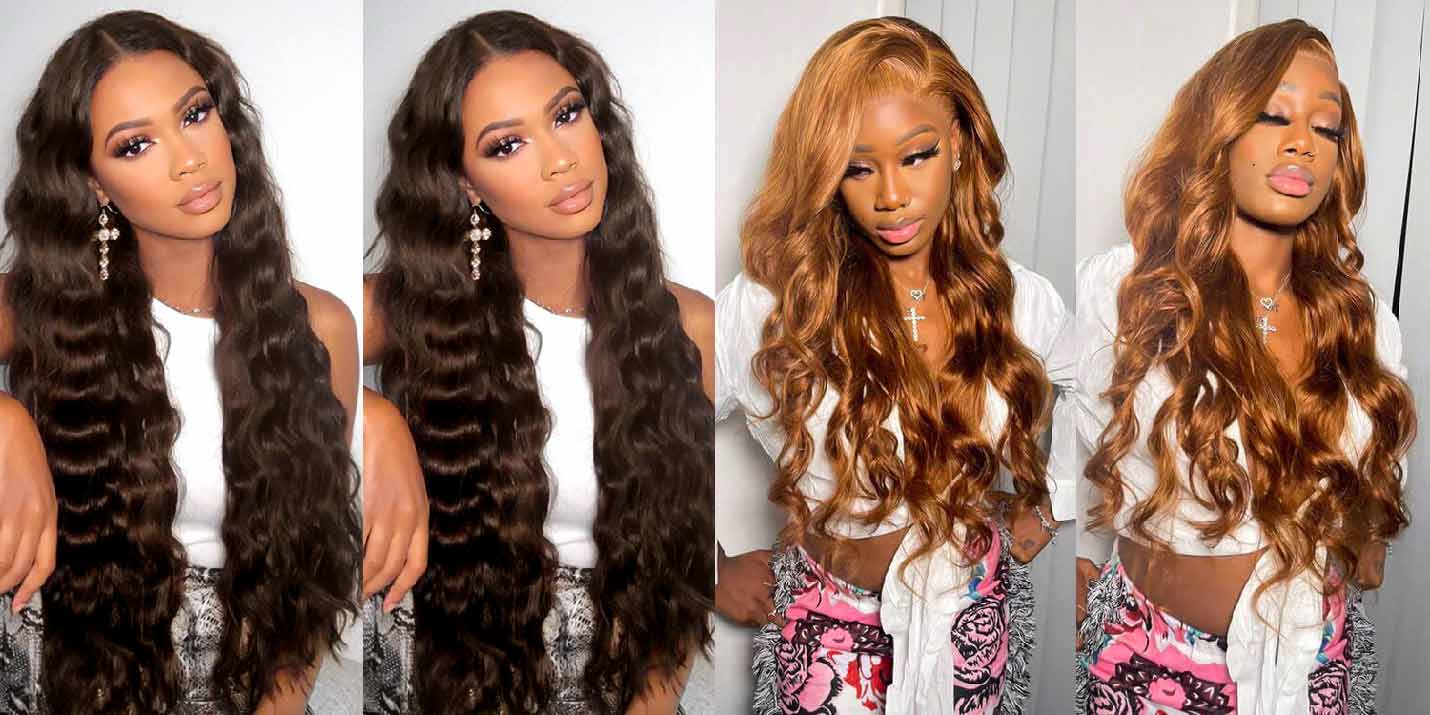 Link: https://www.westkiss.com/brown-wig-ombre-wigs-straight-hair-body-wave-brown-lace-front-wigs.html
Brown lace front human hair wigs come in two colors, color #4 dark brown and color #6 light brown, which will make you more mature when worn on the head. The former is more like a chocolate color, which is more suitable for people with darker skin; the latter looks brighter and will show a good gloss under the sunlight. Whether it's #4 dark brown or #6 light brown, it's perfect to dress yourself up for Valentine's Day date.
6. Where To Buy Quality Wigs?
West Kiss Hair has a high-quality R&D team and exquisite craftsmanship and is dedicated to providing innovative and high-quality 100% virgin human hair wig products for all women, including HD lace wigs, skunk stripe hair wigs, curly lace front wigs, 613 blonde lace front, etc.
Moreover, West Kiss Hair supports two installment methods of Klarna payment and Pay In 4 with PayPal, so you can buy your favorite high-quality wig without any pressure.
Happy Valentine's Day to you!