Apr 23, 2021 9:16:00 AM
2021 Real Hair Wigs Recommend for African American Women

The wigs that look natural and have healthy hair are the hair goals beauties are looking for, that's why we bring the best human wigs for African American Women in this blog. The wigs we have arranged here are of high quality and give you the most natural look.
These virgin human hair wigs we will enumerate successively are the bomb and enhance your beauty and features. If you are seeking a natural and perfect wig in 2021, we believe these recommendations will be liked. They can be shaped easily into different hairdos and make you glamorous.
1. Ombre Lace Front Wigs Human Hair
The omber color we familiarized includes the #piano color, #001, and #017, they are always the fashionable colors in the wig market and favored by dark-skinned women. The wig is customized by the unprocessed real human virgin hair and first-rate Swiss lace material. The highlight wigs refer to several strands of hair made a lighter color than the surrounding hair, which displays the passionate and frisky characteristic. You will find the different lengths, hair densities, and hair textures, like straight, body wave, and curly human hair wig. This is a good pick for women who want to experiment with highlight hair tones.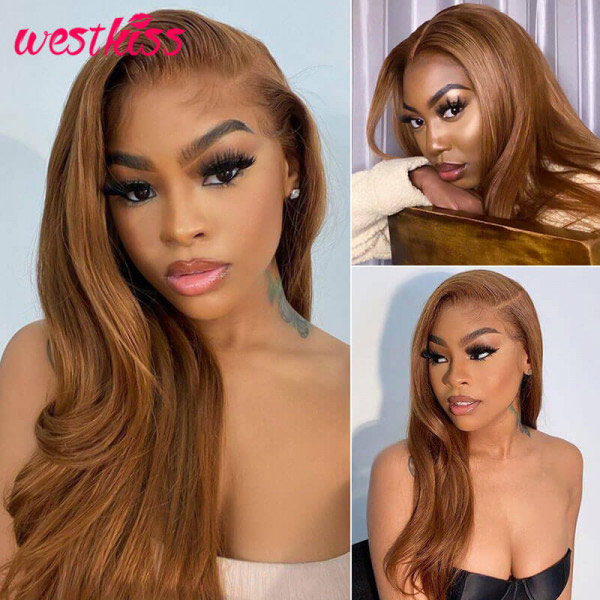 Most ladies are fascinated by curly lace wig concerning its subtle and bouncy curls, which makes you more classy. This wig is made up of virgin human hair with a tight curl pattern, pre-plucked hairline, and free-part lace area. There are 13x4, 13x6 curly lace frontal wigs, and 4x4, 5x5 curly lace closure wigs with multiple hair lengths to fulfill your needs. This curly wig comes with a breathable rose net that is comfortable and does not cause rashes or itchiness. Wearing this curly wig, you will enjoy flaunting a beautiful and natural look.
The straight virgin hair lace wig comes with a natural shine, bleached knots, and hair clip combs attached inside. It can be easy to install and achieved a natural hair edge. Besides, you can perm or curl the hair to experience different hairstyles. If you want to try a high ponytail or bun style, the straight full lace wig will be better to choose. 13x4, 13x6 straight lace frontal wig, 4x4, 5x5, 6x6 straight lace closure wig even the short straight bob lace wig is available at West Kiss Hair store. Get the flawless wig processed by exquisite craft and best quality material for every day.
99J Burgundy Lace Front Wig has always been one of the best-selling wigs in West Kiss Hair store in the light of relevant sales and clients' responses. It was made of 100% virgin human hair bundles with a lace front that can completely cover a human's forehead from ear to ear, which guarantees the natural edge. The brilliant burgundy color also always gives you casual and authentic vibes and is suitable for different occasions. We offer a range of 99J virgin hair lace frontal wigs at an affordable price online. Welcome to rock this bomb colorful wig and show your enchantment.

5. Long Wigs
Long-length hair is also attractive to women, but the common problem with long hair is tangles. However, this is not the case with the wigs in the West Kiss Hair store, because the cuticles are laid in the direction of growth. Since all hairs are in the same direction, tangles are negligible. Other than the soft and smooth texture, the bleached knots make the wig even more charming. Moreover, natural baby hairs have been used to design the hairline. Therefore, it's difficult a little bit to tell if you are wearing a wig or not. Choose the desired hair curl patterns, straight, body wave, deep wave, curly wave, water wave, loose wave long lace wig, and the hair length are ranged 16 inches to 40 inches to embellish your beauty.
HD 6x6 lace closure wig is made of high-quality virgin hair bundles and a 6x6 HD lace closure that covers the middle part of the forehead. HD lace wig has been in high demand since it was first released because the invisible lace matches all skin tones. The 6 inches deep lace area also realizes the natural parting space. It comes with a pre-plucked hairline, subtle baby hair, and three density types: 180%, 200%, and 250% density. You can also opt for whatever hairstyle you prefer in different lengths and densities and apply the code while placing the order.

Would you like to rock these beautiful wigs recommended above? Shop them at West Kiss Hair store now and enjoy the best experience.