Dec 4, 2020 5:11:30 PM
How to dye a human hair wig?
The colored wig is an indispensable part of a landscape in winter. How to get a perfect colored wig for yourself? You can buy it from a hair product store, or you can dye a wig by yourself. Some people have fun dyeing by themselves. So how to dye a human hair wig? Today's article will show you some typical methods about dyeing and care tips of colored wigs, please read on.
1. How to choose the perfect wig color?
The key to choose a perfect wig color is to choose the color which is the most suitable for you. Getting a perfect wig color can help reflect your beauty and personal charm better. So how to figure out if this colored wig is suitable for you? You need to make different decisions based on different situations, like the darkness of your skin, the color of your pupil, and the occasion you will attend, etc.
2. 2 methods of dyeing the wig
Today I will introduce two common dyeing methods, most people can operate by themselves at home.
2.1 Apply color to the wig
Applying color to the hair is a traditional way, most hair salons also will dye real human hair in this way.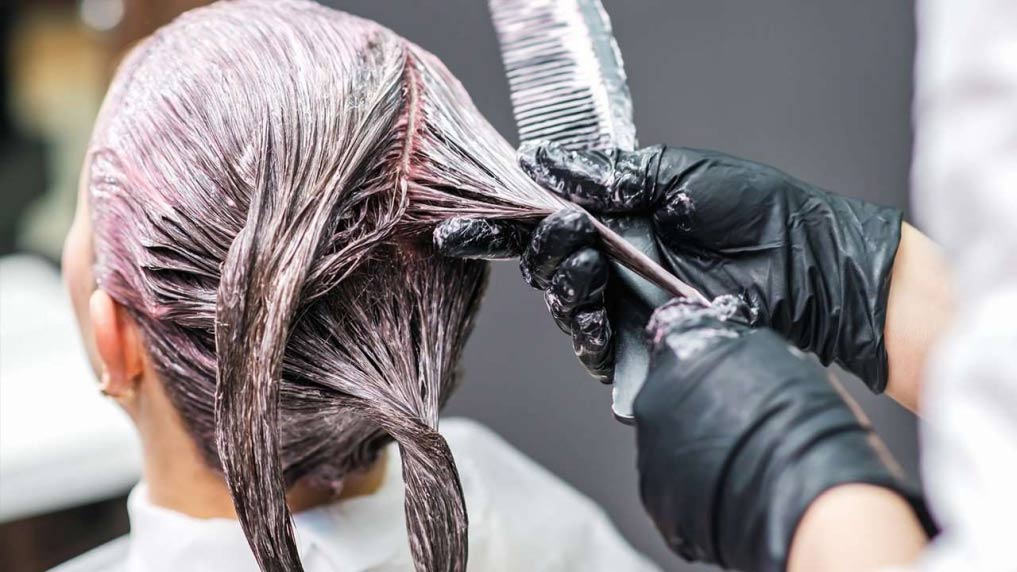 1) Prepare a hair dye you like.
Normally you'd better choose a darker color, as lighter color is hard to dye on black hair, you may need to bleach the wig's hair first, then you can start to dye it lighter. And it can cause the wig's hair damage.
2) Put on plastic gloves to protect your hands from dyeing.
As most hair dyes are easy dyeing and a little irritant, wearing plastic gloves can protect your skin effectively.
3) Pour the hair dye into a plastic bowl, mix well.
4) Apply color to your wig evenly with a brush.
5) After dyeing, put the colored wig onto a wig stand, let the wig get thirty or forty minutes standing to lock the color.
6) Wash the colored hair wig.
7) Let the wig air dry.
2.2 Watercolor method
The watercolor method is similar to the steps of applying color to a wig.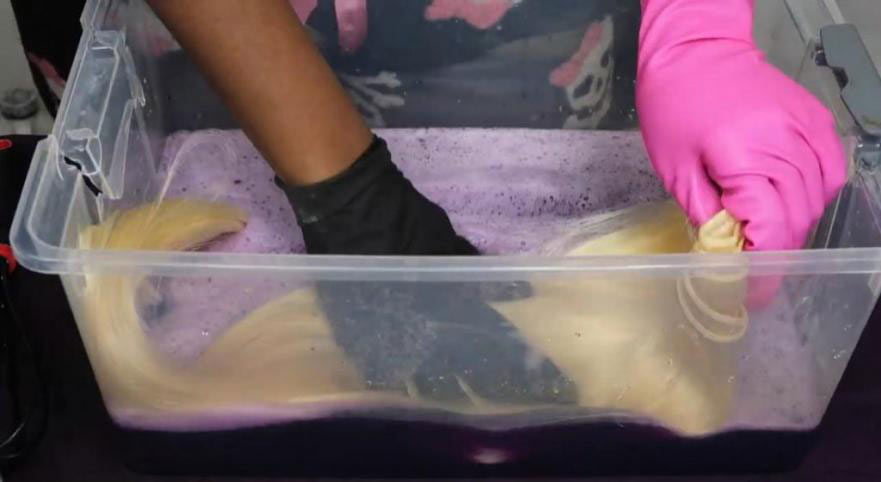 1) Prepare a hair dye you like.
2) Put on plastic gloves to protect your hands from dyeing.
3) Pour the hot water and hair dye into a container and mix them well. Why using hot water to mix the hair dye? As the hotter the water, the better it can mix with the hair dye. In order to get a better dyeing result, you need to confirm if your hair dye is mixed completely into the hot water.
4) Set the container aside for several minutes to cool the hot water.
5) You can start to put the hair wig into the water to watercolor.
6) After water coloring, wash the colored wig in warm water.
7) After cleaning, let the colored wig air dry.
3. How to take care of colored wigs?
Dyeing the hair wig is only step one, how to take care of and maintain it is also important. Here are some care tips for your references.
1) Use gentle shampoos and conditioners to avoid any unnecessary damage to your hair wig.
2) Use warm water to wash.
3) Use a wide-teeth comb to brush.
4) Stop using a hot blow-dryer, air dry is better.
5) Take off the hair wig before going to sleep or wear a silk sleep cap while sleeping.
4. Where to buy a wig that holds the color?
In West Kiss Hair Store, we offer many different kinds of colored hair wigs, including dark colors and light colors. Like #8 brown wig, #27 honey blonde wig, 613 blonde wig, 99j burgundy wig, ginger wig, #4 dark brown wig, highlight wig, etc. By the way, if the hair color you want is not available on the website now, you can please contact customer service, West Kiss also offer customized service.