Nov 2, 2022 2:06:10 AM
Why You Need A Human Hair Headband Wig
Women usually have one or two different styles of wigs in their wardrobes. Wear different outfits depending on the occasion, party or conference. In addition to the recent fashion for lace wigs, Headband wigs are an excellent addition to any wig collection. But if you're a little reluctant, we understand. this article will tell you why you need a human hair headband wig.
What are Headband Human Hair Wigs?
As the name suggests, A headband wig is a wig that has a shawl-like cloth attached to the front area, similar to a headband, where the hair is sewn onto a soft wig cap. Wigs were special in that when you brushed your hair in front, it wore only on the back of your head, so people also called them half wigs.
They are different in appearance, with a turban/ribbon tied around it to give the lady a dreamy and chic look, This is the unique selling point of headband wigs; These scarves come in different styles and designs, and you can wear them with different wigs.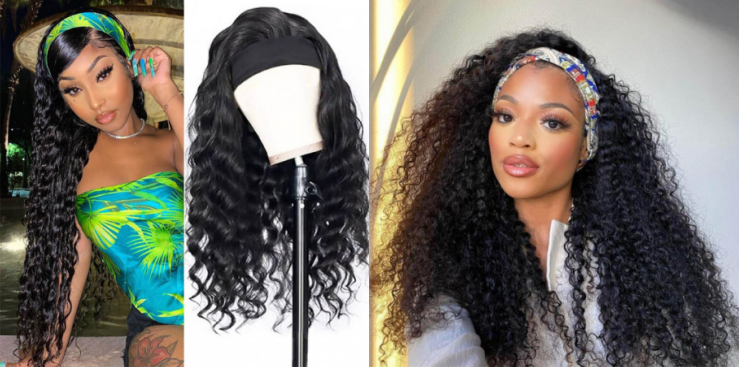 Features of Headband Wigs
It's a glueless wig. Compared to lace wigs, there isn't lace or glue to worry about. Adjusting the band allows you to style your wig in any way you choose. this will prevent the use of bad-quality glue from damaging your scalp.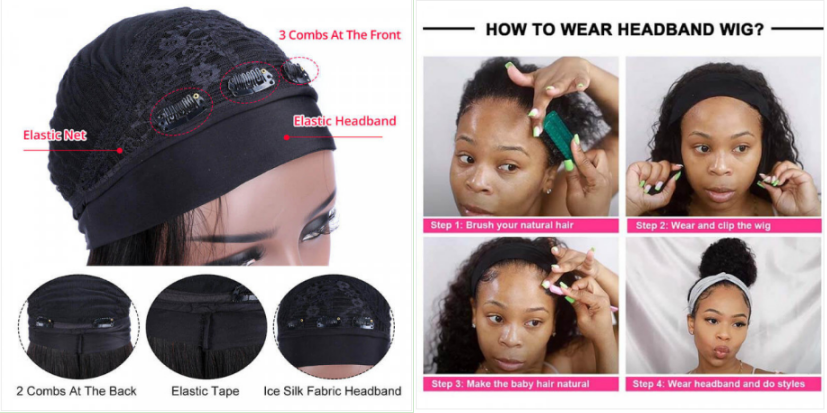 Doesn't damage baby hairs. A headband wig is great for those who want to go easy on their baby hair. The headband protects the hair by covering them, and it won't rub against glue or lace. When you wear this wig, you can stay away from your hairline most of the time, which is very good for your hair health
Adjustable size fits varying head sizes perfectly. The band is elastic and adjustable. You can adjust it to the right size. Also, you can put your wig back a little bit. It offers huge comfort for the wearer.
They are also popular because they come in a variety of different hair textures and colors, you can ask for wavy, short, long, straight, and curly hair and you will get them in the shortest amount of time. Along with custom styles, you can also get custom hair colors with ease. Whether you're a novice or a professional, a headband wig is a fun and practical alternative.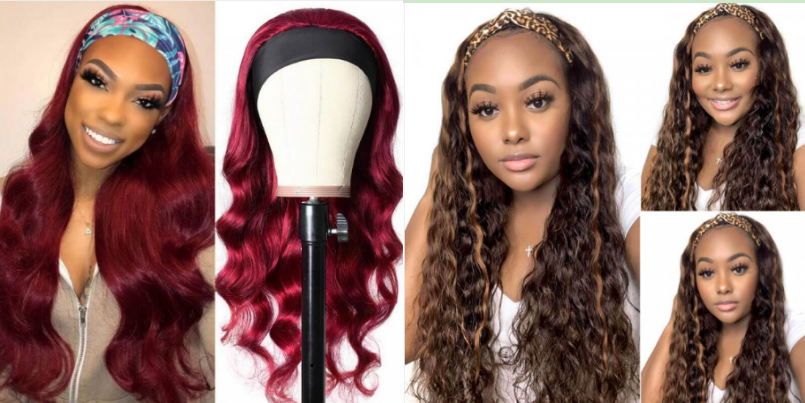 Lower maintenance: Compared to wearing a lace wig, The headband wig does not have any lace, so wearers do not have to spend time cutting the extra lace. you only need to spend about ten minutes putting on the wig, while wearing a lace wig will take 1-2 hours. A life saver for those with a busy lifestyle. And they do not easily tangle. Also, if you want to make sure your wig stays with you longer, you should keep it clean. It is best to avoid dust, contamination, and dampness, as dust can affect the overall appearance of the wig. Generally speaking, headband wigs can last from 6 months to a year. Care it like your own hair, then it could last longer than 12 months.
Budget-friendly and economical price. Headband wigs enable you to attempt a brand-new design without breaking the bank.
If you are looking for high-quality headband wigs, please visit www.westkiss.com. Buy the headband human hair wigs now and pay later without any additional charges.