Sep 20, 2020 9:00:00 AM
WestKiss Hair: Pay 1 Get 2 Bob Wigs Combo Deals
Short bob wigs are always trendy and better to show people's personalities. All different hair colors reflect your chic style and uniqueness. More and more customers start to take an interest in it. One order for only one wig is not enough to satisfy them, how to pay 1 get 2 or more bob wigs in one order? Bob wigs combo can help now, we will introduce each bob wigs combo to you today to help you understand them better before shopping.
The below picture summarizes all 5 different bob wigs combos, you can please kindly check it.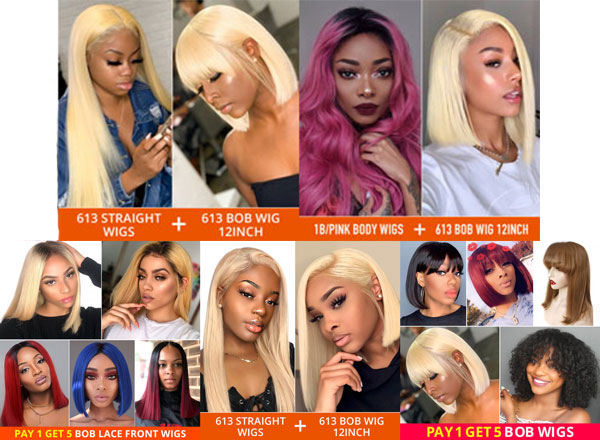 1. 613 Straight 5x5 lace closure wig + machine straight 613 bob wig with bangs
This combo definitely is a paradise for people who are 613 blonde addicts, you can get two 613 hair wigs in different hair length in one order. One is a straight 613 bob wig with bangs in 12 inches, the other is a 613 Straight 5x5 lace closure wig in 8-26 inches. Long hair is mature, short hair is cute, different hair length shows different styles, suitable for you who like change. 5x5 lace closure wig is also named beginners friendly wig, it is easy to wear and remove, good for all wigs' beginners.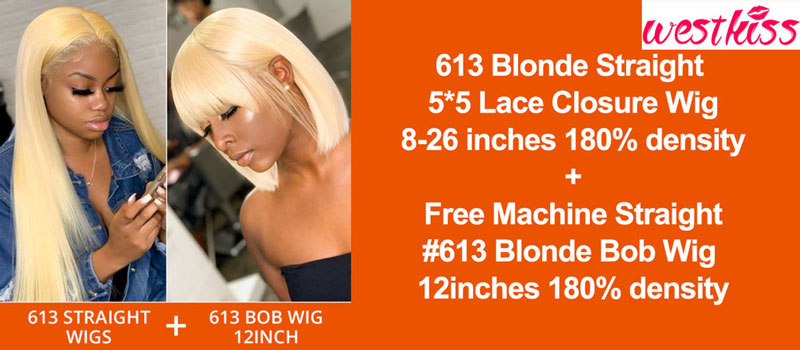 2. 613 Straight lace front wig + 613 blond straight 4x4 lace closure bob wig
Lace front wig and lace closure wig are two different lace wigs with their own advantages. For example, the installation of a lace closure wig is easier. And after installing, the lace front wig looks more natural. People usually hard to pick one between these two lace wigs, but now only one order you can get both of them. That sounds really attractive, right?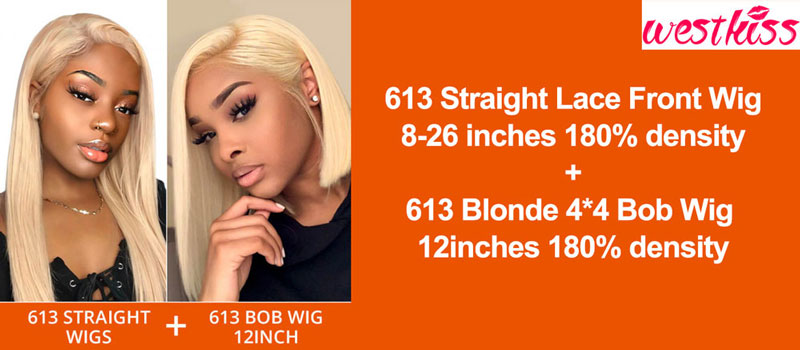 3. #1B/Pink Body wave 4x4 lace closure wig + 613 straight bob 6x6 lace closure wig
What is the favorite color for sweet girls? It must be pink. So we launched a fresh combination of the pink color lace wig and 613 bob wig. A 1B/Pink body wave lace closure wig and a 613 straight bob lace closure wig. These two wigs are in different hair colors, different hair textures. That means buy this combo, you can get two almost different lace wigs. What a great experience! Come to get it!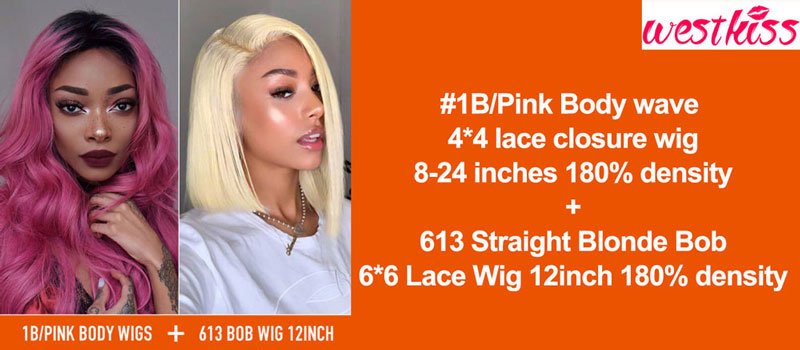 4. 5 straight lace front bob wigs in different colors
Have you ever imaged changing hair colors every day? Our bob wigs combo can help you make that dream come true. You can own 5 different colors' ombre short bob wigs by buying this combo in West Kiss, including 1B/613, 1B/99J, 1B/27, 1B/Blue, 1B/Red. Let us bring you happiness with these colorful human hair bob lace wigs.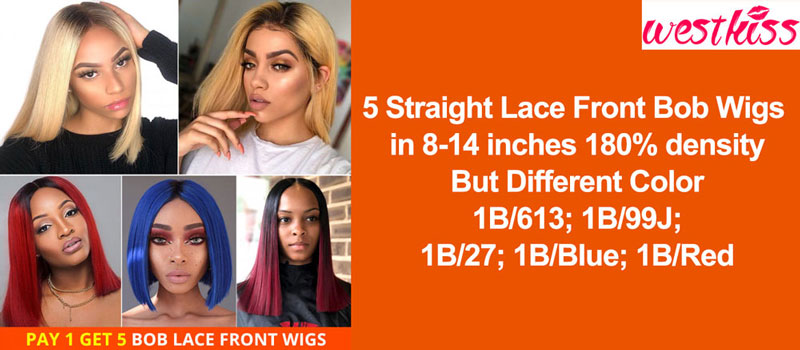 5. 5 bob wigs with bangs in different colors
After getting to know the above ombre color wigs combo, you also can't miss the bob wigs in different pure colors. Not only just can receive 5 different colors of bob wigs, but also can get 2 different hair textures in it. There are 4 straight bob wigs in 4 different colors and one natural black deep wave short bob wig in one pack. You can buy it for yourself, also can with your family or friends.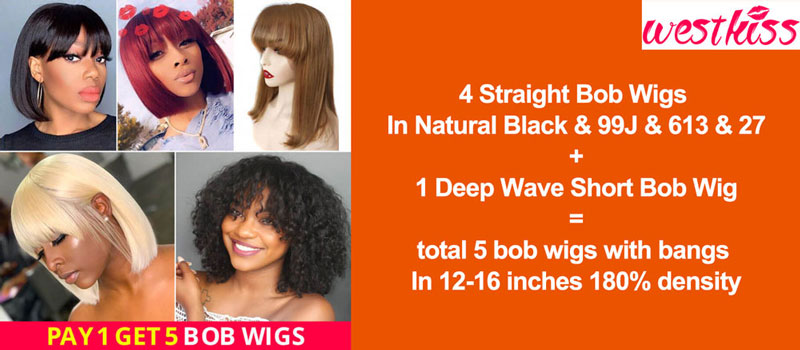 Believe you have to know more information about above all 5 bob wigs combos, and each of them has an up to 45% off discount. 100% human hair wigs with the bottom price, what are you waiting for? Just come and join this big sale promotion.