Aug 15, 2020 5:00:04 PM
New Fashion Wind - Headband Wig
New fashion wind-headband wig
We have experienced more blue days than a 1-year amount in the prior 8 months during the 2020th. "Hope you and your family stay safe" become friends and relatives'best wishes to each other instead of the old brothers "Have a good day" and "Have a good night" who accompanied us from birth to common 2019th. The most disgusted and hopeless circumstances should be when we are offered the hope that COVID-19th will be controlled per the government's announcements from the epidemic's beginning to now. To be honest, only partial countries' people positively do the best works during the fight between the whole human beings and the epidemic. Under the Sustained influence as sea waves of extreme weather, we have to say that all the businesses like tiny boats in the storm, so does the fashion industry. However, the fire of the whole human beings pursuing fashion civilization won't die, like the appearance of the headband wig.
What's the headband wig?
Headband wig is the combination of a cap with a band.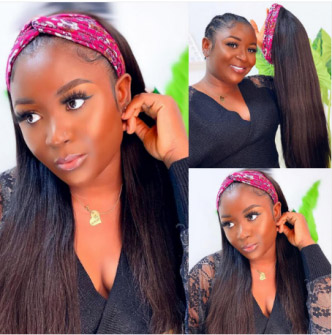 What's the difference between Lace frontal wig and Headband wig?
The lace frontal wig is more familiar than Headband wig to us. Usually, Lace frontal wig has a 13×4 or 13×6 inches Swiss lace in wig's frontal part just as its name saying. Distinguishing from a traditional lace front wig, it doesn't have lace. The picturesque headbands replace the traditional lace part. The looking of wearing headband wig is similar to wearing a hair scarf except for the band is more vivid than pure color hair scarf, just like wearing an ornamental in their hair.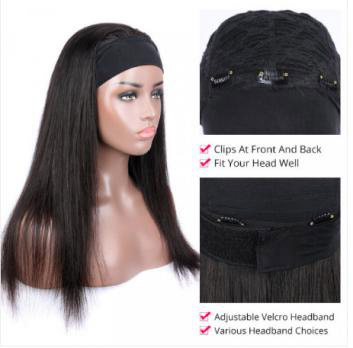 What is the advantage of the headband wig?
An item's obvious advantage is a low price in the epidemic outbreak moment during we are facing the stress of extra cost on restricting virus and risk of lost jobs, the headband wig's price is cheaper than affordable lace frontal wig in the same quality hair because it doesn't have the expensive lace what is finished one knot by one knot using people's hands. On one hand, it's simple to install without any risk. If we want to wear a lace frontal wig, some unprofessional and careless processing may hurt the wig lace or hairline. On the other hand, we could change the headband every day.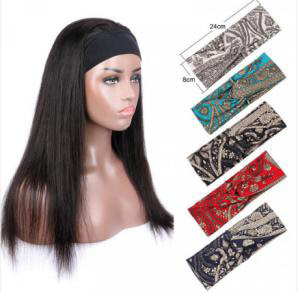 How do we get more style headband wigs?
We have uploaded the traditional headband hair wig on the website, besides, many kinds of hair color could be customized by the professional warehouse after communication.
Where could we start the new fashion wind journey?
West kiss will be the journey guide with providing the best service for you.