Aug 12, 2020 2:26:41 AM
How To Make Lace Closure Wig Natural
We will blatantly choose to like the wig, and even in the two wigs hesitate, we will ask friends to help choose the most beautiful wig. But when we wear a lace closure wig, we don't want to be seen wearing it. We want to be seen wearing it as our own human hair, which is the highest we can aspire to.
When I'm out shopping, I want people to say, "You look great on your hair, not on your wig." It's all a compliment, but the former obviously makes you happier. I'm sure you feel the same way I do, so how do you do that?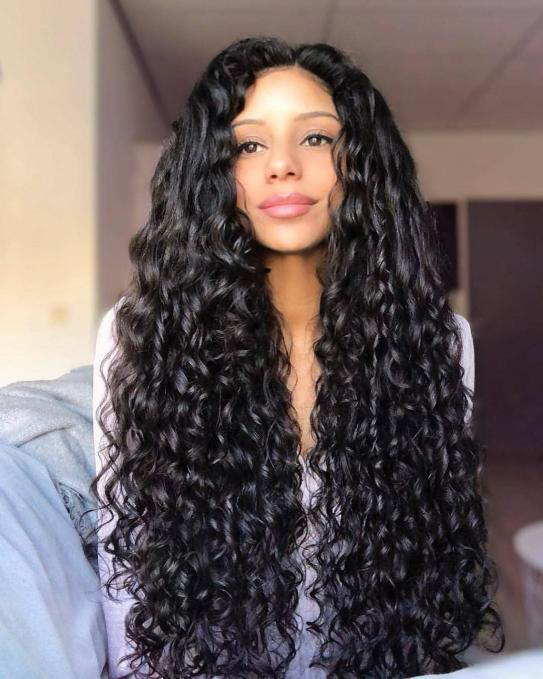 In fact, you don't have to pay a high price for a more natural lace closure wig. While buying a high-quality wig can make you look natural, it can look just as unnatural as a $50 artificial wig if you don't properly match, style, and care for it.
This article will teach you how to make natural wigs easily. Follow me!
1. Ensure that your wig fits properly
Wigs come in all sorts of styles, colors, and constructions, and we all have our own personal preferences about how we want our hair to look. There are many online resources where you can find information to help you choose the right lace closure human hair for you. Making informed purchases and style decisions will help you feel more confident about the wigs you choose to wear.
When a wig is ill-fitting, it can move around on the head or pop up in the back. This will not only be uncomfortable, but it will not look natural. So you should measure your head, then choose a wig that suits for you.
2. Have your wig trimmed by a stylist
Just like with your natural hair, you can have a professional stylist trim your closure wig to create a look that best compliments your face shape. have bangs cut or trimmed, have the style shaped to your face shape, or have it thinned out to remove excess hair. This will make the style appear more natural. For the best results, have your stylist trim the wig while you are wearing it.
3. Follow manufacturer instructions when caring for your wig
Ensuring that your wig is properly cared for will help to extend the life of your wig and keep it looking natural and healthy-looking for as long as possible.
closure human hair wigs that are not properly cared for can become frayed, frizzy and damaged, leading to an unnatural appearance. Only use shampoo, conditioner and styling products made specifically for synthetic wigs, and only use combs and brushes created for wigs.
4. Personalize your look
Adding a bright scarf or headband to your wig can help it appear as if you are just accessorizing your natural hair. Try adding a headband, scarf, or any hair accessory to create a personal touch. You could also try a braid, wear it half-up, or in a low pony to switch up your look throughout the week.
It's OK to feel self-conscious or nervous when you wear a wig out for the first time. You may worry that people will notice you are wearing a wig or that your hair looks fake. That is normal. Try to remember that most people are so consumed with their own lives that they probably won't notice changes in your appearance like you think they do. Also, lace closure wig human hair technology has improved so much over the years — lace fronts look so natural, most people will not even realize you're wearing a wig.
There is nothing like being able to wear a wig confidently and know that everyone thinks you just have a great new hairstyle.
For more information on where to buy natural-looking or custom-designed hair and wigs, please feel free to visit west kiss hair buy human hair wigs and Kendras Boutique Hair Wigs directly from our store to choose from various wig styles of various colors and lengths, Buy lace closure wig at the cheapest price.