Nov 6, 2021 12:00:00 AM
How To Wash Your Hair Weave?
For people who have hair loss due to thinning, aging, or certain diseases, using wigs is a common method.
Everyone has the right to love beauty. People use virgin human hair wigs to refresh their appearance and style.
Hair weave is made of human hair or synthetic materials. People who often use lace wigs need to keep their hair clean and tidy, take care of their hair, and keep it beautiful.
The following are some of the care suggestions we provide you to get a better appearance after cleansing your hair.
1. After dredging the hair with a wide-toothed comb, put it in the water, apply shampoo evenly, divide the hair into two parts, gently rub and wash. Then use extra shampoo to wash the edges and back of the head, these 2 places are easy to get dirty. You can gently use your nails to wash the scalp and closure.
2. Put the conditioner on the hair for at least 3 minutes, then wash the conditioner from the hair, and gently pat dry the cleaned hair with a towel.
3. Use a dryer with a hood to dry the braids.
4. Apply essential oils containing peppermint and aloe vera to the hair. Peppermint can give a clean feeling, while aloe vera can soothe the scalp.
5. After drying, use a wide-tooth comb to comb gently. Do not comb the wig while it is still wet, as this will reduce the curliness of the hair.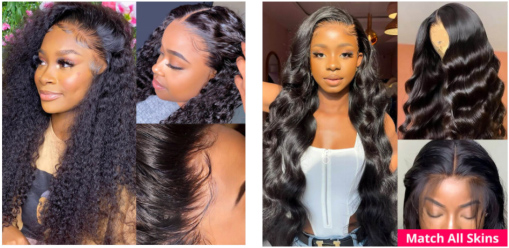 The benefits of correct washing
1. Stay away from sweat and peculiar smell, unbearable smell, and sticky feeling, neither you nor others like dirty hoods.
2. The correct care method can maintain the color and style of the hair.
3. Correct washing reduces the chance of hair damage and makes hair healthier. Dirt and dust increase the friction between the hair, cause damage to the hair, and make the hair lose its luster and appear dull and lifeless. Correct washing can wash away the dust, dirt, and oil accumulated on the hair, thereby reducing the chance of hair damage. If you wear your wig every day, it is recommended to wash it once a week or two.
How often do you need to wash your hair?
Generally speaking, it is better to wash affordable wigs every two to four weeks in the winter when it is worn every day, and it is more appropriate to wash them once a week to two weeks in the summer because you sweat more in summer. Moreover, many of the current wigs are made of breathable materials, with anti-bacterial and sweat-removing functions. They are durable and have no odor, so they should be washed as little as possible.
If you are looking for high-quality thick and smooth skin melt lace wigs, West kiss hair is your ideal choice. Many customers recommend West Kiss Hair. We provide pre-sales and after-sales service, as well as special wholesale orders.