Jan 9, 2022 9:49:00 PM
How To Travel With a Wig Correctly?
Now many people like to travel. When we travel with family or friends, we like to dress up, wear beautiful clothes and draw beautiful makeup. Of course, hairstyle is also important. Human lace wigs are the best choice for women. If this is your first trip with a wig, you need to learn how to install and wear a wig.
Do you know how to wear a wig to make yourself look more beautiful? If you are worried that traveling with a wig is terrible or too troublesome. Don't worry, we will share some experiences with you to help you learn to wear a wig.
How To Pack Wigs?
For wig caps, it's best to wrap them in crepe paper to keep their shape.
After that, you need to roll the whole hairnet onto the whole human hair lace front wig. Before that, you'd better dredge the wig to prevent entanglement. Next, put the finished wig in a transparent plastic bag or silk bag. The reason why we don't recommend you to use box packaging is that the box takes up a lot of space.
Also, you must know that leave some air in the packed bag and then seal the bag.
The Following Are The Specific Packaging Steps
Turn the wig over. If the hair is very long, you can put the end of the hair in the wig cap, then put your hair net on the wig, wrap the wig with a silk scarf, put it in the wig bag.
How To Wear A Wig Through Airport Security?
You may worry about traveling with a wig for the first time because you don't know whether you can pass the security check or how to pass the security check.
You can inform the Security Department of the airport in advance that you are wearing a wig. If it makes you feel more comfortable, they can recognize you once you arrive at the security checkpoint.
You can wear a wig on a plane. Just explain and cooperate with the inspection.
How To Cooperate With The Security Inspector To Pass The Security Inspection Smoothly?
1. Keep calm.
Please try to relax and don't put too much pressure on yourself. Sometimes we think too much and think of the worst, but it doesn't happen.
2. If your wig has metal clips, please tell them.
They do routine body searches to make sure you don't hide anything dangerous. You can put your wig in the right place when they search.
When passing the security check, the security inspector will first ask you to take off the metal material and put it in the small box next to you, such as keys, coins, etc.
If your wig is fixed with a metal clip, you can tell the security inspector that you don't need to take off your wig. At most, when you pass through the safety door, it will make a sound, and the security inspector will sweep your body with an instrument.
If you are worried, you'd better replace the wig clip with a plastic clip, which can solve the problem.
3. Special circumstances
In special cases, they may ask you to take off your wig. Don't panic. It's not common! If this happens, you can ask to enter the private search room for privacy.
How Many Wigs Do You Need?
Generally speaking, the shorter the hair, the easier it is to pack because of its small volume. If you plan to travel with short hair, we suggest you take more to avoid damage to your wig during the journey.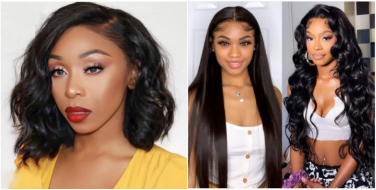 Long hair is more difficult to take care of than short hair. You can buy two spare ones. If your travel time is long, different affordable human hairwigs can be matched with different clothes and makeup, which makes your travel more interesting.
Where To Buy It?
West Kiss Hair store has many types of wigs, HD lace front wigs, full lace wigs, 360 lace wigs, headband wigs, and bob wigs. If you don't know where to buy it, West kiss is a good choice.