Jan 5, 2022 5:40:11 PM
Is 5x5 Closure Wig Better Than 13x4 Frontal Wig For A Beginner?
Nowadays, wearing a wig is becoming more and more popular, and there are many kinds of wigs for choosing. However, for a beginner, it seems more difficult to choose a suitable wig. No worry, I will introduce two wigs today, which may help you a lot. The topic today is: which wig is better for a beginner, a 5x5 closure wig or a 13x4 frontal wig?
1. What Is The 5x5 Closure Wig?
A 5x5 lace closure wig is a kind of closure wig. 5x5 is the lace size of a lace closure which covers 5 inches across your forehead and gives you 5 inches deep parting space. It is placed at the middle front top of your head and is big enough to do free parting.
A 5x5 human hair closure wig of West Kiss Hair is sewed with three combs to help you secure the wig. It also has an adjustable strap at the back so that customers can easily adjust the cap size according to the head's circumstance.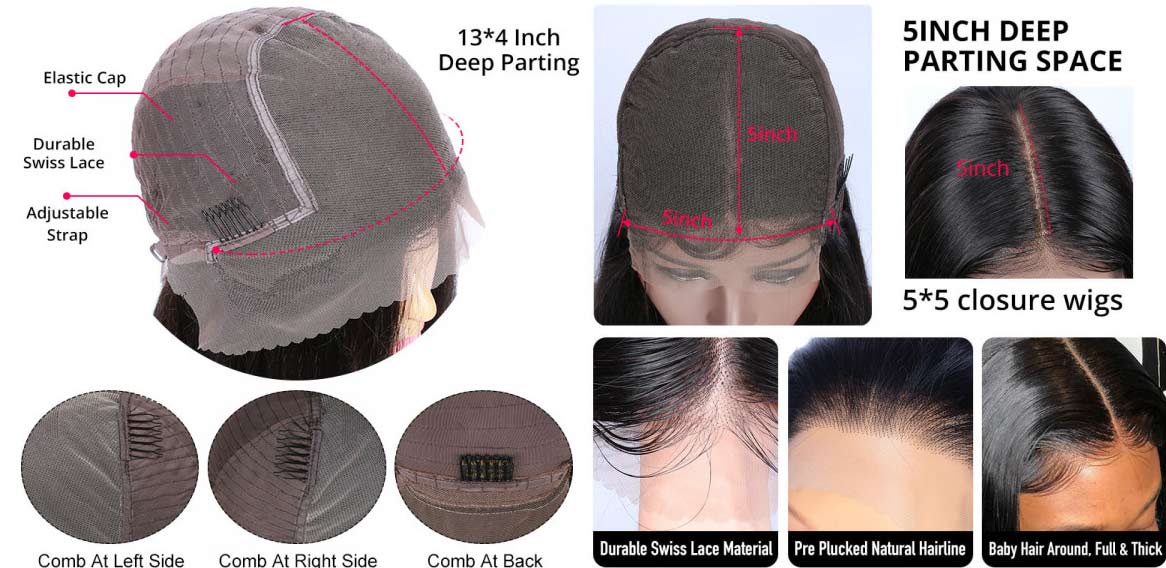 2. What Is The 13x4 Frontal Wig?
A 13x4 lace front wig is composed of half hand-tied lace and a half machine-made wig cap. The hand-tied lace is made of imported high-quality Swiss lace. The lace size of the 13x4 human hair lace frontal wig is 13 inches long by 4 inches in width. The 100% human hair is knotted in the lace holes on the lace part and sewed onto the machine-made highly elastic wig cap.
The 13x4 real lace front wig is difficult for people to recognize that you are wearing a wig, allowing you to get a real and natural hairline and wig look. It is very suitable for people who pursue perfection.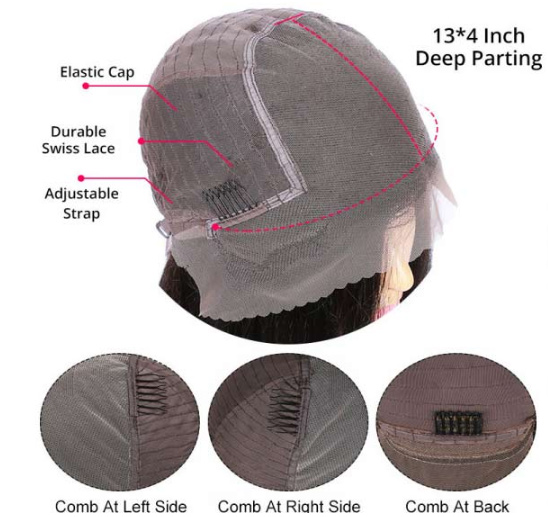 3. Differences Between The 2 Wigs
3.1 Lace Size
Lace size is the main difference between a 5x5 lace wig and a 13x4 lace frontal wig. These two lace wigs human hair have different depths and widths. The human hair lace front wig is 13 inches long by 4 inches in width. But the human hair 5x5 closure wig is 5 inches long by 5 inches in width.
3.2 Price
From the comparison above we can clearly know that the lace sizes of these two kinds of wigs are different. Normally the lace size is larger, the price is more expensive. Because a 13x4 frontal wig needs more lace, the price of it is higher.
On the contrary, the price of a 5x5 lace closure wig is more affordable for most people.
3.3 Installation
The 5x5 closure wig is a kind of glueless wig. Because it only has a 5 inches wide lace closure, installing it no need to use glue, people can secure it only by clips and adjustable straps.
In contrast, the 13x4 lace front wig has 13 inches wide lace frontal, which normally needs to use glue to secure tightly. A human hair 13x4 lace frontal wig needs more time for installation.
4. Which Is Better For A Beginner
From the comparisons above, we can draw some conclusions:
Firstly, the 5x5 lace closure wig has less lace but it also can make free parts, so people do not have to worry about that.
Secondly, the 5x5 closure wig has a lower price so that beginners can try it as the first wig without paying more money.
Thirdly and most importantly, the lace size of the 5x5 lace wig is smaller, which is very friendly for a beginner, compared with the 13x4 lace front wig, it is easier and more convenient to install and does not need too much time. For most office workers and students who are always in a hurry every morning, a 5x5 closure wig helps to save time.
So if you are a beginner, we suggest choosing the 5x5 lace closure wig.
5. Where To Buy Quality Wigs?
After getting the above information about the two lace wigs, next, it's time to buy a perfect wig for yourself. As a professional and experienced hair company, here we recommend ourselves -- West Kiss Hair. We have sold hair over decades with high-quality hair products and a good reputation and we have established close business relationships with many customers around the world.
In addition to the above two lace wigs, we also have other different hair products, comprising hair bundles, short bob wigs, u-part wigs, etc. In West Kiss Hair Store, you can buy any suitable hair item you really want.