Apr 16, 2021 7:30:07 PM
Cheap Bob Wig Flash Sale On West Kiss Hair
Hairstyles come and go but long hair is always popular. Long hair wigs are also always hot selling. But today the main character of this article is another hot-sale hair product - bob wigs. Short bob wigs have become more and more popular now. Why did people start to love bob wigs? You can find the answer today.
There are three different cheap bob wig flash sales on West Kiss Hair, please kindly check the details below.
Straight #1B natural black machine-made short bob wigs with bangs are at discount now. We offered four different hair lengths for all customers.
8 inches = $25; 10 inches = 35; 12 inches = $45; 14 inches = $55.
These machine-made bob wigs are fully stocked.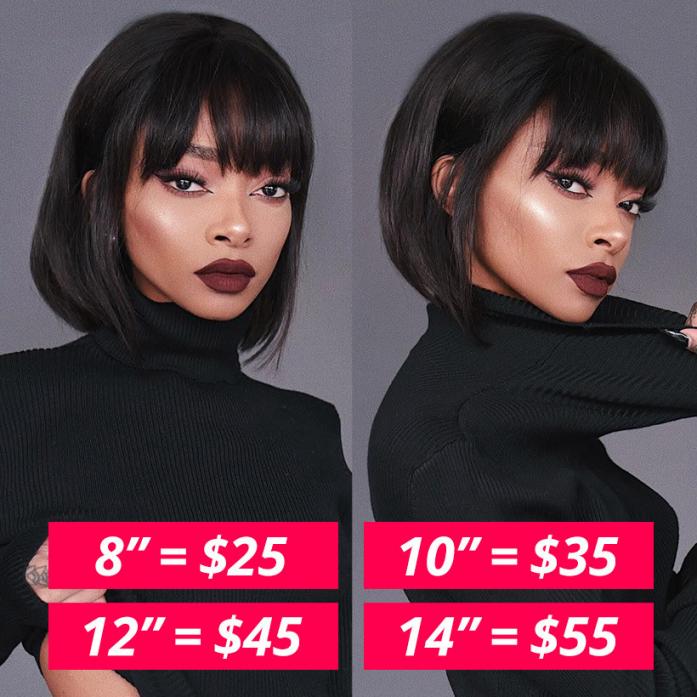 Another limited sale is straight human hair lace part bob wigs in the middle part. There are three different hair colors: #natural black, #99j burgundy, #piano. And three different hair lengths: 10 inches, 12 inches, 14 inches. We have offered the best prices.
Different hair colors reflect different feelings. Natural black hair color is classic, and it is suitable for all ages. If you don't which hair color is the best, you can decide to choose the natural black hair color. Classic never goes wrong. If you are chasing for a different look, 99j burgundy hair color can be a good choice. This hair color is like red wine that can offer people a gentle and warm feeling. #piano is a really special hair color. It is mixed by two different colors, it always attracts people. Trendy girls don't miss this special color.

Are you looking for blunt-cut bob wigs in the middle part? West Kiss Hair has a big sale of straight lace part bob wigs now. You can get a perfect 4x4 lace part bob wig at a perfect price.
8 inches = $39; 10 inches = 49; 12 inches = $59; 14 inches = $69.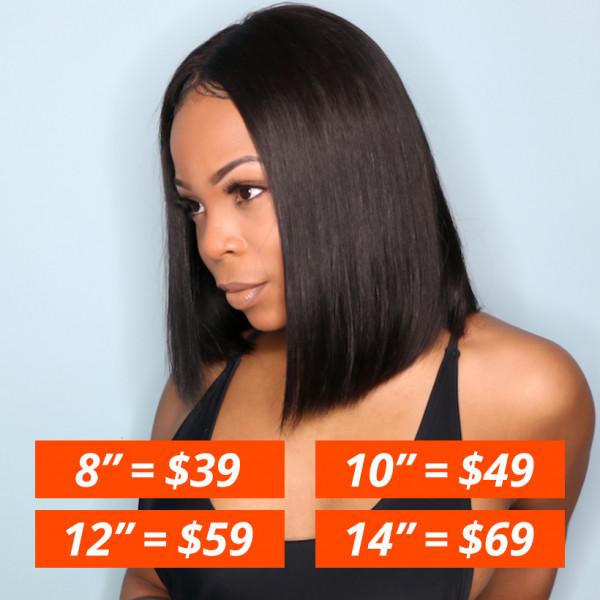 4. Why Choose Bob Wig?
1) Attractive Appearance
Compared with classic long hair wigs, short bob wigs have chic short hairstyles that look more casual and relax. Shorter hair lengths also will make people feel lighter and more comfortable while wearing a bob wig. Many world superstars also have been drawn to these cool short bob hairstyles, like Katy Perry, Anne Hathaway, Jennifer Lawrence, etc. Wearing a short bob wig, you can be your own superstar in your life.
2) Easy To Style
Updating hair products make people tend to like a novelty. Trendy girls are not satisfied with a single hairstyle. They want to change new styles frequently. One problem has been the enormous cost. So they need to restyle their hair wigs by themselves. Short bob wigs can satisfy all girls' needs. Bob wigs are easier to style than regular long hair wigs. All bob wigs in West Kiss Hair are made by 100% human hair, every bob wig accepts to curl and straighten. Girls can style it freely by themselves in their home or work on it with hairstylists in a hair salon. Have different hairstyles keeps you fresh.
3) Easy To Maintain
Besides knowing how to restyle your wigs, getting a proper way to maintain your wigs is very important also. Compared to long hair wigs, bob wigs are easier to maintain. Because the hair length of bob wigs is shorter than long hair wigs. You don't need to do special hair care. You just pay attention to daily care.
4) Highly-Cost Performance
People like to look for the best values when they are purchasing hair products. Bob wigs are high-cost performance for most people. Under the same hair color and hair type, the price of the bob wigs are more affordable and competitive than long hair wigs.