Aug 12, 2022 8:58:52 PM
About Glueless Wigs
Whether it's an event, a special occasion, or a day in the office, young women like to look beautiful. They often look for ways to improve their beauty, improve their personality and embellish the surrounding environment.
We all know that hair is the most prominent human feature. When you walk in front of anyone, the first thing others see is your hair. Therefore, women often take care of their hair, trying to make it nutritious, shiny, and attractive. However, it is unlikely to maintain hair and keep it in good condition every day. Sometimes you will feel that your hair is damaged, which may be due to poor health, environmental impact, or maybe because you have tried too many things on your hair. In this case, women can find a perfect substitute to replace naturally beautiful hair.
Wigs, hair bundles with closure, and hair tracks are excellent for helping you get the appearance you want while protecting your health and reducing the effects of chemicals on your hair. When we talk about wigs, most women prefer hairless wigs, which are easy, simple, and effective to install on their hair.
Before discussing how to wear glueless wigs, let's comprehend the meaning of these wigs.
What do glueless wigs mean?
Just as its name implies, it can be fixed to the head without glue. Generally, these wigs have clips, straps, and combs, which can be easily fixed to the head.
What makes the glueless wig special is that it is equipped with HD lace, which is invisible when worn on the head. These HD lace wigs ensure that the wearer can have a natural-looking hairline.
Besides, glueless wigs can be divided into two basic types, V-part wigs, and U-part wigs. The basic difference between the two is that one has a V-part opening and the other has a U-part opening. In a V-part wig, the space is much narrower than in a U-shaped wig, so you don't need to show too much of your hair.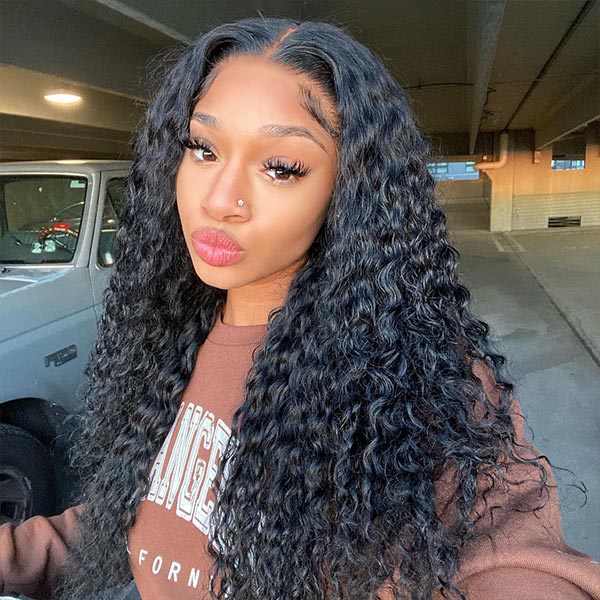 Why Women Love Glueless Wigs?
Women choose this kind of wig for various reasons. Some people use them to improve their temperament, and some people may wear them to cover the problem of hair loss. Glueless wigs can help you a lot. Here are some benefits of wearing non-glue wigs.
1. Best for Girls with Sensitive Skin
Are you going to buy yourself some beautiful curly hair? Or do you want to keep your hair chic and straight? Most wigs require an adhesive such as tape or glue to stick well to the head. However, gel-free wigs do not need these.
2. Friendly to novices
If you want to wear a wig, but don't know which one is best for you, or you're worried that your organic hair will be malnourished because of wearing a lace wig Don't panic! Wearing a hairpiece without glue requires no skill. You just need to put it on your head and adjust it!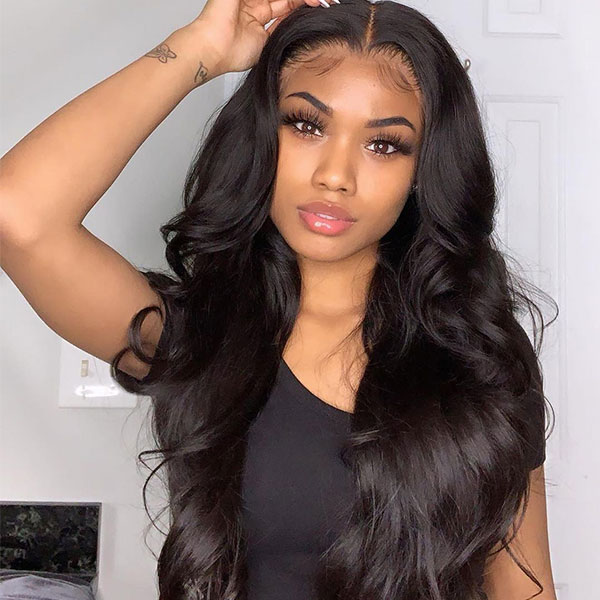 3. Promote the Growth of Your Hair
For women who decide to keep their hair away from harm but still want a beautiful hairstyle, a glueless wig is a great choice. Do you feel the same feeling? Are you worried about having a chic hairstyle without spending a lot of time tidying up? A V-part wig is a good choice. It can protect your organic hair and help promote and maintain the good condition of your hair. In addition, with a wig, you can try different styles without experimenting with your natural hair.
4. Give You a Natural Look
It is widely misunderstood that wigs look unnatural. However, this is not the case. The appearance and overall appearance of the wig are very natural. Especially the gel-free wig made of 100% natural hair. Wearing such a wig, you don't need to deal with broken hair at the root, rough or harmful glue or tape, or hidden lace. It will give you a charming natural appearance.
How to install a Glueless Wig?
First, you need to tie your hair into a low ponytail. In addition, you can decide whether to wear a lining on your head, then put the wig on your head and fix it correctly until it fits your head. Remember, wigs should not be too loose or too tight Trim the excess lace and select the strap behind your head.
Now, you can design your wig as you like.
On the contrary, glueless wigs are easier, time-saving, and simpler. They come in different colors, sizes, and styles. You can choose according to your preferences or mix them with your natural hair.