Product Details
| | |
| --- | --- |
| Brand Name | West Kiss |
| Lace Wig Type | 4x4 Closure Wigs |
| Hair Texture | Straight Wigs |
| Hair Color | #99J Burgundy Color |
| Lace Material | Swiss Lace |
| Processing Time | It Takes About 3-7 Business Days To Customize |
| Shipping Time | Normal by DHL, 2-5 Working Days Arrive After Shipping |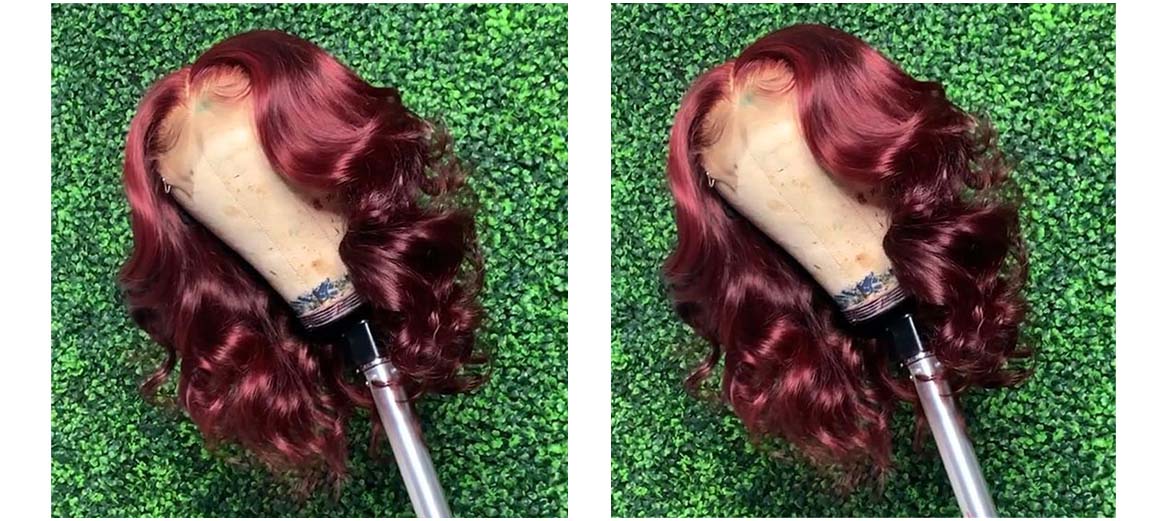 West Kiss Hot Burgundy Wigs, 99J Body Wave Human Hair 5x5 Lace Closure Wig With Pre Plucked Hairline And Baby Hair, Offers 5Inch Deep Parting Space. Buy Pre Colored Burgundy Red Wig 18 20Inch With Big Discount Now.
1) How To Wash a Wig
Before wash your wig, please detangle it gently by your fingers or wide tooth comb.
Mix a bit of shampoo and conditioner together in a container. ( cool water please).
Pre soak your wig for about 5 minutes then dip hair in/out your wig gently.
Use running cool water to rinse the wig.
Please don't rub the wig since it will cause the tangle of the wig.
Use the towel to pat dry the wig.
Again, please don't rub the wig since it will cause the tangle of the wig.
Leave your wig in the airy place to air dry.
2) FAQS ABOUT WEST KISS WIG
Q1: There is shedding when I wash my wig, is that normal?
Yes, you might have some shedding when wash the wig, especially in wavy human hair wigs. When you wash the wigs, it is very normal that the hair might loose from the tracks, then those loosed hair will be removed during the wash, that's where the shedding hair comes from.
Q2: Can I flat iron my human hair wigs?
Yes, our wigs are 100% human hair wigs, it can be restyled by flat iron. It is better to use hear protectant before styling your wig and we do suggest you guys flat iron your wig in high temperature with caution. For colored hair, 350F degrees is the suggest temperature; Flat iron your wig in temperature above 400F degrees is not suggested for natural black hair since it will caused the dryness of the wig. Meantime, please be aware of that be sure to Leave the hot tools on your wig for no more than 30 seconds. Tips: When curling or straighten your wig with hot tools, please clean your tools in time to avoid there have few loose hair on the tools. It is normal that there have loose hair as well as you clean up the hot tools when restyling.
Q3: Is it okay if I sleep with my wig?
We don't suggest you guys sleep with the wig since it might would cause the tangling. Wearing a satin bonnet when sleeping will helps prevent the shedding if you're not convenient to take off the wig when sleeping.
Q4: When is the time that I need to wash my wig?
When is the time that you need to wash your wig mainly based on how often you wear your wigs. Washing your wig twice every week is highly recommended on average for a daily use basis, so as to maintain the wig hydrated and help remove the bulid up, any bacteria from the lace. If there are special occasions, it is time to wash your wig before at night and allow it to air dry at the airy place over night. after all washing steps, Be sure to offer the wig a deep condition.
Q5: How do I store my wig when I'm not wearing it?
For a long time storage, we suggest you put the wig in a satin bag and put it in a cool, dry area. For short time storage, we suggest you put the wig on a mannequin head or a wig standard.
Q6: Do I need to wash my wig before wearing it?
You don't have to but we strongly suggest your wash the wig before wearing it, especially for the wavy human hair wigs. There will be some loose hair left in the wig since our wigs are made by human hair and lace during the manufacturing process. Those fallen hair was not shedding, wash the wig before wearing it can help remove these fallen hair to avoid tangling occurs. Meantime it helps moisturize and hydrate your wig when preparing to wear it.
Customers Also Viewed
TOP SALE
CLEARANCE SALE
NEW ARRIVALS
Login Information
If you have an account with us, please log in.
Create an Account
If you don't have an account with us, please create one.