Apr 5, 2021 7:45:58 PM
BLEACHING THE KNOTS OR NOT
Recently, many beautiful hairstyles of humans are accomplished through the use of hair wigs. A good-looking appearance is just a first step, and making the wigs' looks more real is for the second step. There are many ways that can help you to get a more natural wig look. Bleaching the knots is one of the ways. But bleaching knots is not perfect, is double-edged, it has its advantages and disadvantages.
So should people bleaching the knots or not? Before we talk about this question. Do we need to figure out what are bleached knots? When making a hair product, the 100% human hairs are all hand-tied on the lace by workers, which creates the knots. The knots can secure the hair on the lace and can help to avoid shedding and tangle problems.
For more details about the knots, please kindly read on.
1. SINGLE KNOTS & DOUBLE KNOTS
According to different technical requirements, the workers will create two different kinds of knots: single knots and double knots.
1.1 Single Knots
Single knots mean one hair strand makes one knot. The size of single knots is smaller than double knots. So single knots can make the wigs more invisible, and give people a more realistic appearance.
1.2 Double Knots
Double knots mean each knot has two or more hair strands. From the appearance, double knots look bigger, so they are harder to bleach.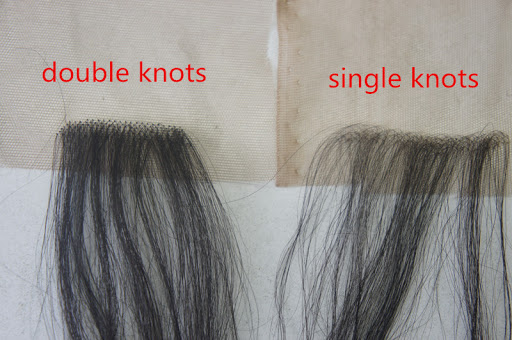 2. UNBLEACHED KNOTS
No matter bleached knots or unbleached knots, they both have their advantages and disadvantages. Let's check them in detail.
Pros:
Skipping this bleaching step, your wigs can reduce the risk of hair shedding. Also, the working life of your wigs can be longer.
Cons:
The unbleached knots are more visible than bleached knots and will make the hair wigs look unnatural. People who are in pursuit of perfection will mind.
3. BLEACHED KNOTS
Pros:
Bleach knots can make the wigs looks more natural. Sometimes, other people even can not recognize that you are wearing a wig, bleached knots will create the illusion that the hairs grow directly from your scalp.
Cons:
Bleaching knots need to use chemicals to make the color of knots lighter. Chemicals always have harmful side effects. After bleaching knots, your hair wigs will be easier to have shedding and tangling problems and shorten the workings' life.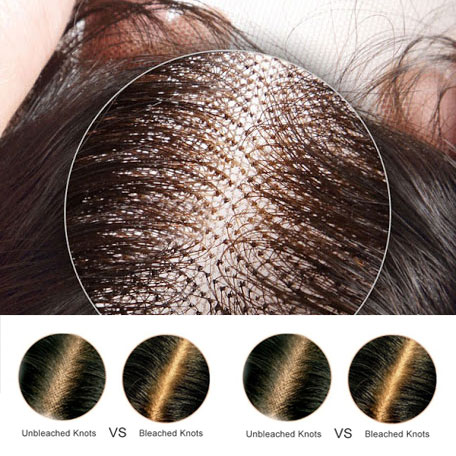 4. HOW TO MAKE WIGS LOOK NATURAL WITHOUT BLEACHING KNOTS
Is there any way that can make wigs look natural without bleaching knots? Yes, there is. We will recommend you two ways to achieve it.
4.1 Buy Silk Base Wigs
The silk base wig is an upgrade version of the ordinary lace wig. Each common lace wig including 13x4 lace front wig and 13x6 lace front wig only has one layer of lace. Every silk base wig has three-layer laces. So silk base wigs have no knots on laces that can make your wigs more natural and realistic. Silk base wigs are very similar to real human scalps. In West Kiss Hair, we offer two different kinds of silk base wigs: 13x4 silk base wigs and 13x6 silk base wigs.
Now all the silk base wigs in West Kiss Hair have 85% off. Besides, all wigs can get an extra 6% off with code "WKWIG". What a great deal! Don't miss it! Come and shop!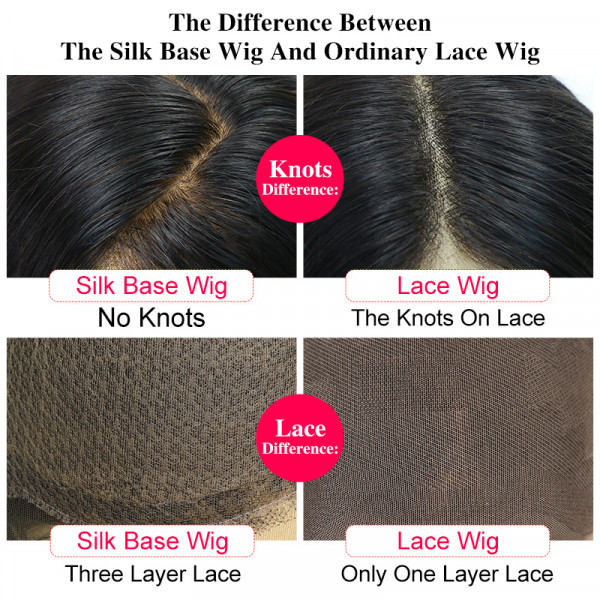 4.2 Use Powders Or Foundations
Bleaching knots is not the only way to get a realistic-looking scalp. Some people will use foundations or powders to cover the knots. Whenever you are installing the wig, you can use it this way. Although it is not a permanent way, it does work. This is an easy and quick way to get a real wig's look. Everyone can handle it in a short time, no matter you are a beginner or an old hand.